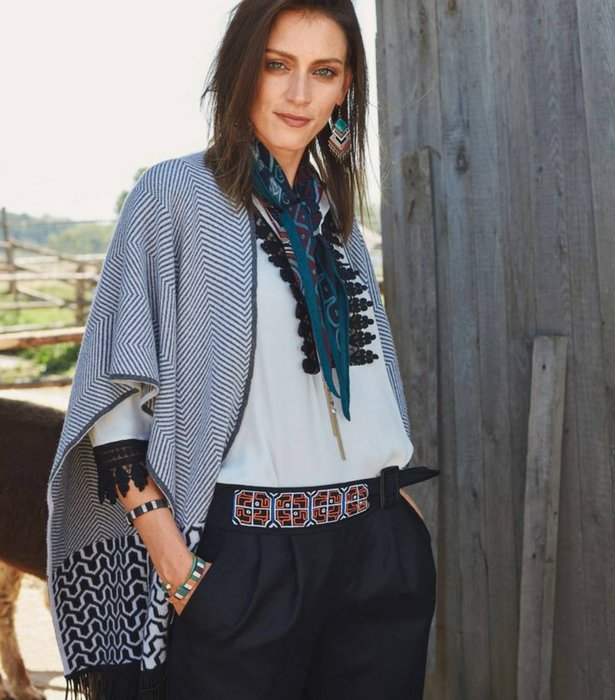 ShareThis
Did you know that February is National Embroidery Month? It is, and we will be celebrating all month long! Here we show how to embroider a belt…Prepare the layers, place the design, embroider: An embroidered border design adds an extra touch of personalization to these Belted Trousers, read on to see the tutorial and get out that embroidery machine…

+Black fabric
+ Embroidery threads
+ "Wash-Away" film
+ Cotton Fix tear away
+ Chalk pencil
+ Iron-on embroidery stabilizer
+ Scissors
+ Bobbin thread



Step 1: Transfer all pattern markings for the belt piece to the right side with a chalk pencil, make sure to mark the middle position of the embroidery design.
Step 2: Iron the embroidery stabilizer to the wrong side of the belt panel that you will stitch upon (as shown here) to ensure even stitches.



Step 3: Choose an embroidery hoop in an appropriate size and stretch the Cotton Fix in it. Use scissors to carefully score the paper and peel the paper away. The adhesive side should now be facing upward. (Watch more on how this product is used in this Embroidered Jacket Sew-Along)
Step 4: Adhere the belt pattern piece in the middle of the Cotton Fix using the template ruler to ensure proper placement.



Step 5: Choose an embroidery design (border pattern), confirm machine position. If necessary for more stability, baste "Wash-Away" film to the fabric (not necessary here when using cotton).
Step 6: This sample pattern is a choice with the Elna eXpressive 830 embroidery machine. Follow the instructions as guided by the machine and change the upper threads as you prefer.



Step 7: Remove the embroidery hoop and remove basting threads and "Wash-Away" if necessary. Tear away the Cotton Fix. Any residual stabilizer will disappear with washing.
…And finished!



Get the Belted trousers and 9 more embroidery friendly pattern in our Embroidery Bundle!



This pattern filled bundle includes 10 styles that you can make and practice your embroidery on and features amazing dresses, blouses, jackets, and even pants. Download this bundle today and get those hand embroidery needles and embroidery machines out to further customize your handmade garment this month. Download here.


Happy Embroidery Month!