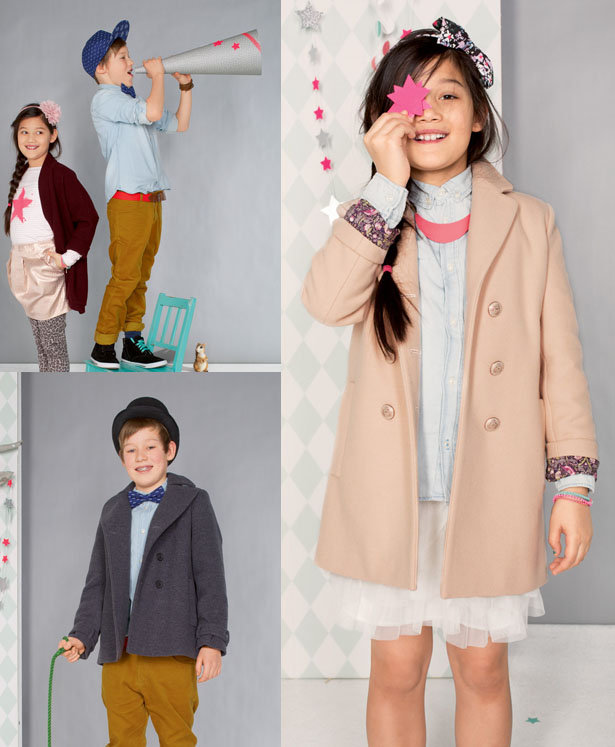 ShareThis
There's no reason kids shouldn't have great style, too. Get them ready for back to school in 6 new designs for boys and girls that have grown up style. Plus, these peacoats, skirts, and slim corduroy pants can be dressed up for special occasions. These new patterns are from the August 2013 issue of Burda Style magazine.
A good peacoat is the cornerstone of buttoned up fall style. This version for little girls has classic wide lapels and a 6 button shape that falls to the hips for a streamlined look and extra warmth. She'll love the pockets!
The Boy's Peacoat has a shorter cut, but the same classic style. Belted cuffs are properly buttoned up.
The boy's peacoat looks modern paired with the funky Corduroy Pants. These fun pants have a timeless 4 pocket design and zip fly, but get a dose of skater style from bright colored corduroy. This pattern is so versatile, and perfect for back to school dressing.
Does your girl like to dress up? Treat her to the Pleated Skirt! This cute mini skirt has lots of pleats for a fun, girlie look that gives her room to move. You can dress it up in shiny pink fabric, or dress it down for everyday in denim.
Every girl needs an oversized cardigan for fall. The Slouchy Cardigan is comfortable and cozy, with an open kimono silhouette that falls to the hips. The longer length is perfect to wear with leggings!
The Long Sleeve Tee is a great basic for back to school. The crewneck shape is easy to sew and makes a great casual top for every day. Have fun with bright colors and printed jerseys!
The Fine Young Things collection takes some of the stress out of back to school prepping. Basics like peacoats, corduroys, mini skirts, and cardigans never go out of style. With smart fabric choices, these pieces can take your favorite kids all the way through fall and winter.
It's always a good idea to pick simple classics for the first day of school. Pictures last forever! What's your best or worst back to school look?
Happy sewing!