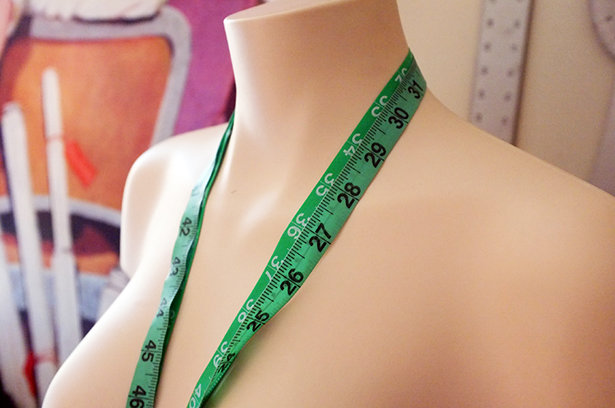 ShareThis
The key to looking good-no matter what you wear? Confidence. A dress that accentuates your favorite feature while flattering your figure will make you look and feel amazing!
Flattering a large bust
A v-neckline is perfect for a large chest. It helps visually elongate the torso, balancing out a more top-heavy shape. This neckline is a great for showing off your impressive cleavage without feeling over-exposed. Choose a deeper V to show off a little more, a shallower V for a more conservative look.


Green Chiffon Dress
Two-Tone Dress (plus size)
Leopard Wrap Dress
White V-Neck Dress
Enhancing a boyish figure
A "boyish" figure refers to a torso that is almost straight up-and-down, with shoulder, waist, and hip measurements that are roughly the same. A lightweight, flowy dress will provide soft, feminine lines and movement on your body. A high neckline will flatter broad shoulders and add style to a loose fitting dress. Try a dress that's cinched at the waist for added shaping.


Smock-Waist Dress
Placket-Front Maxi Dress
Strappy Maxi Dress
Halter Dress
Playing up a pear-shaped figure
Those with a pear-shaped body typically have a smaller upper body,wider hips… and killer curves. (Think Beyoncé and Kim K!) An off-the-shoulder neckline is a great way to highlight your slender shoulders and show some skin. A fit-and-flare silhouette shows off a tiny waist and skims the hips perfectly.


Swing Dress
Dropped Sleeve Dress
50's Halter Dress
Off The Shoulder Dress (plus size)
Enhancing a small chest
Ruffles are not only majorly fashionable right now, they do wonders for a small chest! Layer on the ruffles to add volume and movement to the bustline. Gathered, ruched, sweetheart and wrapped V necklines are also ultra-flattering for a petite bust.


Ruched Cowl-Neck Dress
Drawstring Halter Dress
Ruffle Dress
Sweetheart Wrap Dress
Maximizing an hourglass figure
Let your natural curves do all the work and stick with simple, basic silhouettes. Try bold, graphic prints for added excitement instead of choosing more complicated, intricate designs.


Belted Dress (plus size)
U-Neck Dress
Ruched Sheath Dress
Strapless Mini Dress
Flattering a long torso
An empire waistline is like a secret weapon when it comes to giving the impression of a higher waistline. Dresses fitted to the empire line with a loose skirt give the illusion of long legs as opposed to a long upper body.


Empire Mini Dress
Banded Dress
Empire Waist Dress (plus size)
Corset-Style Dress
Flattering a short torso
Boxy and unfitted silhouettes with short hemlines show off long legs and balance out a short torso. This style is also flattering to an apple-shaped figure (a wider waistline). Dropped waist dresses work wonders when it comes to elongating the upper body. Wear with tights or bare legs for spring!


Dolman Dress
Front Pleat Dress
Tank Dress (Check out Meg's March Mash-Up to see how she modified this dress to flatter her figure!)
BabyDoll Dress
Dressing a petite figure
Dresses with eye-catching cutouts or embellishments in the center around the waistline draw attention and visually elongate a more compact torso. Another great trick: dresses with vertical seams and panels draw the eye up and down, making the body appear long and lean.


Lace Waist Dress
Bangle Dress
Pleated Waist Dress
Zip-Up Dress
Flattering broad shoulders and narrow hips
For this body type, a dress with the opposite shaping is the perfect choice! Try a fitted top with a full, flowing skirt to create the perfect balance. Overcut sleeves skim over the shoulders, creating a smooth, sleek look.


Peplum Dress (plus size)
A-Line Dress
Knot Front Dress
V-Neck LBD
What's your go-to figure-flattering style? Tell us below!