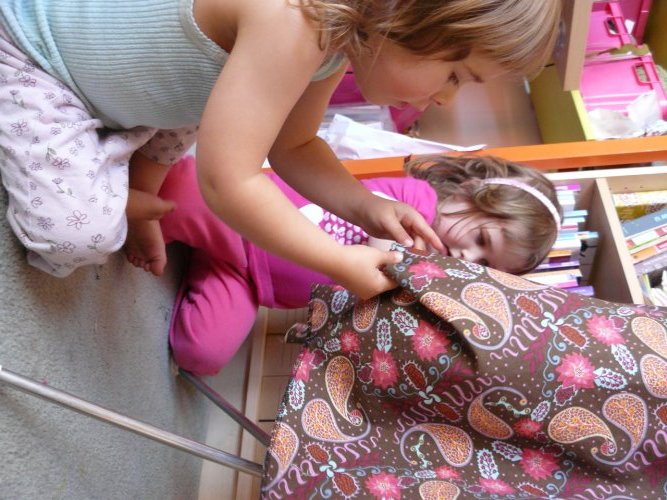 ShareThis
Finally!
As I said last weekI had a problem with my Shari dress once the zipper was sewn in, the fabric was bunching up at the back above my bum. Thanks to those of you that commented with suggestions to fix this, in particular Theoreticgal. Theoreticgal's suggestion was that I have a swayback problem and to fix this I needed to take out some fabric across the back above my waist. Lucky for me I already know her through blogging and our local knitting group (yes, I can knit…slowly) and she offered to come over and help me make the alteration. So Monday was spent trying on, pinning and altering my Shari dress and now I have a dress that fits! I do have a seam running across the back of the dress now but I'd rather that than having to scrap the whole thing. Oh how I wish I had been more patient and made a muslin! Never mind, I've learned the hard way that we are not all shaped the same way, even when I'm not pregnant. I now know that if I want my clothing to fit MY body I need to take my time, measure, make a muslin, make my alterations and only then should I cut into my beautiful fabrics. Do you make a muslin of everything you make? I'm going to start buying old sheets from my local thrift shops for this purpose so I can draw alterations and notes onto them.
I trimmed the hem of the dress so it slopes slightly at the front to accommodate my bump which will lift it as it gets bigger. I had some help doing this as you can see in the photo. I also tacked down anything on the inside that needed it since I'm not adding a lining.
I will be making this pattern again, I have altered the back pattern piece so I won't have the same problem again and I may add a little extra width to the alteration i made for the front. I want to use up some two metre lengths of fabric from my stash so my next Shari will be shortened into a top.
This week I'll be starting work on the new pattern Liz. I have made up a drawing of how I will alter it. I plan to widen the front middle pattern pieces slightly and in between the seams I will insert inverted pleatswhich will lie to the sides of my bump. I will also lengthen the top quite a bit. What do you think? Do you think it will work? Is there anything different you would suggest? Please leave a comment.
The Shari sewalong has now ended. If you took part please upload images of your finished garment in the creations section, on your homepage or in the forum and let us know your thoughts about making this dress. Did you make any alterations? What fabric did you use? Did you encounter any problems? What would you do different if you decide to make another?
Our next sewalong will be the Lydia pattern. I will be taking part in this sewalong since I am becoming desperate for clothes that fit and this pattern is perfect, it's so simple and can be altered in so many ways. I also want to learn more about sewing knits so this is the perfect opportunity. Are you going to sew along with us? There's a new thread in the forum where you can let us know your plans for making this top and also show us a photo of the fabric you plan to use. I think I'll be fabric shopping for this one.