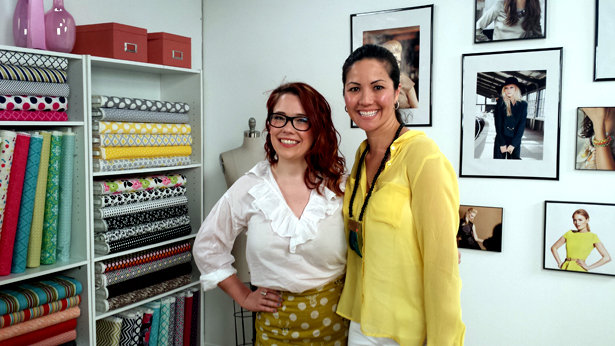 ShareThis
A while ago Denise and I set off to film burda videos for our new BurdaTV subscription site! We had so much fun filming, and captured some great footage for the site's individual videos covering advanced techniques, beginner basics, and must-knows for garment-making. Check out our behind the scenes experience below!
As soon as Denise and I stepped off the plane we headed straight to the store to purchase items for the BurdaTV sewing set. Here we are at closing time arranging the frames in store. We realized we are both perfectionists so the wall arrangement had to be just right! When we arrived on set in the morning we printed off some of our most popular patterns to hang on the wall like our Peplum Top and Chain Jacket. I was surprised at my ability of using a hammer! We also arrived to a nice and bright iron from Oliso that we used in a number of videos.
The several boxes of Camelot Fabric also arrived! We unpacked all the bolts of fabric and nicely arranged in our shelves on set. I loved all the different prints and colors of the fabric, it made the set so colorful!
We couldn't produce sewing videos without machines and thread! We used lovely machines from Janome and thread in every color from Gutermann. Everything was coming together and we were ready to step in front of the cameras (there were three)!
Once everything was in place, Denise and I were ready to start filming! We filmed a variety of videos for the site including working with patterns, pattern making, sewing, and machine how-to's. I am so excited for the site to launch with these videos! They are going to go hand-in-hand with BurdaStyle patterns and make your project making experience that much better. The cool thing is new videos will be added to the site every week, so stay tuned for the site launch!
For the time being you can find some wonderful sewing technique videos in this month's exclusive kit, Sewing the Open Back Dress.
That's a wrap! We had a wonderful time, and worked with such great people at F+W Studios in Cincinnati. Denise and I can't wait to go back and film more videos.
Happy Sewing!
Meg