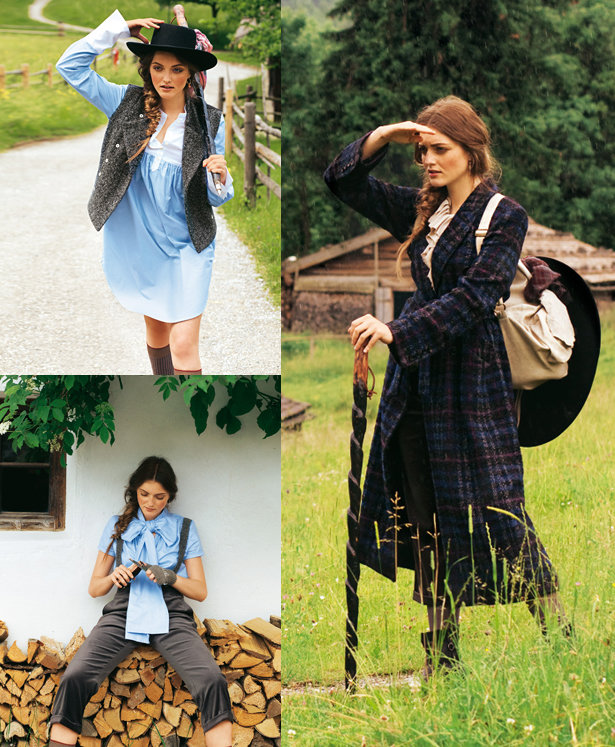 ShareThis
Go far afield in this collection of bib dresses, waistcoats, and wool jackets in pale blues and textured fall fabrics. These patterns are from the October 2010 issue of Burda Style magazine. All instructions to previously published patterns have been updated.
A classic six button Double Breasted Peacoat for fall with buttoned cuffs and hip pockets. Spice it up with antique nautical buttons or plaid.
Shirt dresses are a go-to for the boho peasant look, and this Shirt Dress gets extra charm from a bib placket and contrasting cuffs. Belt it for a more fitted shape or wear it short and loose.
Cozy up in this midi length Plaid Coat in warm wool plaid. This full length topper has great style with buttoned cuffs, waist darts, and hip pockets. The slightly flared silhouette and waist sash keep it from overwhelming your figure.
Wool fabric makes these Bermuda Shorts ready for fall. Style them over tights, or juts with oxfords and a blouse. They have no waistband for a slim fit.
Make your outfit more interesting with this military inspired Button Up Steampunk Vest. 12 tiny buttons have that vintage look. It looks more difficult than it is to sew for an impressive finish.
Make a statement in this short sleeved blouse with an oversized bow at the neckline. The shape is otherwise simple, with no buttons, a high neckline, and plain short sleeves. These Cropped Stretch Pants look so cute as a menswear style with a more feminine piece on top.
A lovely layered Sheet Placket Dress with Slip is an easy bohemian fall outfit. The top layer has a chest placket, buttoned cuffs, and hip pockets. A second layer coordinates with the sheer fabric for everyday wear.
Change up the look of a Double Breasted Waistcoat with velvet fabric and a waist tie. It's a menswear meets girly girl look with a vintage touch. A super easy Elastic Jersey Skirt pattern is great for beginners or a quick make for more advanced sewers. It has a loose, stretchy fit with hip pockets that works perfectly with the more intricate vest.
Slip on this Bib Front Blouse for a little country style. A placket with gathers at front and back and a longer hip length is peasant chic with jeans or leggings.
Plan a weekend getaway and take these patterns for a ride. Placket dresses, buttoned up waistcoats, and wooly jackets are just the thing for a few days in the countryside.
Happy sewing!