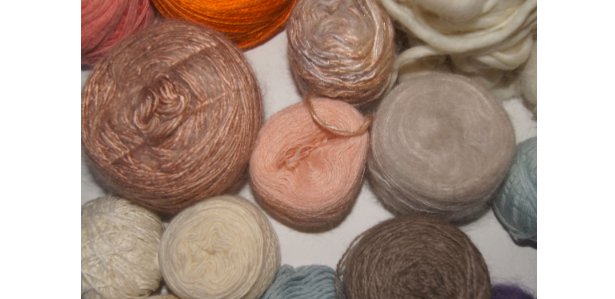 ShareThis
People often ask me where do I get my inspiration. Inspiration comes to me in many shapes and forms. I often find myself inspired by fibers themselves: using different textures, colors, and weights of yarn can create very unexpected results!
Using mohair and silk together is one of my favorite combinations! The sheen of silk and the matte texture of mohair balance each other beautifully. Combining them in a way that uses lace weight and worsted weight yarns gives the piece a very delicate look.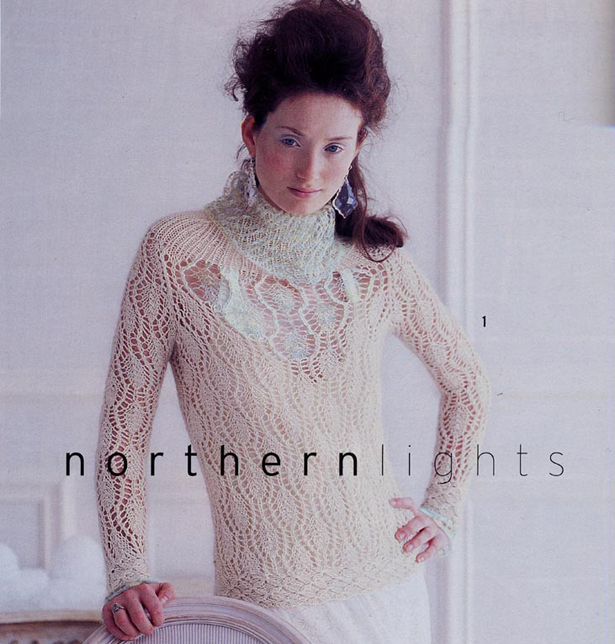 This is the garment that was published in Vogue Knitting Winter 2006/07. I used worsted weight silk/mohair blend together with the lace weight mohair at the neckline. Later I also tried to invert the pattern and use lace weight yarn for the body and worsted weight yarn for the insert. You can see the result below: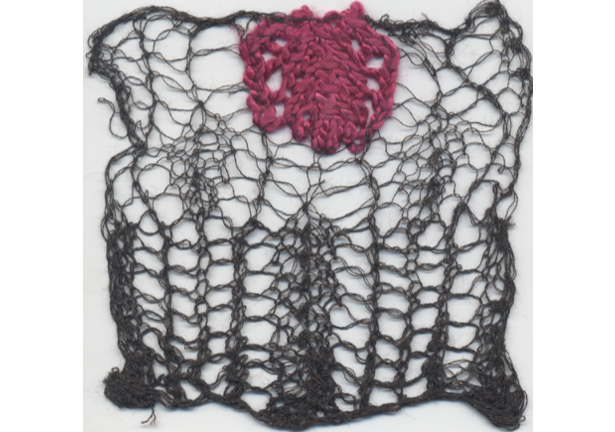 In both Luxe Knits and Luxe Knits: The Accessories, I combine different weights, fibers, and colors a lot. One of my favorite pieces is the Shawl Sweater:
Here I combined a variation of different yarns in a fold pattern to give the shawl lightness and drape.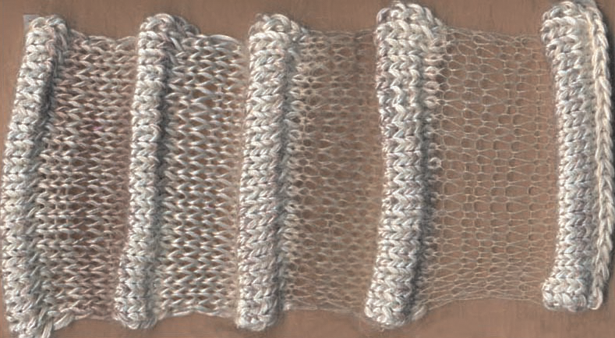 Try the Fold Pattern yourself and be inspired by fibers just like I am:
You will need: Chunky Weight (CW), Sport Weight (SW), & Lace Weight Yarn (LW), and US 11 needles.
Fold Pattern:
With CW using US 11 needles desired amount of sts.
Hint: CO about 25 sts if you want to turn it into a scarf.
Row 1 (WS): Purl.
Row 2: Knit.
Repeat these two rows once more.
Row 5: Purl.
Row 6 (RS): With SW- Slip one stitch pick up a corresponding CO stitch
from behind of work- knit them together- Repeat from * till the end of row.
Space Between the Folds (WS):
With SW work in St St (starting with Purl row) for 6 rows.
Repeat Fold & Space in Between Folds Patterns once more- but pick up corresponding stitches from behind 5 rows below instead of stitches on CO row.
On the third and fourth repeats of the pattern, use LW for Row 6 of the fold & for Space Between the Folds.
If you wish to continue and turn this swatch into a scarf, repeat this pattern till desired length and end with BO on Fold Row 6.
Have fun experimenting! And if you're interested in learning more about my designs, tell us how you incorporate knitting into your sewing projects for the chance to win your own copy of Luxe Knits, Luxe Knits: The Accessories or the ultimate prize pack of both titles plus your own luxe yarn from ArtYarns to create with! Comments must be posted by 9:30am EST on Friday, April 8th to be eligible.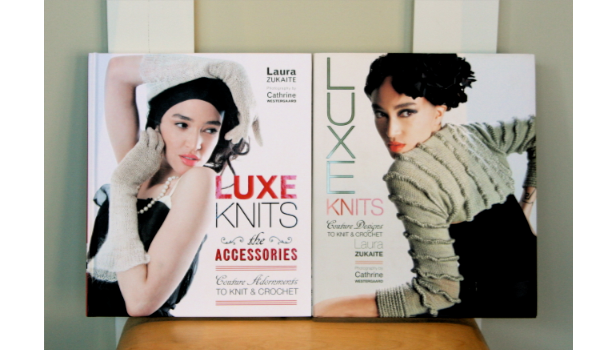 ~Laura
A native Lithuanian, Laura Zukaite moved to the United States when she was 18. After attending Parsons The New School for Design, Laura has been happily pursuing her career as a sweater designer in New York City. Laura is the author of two books—Luxe Knits and Luxe Knits: The Accessories—that feature her designs made with exceptional yarns and convey her design philosophy.
Also, don't forget to try your hand at Laura's Smocking Legwarmers project to whip up your own luxury knitwear!