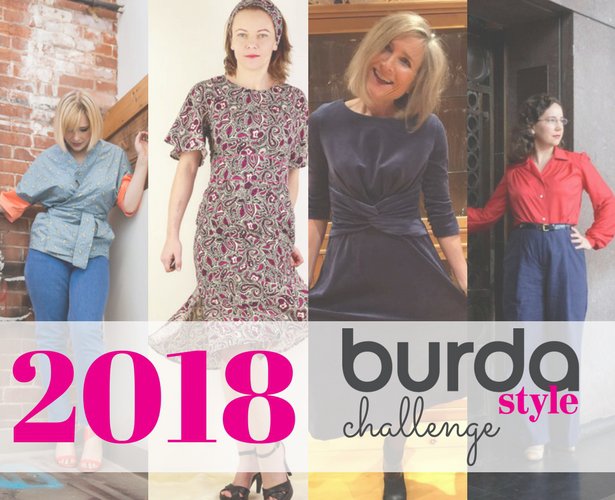 ShareThis
The shortest month of the year has come to a close, but even though there were less days, the garments the community sewed up were no less in abundance and fabulous! I myself whipped up several garments and our members put their sewing machines to use as well making patterns from the current issue as well as past magazines. Read on to see our round up of February and what I have planned to sew for March…
Also check out Saturday Night Stitch's round up post here to see more makes from the #burdastylechallenge2018 community! She even mentions our Biker Jacket Sew-Along which you can register for free until March 16th!

Hila sewed up so many awesome patterns (just check out her instagram) for her planned challenge makes, but my favorite was her version of our Offset Jersey Top that she wore as her OOTD on February 16th.



BurdaStyle member SeamRacer sewed up both a blouse and trousers for her February Burda Challenge 2018. I love the vintage vibes of this outfit and it was actually inspired by Marvel's Agent Carter! See more images and read more here.



Power member Ellen Hatteland sewed up our Knotted Midi Dress in a midnight velour – and I love it! Makes me really want to make another version in velour. I actually made this pattern for my January Burda Challenge which you can see here in the round up post. See more images and read more here!



Member and Certified BurdaStyle Teacher Mihaela78 sewed up this paisley wonder. She also made this project as part of her #ClearMyStash challenge, and I can't even believe this fabric was in her stash because it is so lovely. See more images and read more here.



I made these three patterns that I planned out in the February plans post here, and I'm so happy with how all of them turned out!
The left kimono was my priority February Burda Challenge make, as it was in addition to my Mash Up project and tank (for a special article at a later date). If you want to see more of my white & black wrap dress Mash Up you can read the reveal post here.



I planned out this project in my Burda Challenge Planner and I used our Kimono Jacket pattern pictured above. For the fabric I used a woven paisley printed cotton and added in a bit of coral trim at the end for the sleeves for a pop of contrast.



This is my finished kimono jacket and I'm totally obsessed! It even has pockets. I made a couple of modifications to this pattern as I was creating it. First I used a coral sateen for the mid sleeve panel, and after I attached it, I decided to omit the last sleeve band that I had cut out in my blue print. Just to make this kimono ore summery, I wanted it more cropped on the sleeves. Then for the tie band, I actually sewed in in between the facing and front edge on the overlap side. Then to tie the kimono together I wrap my band around my waist several times and tuck it into itself.



Then of course because February was National Embroidery Month I had to incorporate some embroidery on my February challenge project! I love the look of embroidery on an already printed fabric and here I played up the paisley print and also brought in some more coral/pink to match with my accent sleeve. To compliment my motif I also added my Instagram handle Meg Says Sew for a custom look! So happy with out this turned out and you can see more of my kimono images here!
Now onto some March sewing plans…….



I received my 03/2018 magazine in the mail and I was so excited to flip through and start planning. The pattern I knew I had to make was this cardigan/cape #117! That silhouette just got me and I have the perfect cozy fabric to sew it up in. Then for my Mash Up I wanted a comfy and loose silhouette dress to wear for this time of year over tights while it is still a bit chilly – so dress #114A was the perfect choice. To round out my three planned projects I decided I needed another skirt in my wardrobe and I love the shape and panels in skirt #103B. I'm thinking of using leftover blush pink wool form my Biker Jacket. Thoughts?



Hila from Saturday Night Stitch plans to make these two patterns from the 03/2018 issue – and I must say I really love that dress! I also had my eye on it, so I'm excited to see Hila's version. The digital pattern for that dress will be released this coming Monday!
What are you sewing up for your March Burda Challenge? And don't forget to post in our projects section and use the #burdachallenge2018 on social.
Happy Sewing!
Meg