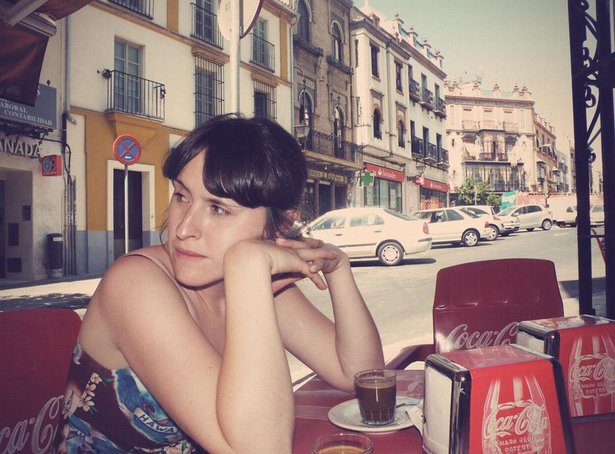 ShareThis
1. Where are you from and/or where do you live?
I'm originally from Essex, England and have been living in Barcelona, Spain, for the last year and a half. However, next year is set to be another year of change. Exciting times!
2. What was the 1st thing you made? How did you start sewing?
I'd imagine something like curtains for a doll's house! My mum has always sewn and used to do dressmaking and alterations when I was little. I remember her teaching me how to use her sewing machine when I was about ten. I found her sewing box very exciting. At some point I must have lost interest, but I rediscovered the attraction of sewing in my late teens when it became my primary means of creative output. Then I went on to study Fashion Design at university.
3. What role does sewing play in your life?
It plays multiple roles. After working in the fashion industry for a few years, I became really disenchanted with it, as I found many of the manufacturing practices damaging and irresponsible. For the last three years or so I have followed the Wardrobe Refashion pledge so I no longer buy mass produced clothes. The Wardrobe Refashion concept fused well with my interest in leading a 'Make Do and Mend' and generally less consumerist kind of life. Sewing my own clothes is a massive challenge in terms of developing my skills to match my style. I can't ever imagine going back to shopping for clothes, by sewing them you have so much more control and get such a sense of achievement.
But aside from aiding my bid for self-sufficiency, sewing is such a source of pleasure. For me, such pleasures include the brewing ideas stage, scoring amazing vintage patterns, the high I get in fabric shops, charity shop finds, knuckling down to the physical process of producing, the wearing and sharing of my creations. Blogs, blogging and Burdastyle have become a massive part of my enjoyment of sewing.
4. What is your favorite and what is your least favorite thing about sewing?
I more or less love the whole process. From the 'birth' of the project when the style ideas, pattern and fabric come together, to getting into the sewing zone with just your thoughts and some good tunes, and of course when you get to rock your new garment! I admit always filling up with pride when I receive a compliment on a handmade garment, I haven't yet been able to resist immediately responding 'I made it!'. Similarly, sending and receiving nice and useful comments to other sewers who live in another country is fantastic.
Least favourite? When you sometimes have to declare a project that you had high hopes for, an unredeemable failure. That's tough! Also, I hate it when my overlocker inexplicably unthreads itself; I invariably end up swearing like a sailor!
5. If you could make something for anyone who would it be and what would you make?
If I'm honest, I'm a pretty selfish sewer. However, I recently made a Western style shirt for my boyfriend which came out really well, so I have plans to make him lots more shirts. I love making things for my best friend. We have a similar sense of style, so there's not too much 'will she like it?' based anxiety!
6. What are you looking for on our site? What do you think should be improved and what do you really like?
Inspiration! Not always in the literal sense of, for example, 'I want to make a blouse and am looking for collar ideas'. Most of the time I just want to see that there are amazing people out there making fantastic things, which gives me the buzz to carry on creating myself. I miss the little slide show that used to appear showing a member's other creations when you clicked on a project. Since the recent changes to the site, I really like how easy it is to communicate, particularly to comment and ask questions. Plus I love how befriending someone means you never miss their latest uploaded project.
7. What is your motto?
'What doesn't kill you makes you stronger'. That and 'Experience is cheap at any price'. You can justify a lot with those two!
Zozowahine's 25 projects have certainly brightened up BurdaStyle. Check out what inspires her. Find out more, read her blog she also contributes to Colette Patterns blog weekly!