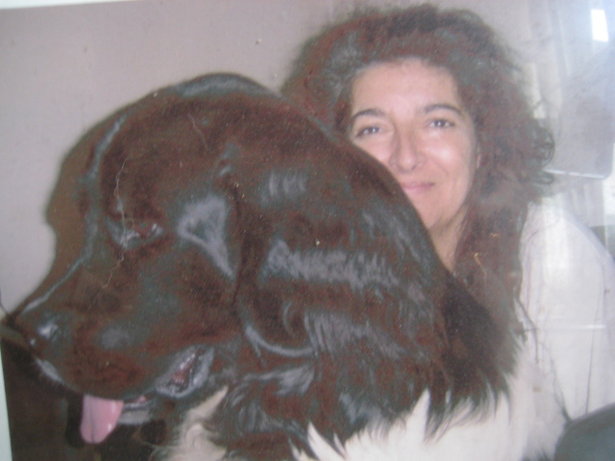 ShareThis
1. Where do you live?
Since 2003 we live in a very rural area, in a small town called Engelskirchen (in Germany).
2. What was the 1st thing you made? How did you start sewing?
I started to sew in school, in the 60's there was a lesson called "Handstill" on the schedule – I hated it…it was Fräulein Schwarz. We learned handmade sewing (pin-cushions, pot-holders and table runners). She made me redo every stitch and gave me a bad grade at the end. She noted, "You are totally untalented and you would be never a good housewife."
In the 80's my Grandma gave me her old (not electrical) Pfaff sewing machine (which I still use today) and started to teach me to sew. First we made only simple bags, then pants (jogging-pants), then simple straight-cut jackets.
3. What role does sewing play in your life?
Now sewing play a large role in my life. Sewing gives me calm and restores my peace. I can back off and think about beautiful and not so beautiful things in my life.
4. What is your favorite and what is your least favorite thing about sewing?
I have no favorite or least favorite. I love to sew, use patterns, and to learn tricky things. If the final result turns out very well, I feel like a little king. And if other people find this things beautiful and sometimes say, "I would like to have, can you sew it for me please," then I'm very happy.
5. If you could make something for anyone who would it be and what would you make?
If people like my handmade things, then I do not care if this is my neighbor Miss Winter or a little child or David Bowie (this would be an honor of course). A few years ago I made the wedding dress for my little sister. I also sewed 100 simple shopping bags for a good cause.
6. What are you looking for on BurdaStyle?
I think that the site is a wonderful place – a portal for exchange – so many people from so many nations can show their creativity. Conversations with other people, assistance and answers to questions, inspiration for new sewing projects…………………………………
7. What is your motto?
There is no happiness but there are always happy moments!