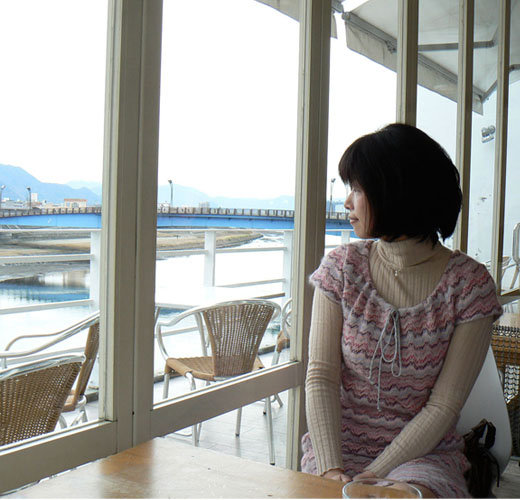 ShareThis
1. Where are you from and/or where do you live?
I am a molecular biologist who was born in Japan. I am married to a husband, who is also a molecular biologist. He has been very supportive to my sewing and taken all photographs of my creations. We moved to UK 10 years ago with our daugther as we both got jobs as researchers there and stayed for about 5 years. Since we came back to Japan, we have been living in Mishima city. I started sewing half a year later after coming back to Japan, because I could only find similar clothes in similar colors with only 1 or 2 average sizes in the shops. I didn't like those clothes, besides, they didn't have my size. Eventually I stopped moaning and decided to make myself what I want to wear instead. 3 years ago, I went to see a color analyst who tells which colors would suit you by seeing your colors of eyes, skin, hair, etc.,
thinking knowing what color would suit me might be useful for sewing. She then condemned me to stop wearing bold colors and black. She also showed me the colors that suit me perfectly, and I had to admit I was way too far better in pink and pale blue. The effect of the colors on my face was too obvious. As I had been such a black wearer, I was utterly flattened by the verdict. My wardrobe was full of blacks at that time. But I realized for the first time that I had been wearing what I thought was cool, not what was making myself look better. I started to wear soft pale colors experimentally and my life has changed so much. I'm getting lots of compliments on what I wear (not on me, that's the point I have to laugh at), and I'm happy with myself looking a bit better, now.
2. What was the 1st thing you made? How did you start sewing?
I really liked hand-crafting ever since I was a child. I sewed my
first garment when I was 12 years old. It was a bikini, made of blue
piled cotton (fabric for towels!). I was really lucky because it
didn't get torn in the crowded pool!
3. What role does sewing play in your life?
Because I make myself all clothes but underwear and woolen sweaters,
sewing plays very important role in my life now. It's the chance of
self-realization, too. I seriously try to think what to sew before
getting started. I use better fabrics as far as my budget permits, so
that I can drive myself into a corner. Otherwise I tend to sew
something with just a curiosity, might get something nice but
wouldn't work as my wardrobe. I don't like to abuse the natural
resources in that way (but it happens so easily). Thus I learn the
way of self-control by sewing as well. Did I forget to mention sewing
garments itself makes me relaxed and gives a jolly good time?
4. What is your favorite and what is your least favorite thing about sewing?
My least favorite part of sewing is cutting! I'd be so nervous
because it's the time for no going back. My favorite part is the time
for assembling those 2D into 3D and seeing a dramatic change.
5. If you could make something for anyone who would it be and what
would you make?
I am secretly sewing a tie for my husband for Valentine's day. It's a
cute one, with many many little penguins.
6. What are you looking for on our site? What do you think should be
improved and what do you really like?
I love the fact that BurdaStyle is giving us such a great place where
we can talk about our passion for sewing, as well as providing many
free pattern downloads. I have been inspired so much by others
creations, and always thankful to everybody for sharing their
information. I can even hold back my desire for black clothes by
applauding others creations! Thank you, BurdaStyle!
7. What is your motto?
"I know nothing except the fact of my ignorance." (Socrates)
Learn more about Yoshimi and see the wonderful creations she has made (many in pinks and pale blues!) by visiting her member profile. You should also check out her blog; even if you can't read Japanese, you might be inspired by some of the beautiful photos!