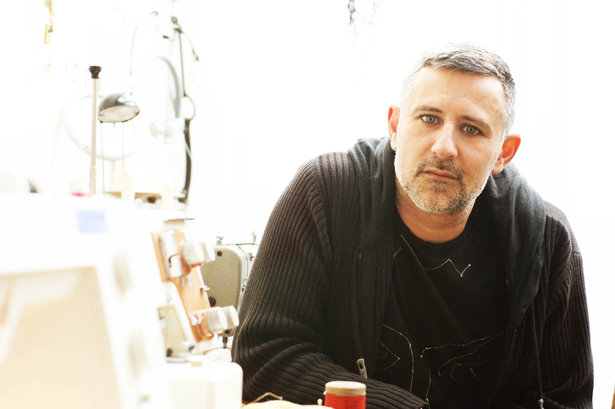 ShareThis
Where do you live?
I live in Sydney, Australia. Inner West Sydney is a real creative and quirky area –full of cool cafes and junk shops- I love it. Besides sewing I make jewellery from found objects.
If we were to come to your town, where would you take us?
Sydney has some amazing and famous landmarks but I would take creative visitors to the great industrial waste recyclers like Reverse Garbage or The Bower- both within walking distance of home.
How did you start sewing? What motivates you to sew?
I learnt sewing at school making tote bags and cushion covers. The teacher always made sure of our accuracy- something that has stuck with me. When I left home my mother gave me her old machine and I made a few clothes and fancy dress costumes. Over the past year have I been sewing seriously and drafting my own patterns. Now I am selling my clothes online and at the markets which have really driven me to sew accurately and quickly.
I find great pleasure in creating pieces using zero-waste cutting techniques or by using materials that are not 'standard' fabrics. Army tents have become coats and some old painters drop sheets are going to be jackets very soon.
Where do you go to get inspired?
I love Japanese street style for the way they coordinate and have such a cool attitude towards dressing. Assemblage art and painting I find inspiring for colour combinations and angles. Architecture is very stimulating for the same reason- especially Russian Constructivism and Neo-Gothic. My favourite fashion designers are Ann Demeulemeester and Barbara i Gongini.

Moodboard by urbandon
What's your sewing secret weapon?
If I make a mistake I turn it into a 'style feature'!
What's your sewing experience like?
I tend to sew as much as I can during the day when I have the best light. Evenings are more for cutting out and research. The sunroom is my sewing room and the dining room is ideal for cutting on my large table. I tend to work in silence or listening to audio books.

Don's sewing space
What is your dream sewing project?
One day I would love to make something that looks like a Robert Rauschenberg (abstract artist) sculpture- all crushed, metallic and angular. A deconstructed 18th century military coat is another ultimate project.
How long have you been a member of BurdaStyle?
I have been a member here since November 2010- a short time! BurdaStyle has become an almost daily fix as I love to connect with other creatives and see what they are up to. I love the supportive, fun and nonjudgmental atmosphere here. My partner suggested 'urbandon' which is urban and Don together. Some say it so it rhymes with abandon- which is just as good, if not a better, way of saying it.

A peak inside urbandon's studio!
What is the most frustrating thing about sewing for you? What is the most rewarding?
At least once a week I say "I am never going to sew again!" and it is usually in response to inaccurate sewing of a tricky material using an untried technique. This week the challenge has been using my new industrial machine-only just coming to grips with it.
It's so wonderful when I sell my clothes and people tell me they love them- I feel I am doing something right. The hours of design and sewing have been worthwhile and my creative vision is shared. That is very satisfying.
Photos by Don's partner- grrl+dog
Click through urbandon's top ten favorite member projects!
Urbandon collaborated with BurdaStyle on this week's Project of the Week. See more here!