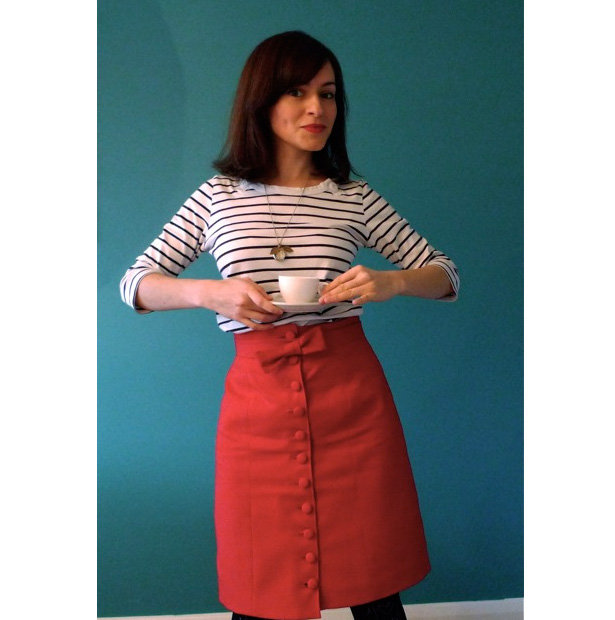 ShareThis
Where are you from and where do you live?
I've lived in various parts of London since moving here when I was 12 and am now happily settled in lovely Brixton.
What do you do besides sewing?
I work for a support organisation for independent cinemas and film festivals, and at the moment I'm also a part time researcher working on a project about film archives. I try to squeeze sewing around this!
I also enjoy watching film trailers, making lists, and cooking, eating or reading about food.

A young tilly-vanilly!
If we were to come to your town, where would you take us?
I'd take you to do some window shopping at Liberty, The Cloth House and other fabric shops on Berwick Street in Soho, which have absolutely gorgeous but incredibly expensive fabrics. Then we'd go and actually buy some super value fabric further afield – at either Goldhawk Road or Walthamstow Market, places I've discovered through other sewing bloggers.
I'd also insist you visit Brixton Village near my home, a hidden away tunnel of gorgeous restaurants, cafes, galleries and vintage shops which started life as a regeneration project of "pop-ups" and has since brought new life to the area. The only problem would be choosing between sourdough pizzas, handmade dim sum, Pakistani curry…
How did you start sewing?
Towards the end of 2009, I had a sudden, overwhelming urge to do something with my hands other than typing on a computer, so I decided to sign up for a craft class in the new year. At first I thought of pottery, but then I saw Jane Campion's film Bright Star, which opens with a close up shot of stitching, and on a whim I thought I'd try dressmaking. I took a one-day class on how to use a sewing machine, followed by a three-day course on following a dress pattern. I was hooked. I started my blog straight after that to track my progress, keep me motivated and connect to other stitchers.
I sew because it allows me to make pretty clothes exactly how I want them to be, and the time and effort that goes into sewing makes me value the aesthetics of individual garments much more than ones bought in the shops. Making things with my hands also brings me incredible satisfaction, and it's therapeutic to use a different part of my brain than what I use in my day job.
What sewing project are you most proud of?
The sewing project I'm most proud of is my Betty Draper jacket, so-called because it's from a 1960s pattern which looks exactly like an outfit Betty wears in the Rome episode of Mad Men. I'd only been sewing a few months but managed to use a vintage pattern, fashion a scalloped edge, and draft a lining pattern from scratch. I nearly cried with joy when I finished the project and it actually looked like a proper jacket!
Do you have a style icon who inspires your sewing projects? Where do you go to get inspired?
I always turn to 1960s French or Italian movies for fashion tips, such as Une Femme est une Femme, Red Desert, Paris Nous Appartient, Henri-Georges Clouzot's unfinished film Inferno etc.
My favourite style icon is Anna Karina, Jean-Luc Godard's muse.
What's your sewing secret weapon?
My secret weapon is my seam ripper. It makes me fearless! It saddens me when I see nervous stitchers worried about messing things up, or even worse, advanced stitchers who think that you have to have years and years of experience to attempt certain techniques. My approach has always been to try things out and if it doesn't work you can always unpick the stitches. Hurrah!
I can't think of any particular tricks that I employ, but I always have to make lots of adjustments to patterns as I'm petite — moving darts, shortening the waist, taking in seams for my sway back etc. Doing this has brought me awareness of how patterns are constructed and makes the process even more interesting!
Tell us about your sewing experience.
I've set up a sewing table in the sitting room so I can be near the stereo. I like listening to Jarvis Cocker's radio programme on BBC 6 Music, or if I'm choosing CDs for some reason I tend to gravitate towards folk music or blues field recordings when stitching – perhaps because I can imagine the musicians or their families sitting there making things with their hands while the record was being made.

A view of tilly-vanilly's sewing machine and notions


tilly-vanilly's supplies
I usually get most sewing done on the weekends as I'm too tired when I get home from work, although I am trying to get a few little tasks done here and there when I have a free hour or so.

tilly-vanilly's sewing room
What is your dream sewing project?
Hmm… I've always dreamed of recreating the stripey dress that Jean Seberg wears in Breathless. That would be awesome! I'd probably get my hair cut especially [for the occassion].
How long have you been a member of BurdaStyle? What keeps you coming back?
I've been a member of BurdaStyle since I began sewing a year and a half ago. My dad's girlfriend recommended the site to me for free patterns, although I mainly use it to get inspiration from other stitchers. My username, Tilly-Vanilly, is a stupid reference to an eighties pop act and a nod to my favourite smell.
When I first started sewing, I went through a phase of checking the site every day! That became a bit ridiculous, so now I visit about once or twice a week when I'm in need of a bit of aesthetic pleasure and sewing inspiration.
What is the most frustrating thing about sewing for you? What is the most rewarding?
The most frustrating thing about sewing is that I can't do it all the time! I struggle to fit it in around my other projects and only wish there were more hours in the day. The most rewarding part is the feeling of empowerment that comes with making your own clothes. I can visualise an outfit in my head and, using my hands, create an externalised version of that idea. Seeing a garment emerge from a length of fabric is so exciting.
Discover Tilly-Vanilly's top ten favorite member projects!