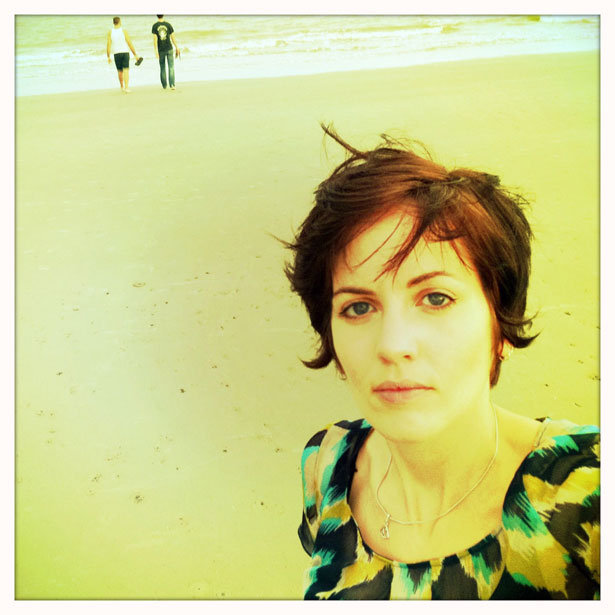 ShareThis
Where are you from and where do you live? What do you do other than sewing?
I grew up splitting my time between a small northern New Hampshire town and an even smaller northern Vermont town where my dad lived in a cabin in the woods.

A young threadsquare.
Since then, I've bounced around a bit from college in upstate New York to Maine to Austin. Currently, I lay my head in Somerville, Massachusetts. My husband and I are film & music lovers, so we tend to go to the movies and shows quite a bit, though not as often as we did a few years ago. I love to get outdoors with my dog, hike or ski, and go to boot camp/circuit training. I also love to just stay in and cook up something healthy & delicious and read a good book.
My education was in photography, and I am always shooting, too.
Tell us about your sewing journey.
You know, I'm not really sure what my first sewn item was. My mom worked as a seamstress for years, and I was always surrounded by it. While I remember handmade Barbie clothes, and probably helped her make them, more likely I just picked out the fabric! My mom would sew all day, then sew at home. making garments for me, family members, whatever school productions I'd roped her into and items to sell. I wore store bought clothes, but also a lot of handmade clothing and some seconds from her job. Mom would teach me things along the way, but mostly I loved to act as client. We'd go to the shop, peel through the heavy pattern catalogs, then pick out fabric. No online ordering then! During the fitting and sewing process, I'd hang out at the foot of my mom's stitching table, reading or watching a movie. She'd pin-fit me, I'd run down to my bedroom to look in the mirror then run back with a list of changes. On it went, until the final garment barely resembled the pattern envelope. I was every sewist's worst nightmare client!
In high school, my first job was at the consignment shop owned by a friend's mom. There was a back section called the "costume closet" visited by me and the members of a nearby summer theater. I ended up with a very eclectic wardrobe! It was then I started cutting things up and hacking them back together, probably making a mess of my mom's machines, and still unwilling to learn proper technique from her. My yearbook superlative? "Most Creative Dresser" (though it may have been an insult. Who knows).
I dabbled at sewing a bit in my spare time in college, with frantic midnight phones calls regarding bobbins & tension. Then, while living in Austin, I decided I should learn things properly. I took a couple of basic classes at a sewing studio, moved here, started a blog and let it languish. When I popped back on, the online community had exploded. Yay!
I love to be able to express my personality through cloth, to fit something especially to my body and to take myself out of the game of rapid consumerism. Sewing is a way to slow down, appreciate craftsmanship, skill and effort. One can make sustainable choices. It can also be meditative at times.
I try to honor my mom with each item I sew.
My greatest achievement would have to be my wedding dress. It was my first time working with silk and French seams. Looking at it now, I could craft the hem so much better :)
Who or what inspires you?
I've never really had a style icon, and am only able to spot designers' work in recent years. That said, I love getting inspiration from film and music, and have many fashionable favorites. I'm as inspired by watching Breathless as I am listening to Leonard Cohen. Someday I'll make my Perfect Blue Raincoat.
What's your sewing secret weapon?
My iron. I can't believe there was a time I shunned it.
I also always utilize hand sewing, even when upcycling a garment. I think findings should be sewn on neatly with buttonhole stitches & quality thread. And I always tie off my thread and pull it to one side or to a dart interior. No wonder I'm so sloooow!
Also, I wouldn't last without my foam roll after long bouts of bending over the cutting table or sitting down and sewing. I've also learned the hard way that sometimes it's best to walk away from a difficult situation, sleep on it and let my brain work it out in a near-dream state. I've become better at planning, making certain I have everything in place before I begin.
Tell us about your sewing experience.
I change it up. Tracing and cutting are generally set to music or Radiolab podcasts, but I actually prefer sewing in silence or in the company of my husband. The sewing room/office is where most of the magic happens, yet cutting and tracing is done on the dining room table.
I used to only sew in the evenings or weekends, but my life has changed a bit recently. While I'm working out a new schedule for myself, I can basically sew any time at the moment. I've learned I like company while sewing but solitude during prep work. We rent, and our landlords are a bit strict. Someday, I'll have proper shelving to get my stuff up and out of the way, maybe even my own little outbuilding :)
What is your dream sewing project?
Redoing that hand-rolled hem on my wedding gown! Actually, I'd love to make a Nudie suit for my husband. It would be a spectacular Gram Parsons Halloween costume! Of course, I'd need to grow my hair and become Emmylou. I'd also really like to make something for my mom, something she feels beautiful wearing. Mastering fit is also a dream, and hopefully it will come true with enough persistence.
Tell us about your BurdaStyle experience.
I've been a member since March 2009. My username is the same as my blog, and it's a little pun on "Red Square" in Moscow. My minor during college was Russian Studies, and I moved there for a stint upon graduation.
I love the diverse community on BurdaStyle. There is so much talent and creativity, and members are very nice and encouraging. It has been a fantastic way to meet people I'll never be able to in real life (though I have met a few!). The Patterns and Learning sections are an indispensable resource. I typically visit a few times a week.
What are your favorite BurdaStyle and/or burda style magazine patterns, and why?
Burda 8155 is my TNT pencil skirt. I just love it and have made it several times.
I also love the JJ blouse for it's casual, work or dress versatility. The 5/2010 Stretch Drawstring Shorts are a quick and easy pattern for sporty summer days – instant gratification so you can get out for a bike ride or tend to the garden. Lastly, the plunging V-neck dress from 5/2008 is flattering for curvy figures, and lends curves to narrower figures.
What is the most frustrating thing about sewing for you? What is the most rewarding?
Being self-taught is both liberating and frustrating. There are many times I wish I could have an expert swoop in and help me with fitting, or recommend the perfect dress form. However, the online community is a fantastic resource! Space is frustrating, too. A large, high cutting table would be a dream come true.
The most rewarding thing is learning a new technique and applying it well. And the spring in my step, wearing a well-made handmade garment. Who doesn't love telling friends and strangers that they've just complimented a handmade item?
Check out threadsquare's top ten favorite member projects!