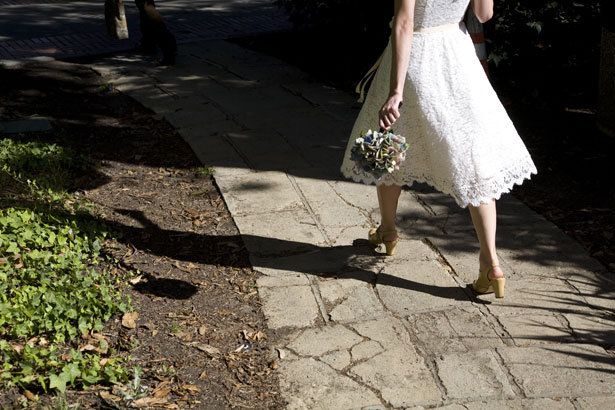 ShareThis
Where are you from and where do you live now?
I'm a native Californian living in Los Angeles. Besides sewing, I love to draw, cook, collect vintage, and grow things.
If we were to come to your town, where would you take us?
L.A. has a lot to offer—and not just tourist traps! First, I'd suggest coming in the spring when the jacarandas are in bloom. We have so many flowering trees here, something is blooming year round but I think the purple flowers of the jacaranda are the most striking.
Then, I'd probably take you on a tour of the beautiful Art Deco architecture around town which is one of my favorite things about L.A. We'd also stop by LACMA (Los Angeles County Museum of Art) and the La Brea Tar Pits, hop over to Remix Vintage Shoes, Milk (for cookies and ice cream), Griffith Observatory, and Flounce Vintage in Echo Park.

In her homemade angel costume for Halloween
How did you start sewing? What motivates you to sew?
I started sewing when I was 6 so I could make rag dolls and doll clothes for my Barbies. The ability to turn a design in my head into something tangible is exciting and is probably my greatest motivation to sew. I'm inclined to sew for practical reasons as well: I'm petite (5'2") and have a hard time finding clothes that fit well; being able to make my own clothes comes in handy! My wedding dress is one of my greatest sewing achievements. Not so much because it was difficult to make (I used a simple 1949 sundress pattern) but because it was part of such a special day.
Do you have a style icon who inspires your sewing projects? Where do you go to get inspired?
I don't look to any one style icon but I'm inspired by old movies and Hollywood starlets like Colleen Moore. Some favorite movies are oldies from the '20s, '30s and '40s; contemporary "period films" set in the 18th and 19th centuries and most any movie where Colleen Atwood is the costume designer (Chicago, A Series of Unfortunate Events).
I originally moved to Los Angeles to become a costume designer; I worked in ballet and opera costume shops and a little in TV and independent film. After a few years I realized that I did not have the personality to pursue that career any longer! Besides movies, vintage patterns and sewing blogs, like Casey's Elegant Musings, are vastly inspiring. Two of my favorite books are the "Every Day Fashions of the Twenties" and "Every Day Fashions of the Thirties"; both are loaded with real images from old Sears catalogs and I highly recommend them.

Moodboard by thefabeledneedle
What's your sewing secret weapon?
Secret weapon? Hmmm. My sewing must-haves are: a good pair of dressmaker shears (Gingher) that are kept sharp, high quality thread (Gütermann), plenty of machine needles in various sizes and a commercial grade iron. One of my favorite techniques is making French seams for sheer clothing. They're time-consuming but the result is so nice.
What's your sewing experience like?
I sew any time of day I'm free! I'm lucky to have my own room that houses my craft supplies, sewing machines and my computer workstation. A cup of hot chocolate or a glass of iced tea are usually within reach. Sometimes I listen to music but I love to have a favorite movie playing in the background, something I've done since high school. Back then I actually wore out my Anne of Green Gables VHS tapes from watching them so much. (Yes, I said VHS tapes!)
What is your dream sewing project?
My dream project would be a fall/winter coat. I haven't had much success with making coats in the past except for tailoring men's jackets that I've done on the job. The prospect scares me a little but it's high time that I try my hand at it again.
How long have you been a member of BurdaStyle?
I've been a member since 2008 and my username is the same as my blog handle and online shop, The Fabled Needle. I love the community aspect of BurdaStyle and sharing is such a rewarding experience. There are many talented people on there so it also serves as a great source of inspiration! I love reading the featured articles (via the homepage) and am always looking forward to updates. I'm a regular visitor to the site, I probably stop by every day!
What is the most frustrating thing about sewing for you? What is the most rewarding?
The most frustrating thing for me is that I can't sew fast enough! So I tend to rush things and will have to redo a few things here and there. I've gotten better though and have slowed down to think things through a bit more. The most rewarding things are small: a cleanly installed zipper, darts that lay nicely and being able to make a pretty—and completely original—blouse for less than $10.
Check out thefabledneedle's top ten favorite member projects!