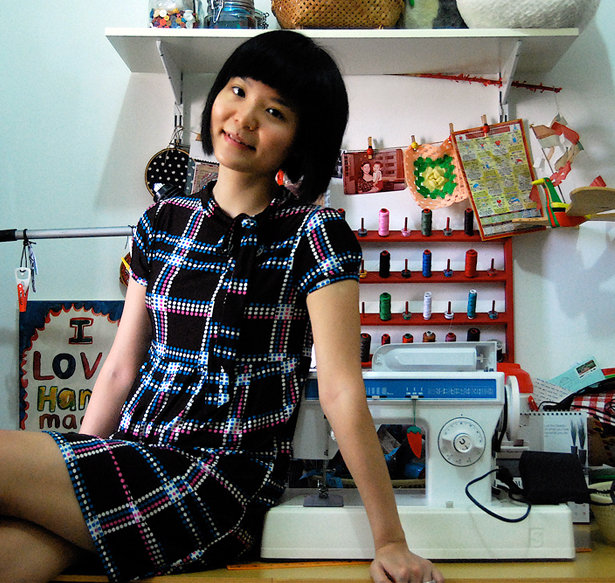 ShareThis
Where are you from and where do you live now?
I was born in Singapore and spent my whole life growing up there until 5 years ago. I moved to Palembang, Indonesia with my Singaporean husband, Brian who helps out with his father's business. It was a decision we both made together, to experience a different lifestyle in a foreign country and most importantly to spend time with my aging father in law, an Indonesian based in Palembang.
Besides being a wife, I'm now a happy mother to a 3 year old son, Kaeden. I spend most of my time playing and coaching Kaeden at home. I get to crafting and sewing whenever I get my 'me' time!

Little table-calender
How did you start sewing?
I first learn to sew during the Home Economic lessons in my early Secondary school days, borrowing my mother's sewing machine to complete project assignments at home. When I recalled submiting a pink peasant blouse and got an 'A' for it, I felt more surprised than proud! From then on, I thought I had a knack for sewing but didn't pursue the interest as graded studies and most things in my teenage life then adult life swamped me over.
When I moved over to Palembang my lifestyle turned mundane, so I had to look for an outlet for my mental energies. After Brian bought me a new sewing machine from a Singer booth in a shopping mall, there was no looking back for me. I began to turn to the world wide web, Japanese craft books and vintage paper patterns for learning sewing techniques and inspirations.
My favourite project thus far has to be the (mini) fire fighter jacket made for Kaeden who is still very much into the fire fighting "scene".
Describe your personal style in 5 words or less!
Practical modernity, aspiring vintage!
Do you have a style icon who inspires your sewing projects? Where do you go to get inspired?
My sewing projects tend to be random so I don't get bored easily! My inspirations are from everywhere. It could be an illustrator (Quentin Blake; Richard Scarry), vintage images of fashion, owls, drawings and pattern prints on linens, TV drama serials, old and new movies (Julie and Julia) and many many more…
What time of year do you find yourself most creative? Why?
I find that I work and produce better sewing results when I put my mind to one single project at a time and tap into the burst of energy that would come forth for it. It could happen anytime but especially more when I feel that I'm on a sewing lull and need a kick into action and activity, nothing to do with the time of the year.
What's your sewing experience like?
I'm lucky to have a corner (and two sides) of a room for sewing and its related "apparatus". I don't mind sewing in the quiet but when the long silence gets obvious, I'll tune into the public radio and shake my head and sing/hum to the songs from the 80's to 90's that the local stations still play on the routine while my fingers run the fabric though the sewing machine.
The only time when I get to sew in such peace in a day is when Kaeden is napping or occupied with an activity so it would usually be an hour or two in the afternoon and another hour or so in the evening when Brian is home from work. I dedicate the rest of the evening for dinner and family time.

Table-calender's sewing pace
What is your dream sewing project?
My current interest is to make clothing for myself, yearning to try out styles and patterns from Japanese craft books and paper patterns from the 1940's to the 70's. Hence not thinking far off, I'll love to make myself a formal gown to wear on my 10th year wedding anniversary. Off my mind now, I'm dreaming of one that is in pastel teal green colour, a sweet heart bustier with knee length chiffon tutu skirting!
How long have you been a member of BurdaStyle?
I joined BurdaStyle on the 7 August last year, 2010 when I decided to venture into making garments and wanted to keep a portfolio of them. Burdastyle is a great site for doing that. Not only do I get opinions and kind comments from members on my handmade clothing, I also get to check out fellow sew-ists' creations, every time I go online. They are a huge source of inspiration and encouragement. I must also appluad the many pretty patterns (many free ones too!) available too in BurdaStyle!
What is the most frustrating thing about sewing for you? What is the most rewarding?
The most difficult part about sewing for me is the first attempt of a technique. I don't know anyone I could approach to ask directly so my first teachers are usually kind sew-ists who put up their know hows and tutorials online. The other thing that puts me on my nerves is to re draft a garment pattern to my size. I'm not formally trained in that so I usually wing it.
The most rewarding part of sewing has to be making something and seeing it being put to use by my loved ones. When I saw my best girl pal whipping out an owl purse I'd made from her handbag recently, it 'd made me so happy!
Check out her top ten member project slideshow