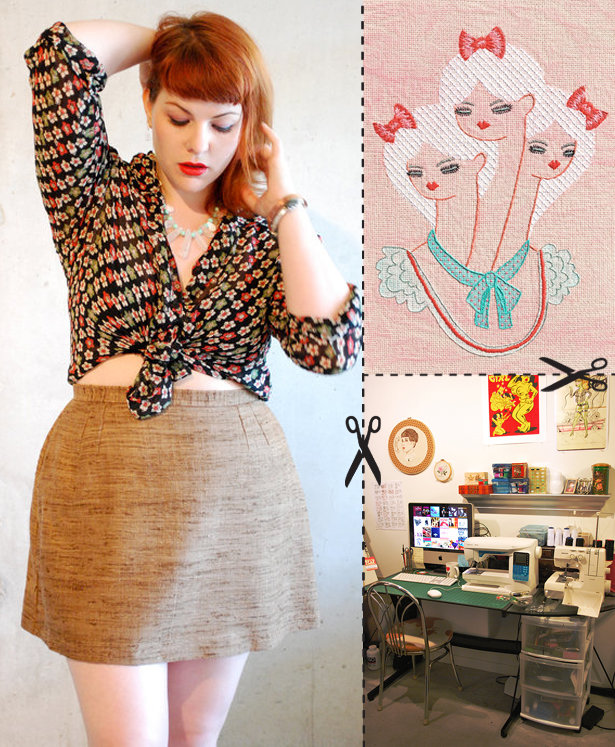 ShareThis
Meet our latest featured member, Laura Harte aka Sweetharte! Read on for Frankenstein-ing clothes, embroidery inspiration, the importance of fabric, and how to pull off any style.
Tell us a little about yourself.
My name is Laura Harte, and I make things. When I finally bite the proverbial big one I will have left behind a slimy trail of art, fashion, poetry and just about anything else I could get my hands on.

Sweetharte's art and embroidery
Where are you from originally, and where do you currently live?
I've gone from a Greater Toronto Area baby to a downtown Toronto babe. Sunrise, sunset…
What's your day job, besides sewing?
This will be a shocker, but I work in the fashion department of a large-scale fabric store in Toronto. I service local design houses and the Toronto film industry as well as amateur home sewers. But I'm not entirely the sewing archetype; I have a Bachelor of Design in the faculty of Illustration from the Ontario College of Art and Design. I have shown my pseudo-creepy comics, paintings and embroideries in galleries throughout Toronto, showcased my work at the infamous Toronto Comics Arts Festival, and have been featured by some very prominent art/design publications and blogs, such as CMYK, Creative Quarterly and Juxtapoz Magazine. If you're interested in seeing what I do check out my website, www.lauraharte.com, my art blog, sweetharte.tumblr.com.
How and when did you start sewing?
It all began in the tender early teen years, when my mother and grandmother sat with me as I sewed a large square beach cover up. I sewed straight through my finger, and my grandmother told me you're not a real sewer until you've shed blood for what you're creating. I come from a strong line of arts and crafters, and wore beautiful homemade clothes all my life, although you never appreciate that until you're an adult.
Do you prefer to work from patterns, or draft your own?
Woe is me, I never learned to pattern draft. Commercial patterns are my raft, but I have never been the type to make a pattern exactly as it dictates. I might implode if I ever did. However, I have developed a complicated method of using commercial patterns as slopers to create Frankenstein clothes. A bodice from here, skirt and sleeves from there, slice off the neckline, raise the hemline, add a pocket, draft a simple facing, Bob is your uncle and I have a one-of-a-kind fashion statement.
How would you describe your personal style?
Unpredictable? It's an evenly frenzied mosaic of vintage nerd, modern bohemian goth, with a little grandma style on the side. I think that it is fair to say that my wardrobe is about 50% homemade, 30% secondhand/vintage and 20% retail purchased. People know me for customizing almost everything I have, like embellishing my accessories and making almost all of my own jewelry.
What's your sewing secret weapon?
The easy answer is my Husqvarna Viking Opal650 sewing machine, with all of its fancy straight stitches. It is nice, and we are friends. The complex answer is twin needles and every type of bias tape or elastic available to mankind.
Who or what inspires you?
I browse thousands of runway shows on Style.com right before the beginning of a season for inspiration. I appropriate designer details and trends into the items that I make in order to maintain a certain level of fashion relevancy. It's inspiring, challenging, and above all else – cheaper. You can see what makes my engine roar if you follow me on Pinterest or Chictopia.
"Sisters" and "Girl Goose"
What has been your favorite project recently?
The best projects I've ever produced incorporate contrasting elements to produce something unique and unexpected. Most recently, I made a beautiful rose-coloured beaded chiffon dress for a wedding. I used a basic loose fitting racer-back tank top pattern. It's a modern sporty cut in a delicate feminine fabric. I nearly went blind pulling all of the beads off of the seam lines, though… Watch for it coming soon to my projects on Burdastyle!
If you were to give a beginner one piece of advice, what would it be?
Never be afraid to take on a challenge, and don't be disheartened when you have to rip out seems to fix your mistakes. I've been sewing for 15 years, and I feel like half of my time is spent desperately clutching a seam ripper with my shriveled claw of a hand. Also, buy cheap fabric that is a similar weight to the fabric you intend to use and make the major parts of whatever you're sewing out of that first. You'll minimize your wastage of good quality fabrics, which is the key to producing a successful garment.
If you had all the fabric, money, and equipment t your fingertips, what would be your dream garment to sew?
I want to sew something I can live in. Literally, like a wearable tent-house, or a flotation orb so I can wander in to a field or jump in to a lake and just exist there without being harassed by weirdos or the weather.
Polka Dotted Dream Land, A Poppy Short
Do you have any tips for someone still trying to create their signature style?
You can't pull off a look if you don't believe that you can, because style comes almost entirely from confidence. So you stomp it out in your matching velour tracksuit, or vintage marching band jacket. If you can convince people they're the ones that don't get it, you've got them in the palm of your hand.
What are your favorite fabrics to work with?
My skin and I are good friends, so I never buy a fabric that won't feel good on it. Whatever colour or texture it is, the feel of it comes first. I'm a huge fan of cotton stretch sateen, rayon challis, linen blends, and silk crepe. That is a recipe for a nice feeling wardrobe.
Thank you so much for chatting with us! Sweetharte is so much fun and her style is an inspiration for girly girls everywhere.
Happy sewing!