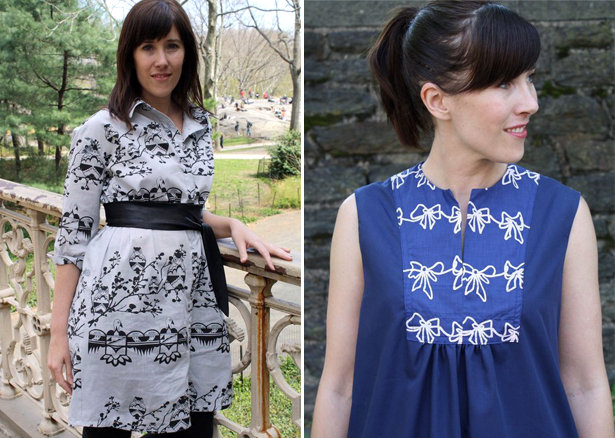 ShareThis
Where are you from and where do you live now?
I live in New York City now, but I am from Vancouver Island, British Columbia — a world away from New York and about as different as two places can be. When I'm not sewing (or drafting patterns) I can usually be found playing with my daughter, who is almost three.
How did you start sewing?
My mom taught me how to machine sew when I was about 10, I think. My first project was a Hawaiian-print cotton skirt with an elastic waistband. Following that, I sewed off and on through my teens and early 20s (mostly adapting items of clothing I bought at second-hand stores), but it wasn't until I was about 25 that I got seriously into making clothes.
These days I sew mostly from my own patterns, which I find enormously satisfying. My favourite project in my BurdaStyle studio would have to be the shirt dress I made from Snoozer Loser fabric that I won from a contest. I loved the fabric and wanted to showcase it with something simple and wearable. It turned out to be VERY wearable: I rock it all the time and get so many compliments. The fabric is so eye-catching, and I'm proud that I drafted the pattern myself (and that it worked!).

Suzeb's daughter
Describe your personal style in 5 words or less
My style could be described, I think, as: feminine, easy, classic, comfy, and fun
Do you have a style icon who inspires your sewing projects? Where do you go to get inspired?
I love Jenny Lewis (lead singer of Rilo Kiley) and actress Zooey Deschanel for their sweet-and-feminine-but-with-a-little-edge vintage styles, though I don't necessarily borrow from their look books. (I wish I had the legs to rock Jenny Lewis' short skirts, but I don't!) I'm at a point in my life where I now know what looks good on me — and what I may like in theory, but will make me uncomfortable when I actually wear it. So I only pay attention to the trends I know will work for me.
Sometimes I check out style blogs like Kendi Everyday or What I Wore — or just walk around New York City — for inspiration. I love that in New York you don't have to be 19 years old to be fashionable. I see women (and men) who get the seniors discount and they're still rocking a look! (It may be the same look they were rocking 40 years ago, but still, it's a LOOK, which is more than I can say for myself some days.) I also get inspired by particular fabrics or the fact that I can't afford a coveted item.
I also sew for my three-year-old daughter, and for her I find inspiration from classic movies like Chitty Chitty Bang Bang (love the old-timey bathing suits!).
When do you find yourself most creative?
I find myself most creative during the winter months when I don't feel guilty about bending over my sewing machine for hours on end.
What's your sewing experience like?
I often find myself sewing while my daughter naps, or on weekend mornings when my husband takes her out to play. Basically, whenever I get a moment to myself, I am sewing. I like to listen to public radio (WNYC) while I sew, though if I'm drafting something tricky or trying out something new, I turn it off so I don't get distracted and end up making a mistake or cutting through an expensive piece of fabric (yes, that has happened, I admit it). The three of us live in a one-bedroom apartment, so there's not a lot of extra room. My sewing space is in the foyer near the front door, between a closet, a stroller, a tricycle, our shopping cart, some old clothes that need to be recycled, my daughter's shoe collection…it's cramped! I sew standing up at the same table I use for drafting. My fabric is stashed underneath, and I try to hang as many of my supplies as possible on the wall. I've tried to make good use of what space I have, and luckily for me, my daughter is very good at handing me any pins she finds on the floor.
What's your dream sewing project?
I'd love to make a perfect wool winter coat. Or sailor pants. I've always wanted sailor pants, but they're hard to find, and rare that they fit perfectly. If I can draft a decent pattern, I will make several pairs.
How long have you been a member of BurdaStyle?
I've been a member since Sept. 2007, though it took me a while to start posting projects. I love the tutorials, which I reference frequently — pretty much every time I am sewing something I haven't attempted before: welt pockets, collar stands, all the tricky little details that you need to review before you turn on your machine. I also love the (free or affordable) patterns, and the inspiration I get from seeing other member's projects. If I have a piece of material and I'm not sure what to make with it, I browse through the archives to get some ideas. I probably visit the site every other day. (I don't want to miss any of the great giveaways!) I've posted just one of my patterns so far, and I wish it were easier for me to post more, but it's a time-consuming project when you lack the right technology. Hopefully I can be a bigger contributer in the future.
What is the most frustrating thing about sewing for you? What is the most rewarding?
I find all the steps required before you actually turn on your machine to be tedious: cutting out a pattern, pinning it to the fabric, cutting out each piece and marking it with chalk, etc. It's important to do all those things carefully, but you don't start seeing results until you're sewing….I guess I'm a little impatient at times. I really enjoy drafting my own patterns. It's like this big puzzle that you have to solve when you start from a sketch and then sew to completion. And if I feel like something I drafted myself is more flattering on my body than something store-bought, I am thrilled.
Check out her top ten favorite member project slideshow!