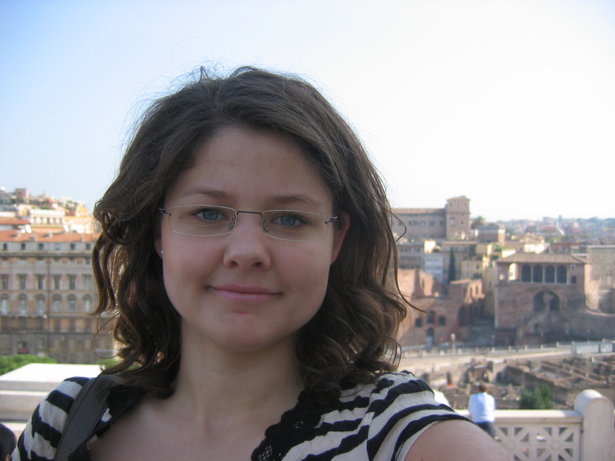 ShareThis
1. Where are you from and/or where do you live?
I'm living in Karlsruhe in the south of Germany. I grew up next to here and moved to Karlsruhe for my studies.
2. What was the 1st thing you made? How did you start sewing?
The first thing I made were some curtains for my balcony last summer (2007). I needed some curtains but I didn't want to spend much money. So I bought some fabric, asked my mom for her sewing machine and made my first steps with it. I was very satisfied with how they came out. So I also tried to sew some pillowcases with zippers. I had much fun with it and I still had some fabric left overs. This time I tried to sew my first garment: a skirt. After some weeks I bought my own sewing machine and went on sewing.
3. What role does sewing play in your life?
I enjoy sewing. My studies are very theoretical so it is great to do something creative. For me sewing means relaxing. I spend many evenings with my sewing machine so my boyfriend sometimes says that I am a sewing addict.
4. What is your favorite and what is your least favorite thing about sewing?
In my opinion the favorite thing about sewing is that you can create your own garments which are absolutely unique. You can do things which are exactly your style and fit. You can combine fabrics, colors and patterns the way you like and you can save a lot of money! I love to see the development of new garments: first you have only cut fabric peaces and in the end you have finished clothes. I like wearing things I made myself. It makes me proud because I've done it. I also thinks it is great that I do not have to buy clothes which were made in countries where people only get famine wages and have to work under catastrophic working conditions.
What I do not like about sewing is ripping up seams when I made something wrong. It costs so much patience and time. I also do not like hand stitching and cutting fabrics very much. But you have to go through it!
5. If you could make something for anyone, who would it be and what would you make?
There is no one special. I like making things you can wear everyday but also things for going out. I have sewn some things for my sister and my boyfriend, so I am very proud when they are wearing it.
6. What are you looking for on our site? What do you think should be improved and what do you really like?
I love this site because you get so inspired by all the members. Nearly every day I check the new creations for new ideas. It is great to have the possibility to write comments to other member's creations. I'm always very happy when I have new comments on my site. The best thing about BurdaStyle is that you can download patterns for free and you can see what other members did with the same pattern! It is great to see the differences and alterations. When I started sewing I only did exactly what was described in the instructions. But with the Sidonie-MiniChallenge I had so much fun with doing alterations on my own. So please go on with such projects! I also like the how-tos because you can learn so many things!
I love that you can add other member's creations to your favorites. But I think it would be also great if you could see the members who added your creation to their favorites. I only can see the first two of them and often the pictures are not the right ones. So this could be improved.
7. What is your motto?
I do not have a special motto. I just can tell all burdastyle members to go on with sewing and showing their creations on this site! It is so inspiring!
Susisonne has so many awesome creations, check them out here creations!