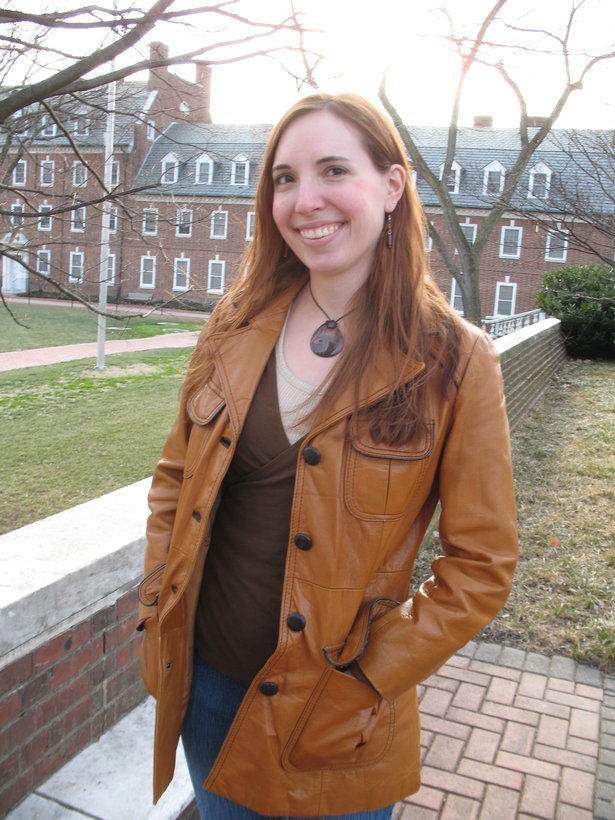 ShareThis
1. Where are you from and/or where do you live?
I've lived my entire life in northern Delaware, on the east coast of the US.
2. What was the 1st thing you made? How did you start sewing?
I grew up with it-my mother's sewed for my whole life, as does my grandmother and my aunt. So she started teaching me how to use the machine when I was about seven years old. The first thing I clearly remember making was a Barbie dress that I hand-sewed from white felt scraps and seafoam-green yarn. I had to cut it off the Barbie later because I forgot to leave an opening to take it off. I think the first thing I sewed on the machine was probably an awful pair of elastic-waist shorts in the horrible neon colors they had in the 80s-so it's probably a good thing I wasn't taking pictures of my creations back then!
3. What role does sewing play in your life?
When I was growing up, making clothes was a huge personal expression thing for me-I really hated the thought of wearing the same generic mall clothes as my classmates. Plus it made it really easy to have skirts that were long enough for my school's dress code! Now, I work in a creative-based field (I'm a musician/music teacher), so it's really nice to have something creative that's purely for fun. Plus the clothes in stores still generally either bore me or annoy me when I know I could make them better (and often cheaper!)
4. What is your favorite and what is your least favorite thing about sewing?
Planning the project is a lot of fun for me, whether trying to decide what to do with a gorgeous piece of fabric, what to use for a certain pattern, or trying to come up with my own design altogether. I also really enjoy the machine work, and I love finishing things so I can wear them out of the house! My least favorites are cutting out the patterns and ironing. Especially ironing-I know it's necessary, but it still annoys me.
5. If you could make something for anyone, who would it be and what would you make?
The ever-elusive perfect-fitting pair of jeans! I'd also love to be more adventurous in sewing for other people in general, as fitting anyone other than myself usually scares me.
6. What are you looking for on our site? What do you think should be improved and what do you really like?
Besides the free/inexpensive patterns, the best thing is the sense of community, hands-down. Everyone is so encouraging of everyone else's work and willing to share their knowledge and ideas, and I just love that. I also really love that experimentation with the patterns is encouraged, and seeing the different variations on the same pattern that people come up with! I'd really like to see a feature where how-tos connected to particular patterns can be linked from the main page of that pattern, if possible. And I want more mini-challenges!
7. What is your motto?
Borrowing from John Lennon, since I believe it really applies to sewing too. "Life is what happens while you're busy making other plans."
For more info on Sunnyb64, take a look at her profile. If that is not enough for you, make sure you check out her blog!