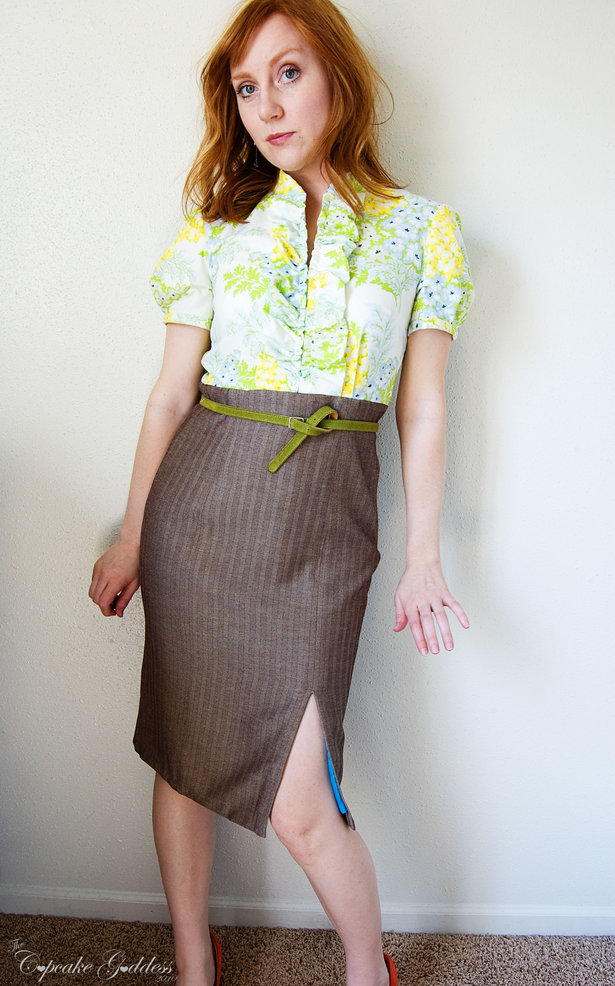 ShareThis
1. Where are you from and/or where do you live?
I'm from a small town in the southwestern portion of Utah called Cedar City. It's one of those places where you don't have to lock your doors at night and you know nearly everyone who lives there. It was a dream growing up there. I moved to Salt Lake City, Utah when I started college and that's where I live now.
2. What was the 1st thing you made? How did you start sewing?
I started sewing little scraps of fabric my mother would give me into Barbie clothes when I was quite young. I've always been fascinated with the idea of "making something" and I've always been very much into style and fashion. My education in sewing was very natural and self motivated with exploration of self being the key. I started sewing with sewing patterns when I was high school where I learned how to read pattern lingo and such. It's only been in the last few years that I've really cultivated the craft in my life by learning more and educating myself about extended techniques, design and becoming more involved in the online community.
3. What role does sewing play in your life?
Sewing is my life. I love the art and to me it really is an art. It's so vast and there is so much to learn. Not the least of which is knowing what you love and why you love it when it comes to sewing particular garments. I adore the entire process of garment construction, from the selection of the fabric and pattern design, to the fitting of the garment muslin, cutting out of the final fabric and addition of beautiful details, like a triangular bound buttonhole, to the wearing of the final garment. It's a real treat for me. And for me, a form of self-reliance.
4. What is your favorite and what is your least favorite thing about sewing?
My favorite thing about sewing is fabric. I LOVE fabric. I am a true fabric addict. My husband and I live in a rather small apartment and my fabric stash is overflowing because I simply cannot resist any lovely piece. A most recent addition is a simply breathtaking piece of….pea green worsted wool. Oh I nearly died when I saw it and had to have it. I've been looking for this particular shade for a pencil skirt for what seems like forever. And now, I have it. It's almost too good to cut into. But don't you worry, I will. And with my Jenny Skirt Pattern too!
5. If you could make something for anyone who would it be and what would you make?
I'm such a selfish stitcher. Really. I abhor sewing for others. However, I have recently become enamoured of men's fashions and would really love to stitch up a beautifully tailored men's suit for my husband. Compared to me, my poor husband has a very small and very drab wardrobe and yet he is so good looking. A beautiful wool/cashmere suit would be just the ticket for him. Not to mention a dress shirt with all the bells and whistles including a detachable collar, fitted waist, french cuffs and handmade buttonholes. Tell me that doesn't sound superb. Just try.
6. What are you looking for on our site? What do you think should be improved and what do you really like?
I'm looking for a community of like minded stitchers on BurdaStyle and this I find every time I visit. I love that part the best, I think. I also love how BurdaStyle is now integrating the Burda Fashion Magazine patterns on their site for a very reasonable price. This idea appeals to me because there were so many patterns in the magazine I didn't want and usually just wanted one or two that I couldn't live without and now I can get the ones I want with the click of a button.
Anything I would change? I think the site layout is quite beautiful especially since its been switched from the old site. However, I don't understand the rating system. You know, when you go to rate a particular pattern, project or technique in the top right hand corner. I think there is a future for this function it just doesn't seem to have a purpose now.
7. What is your motto?
Ha. That's easy. Be the hero in your own life story. In fact, write your own life story. Infuse it with all the creativity, beauty and surprise that you find within yourself. And don't let anyone ever do it for you. Ever.
Do. Be. Am.