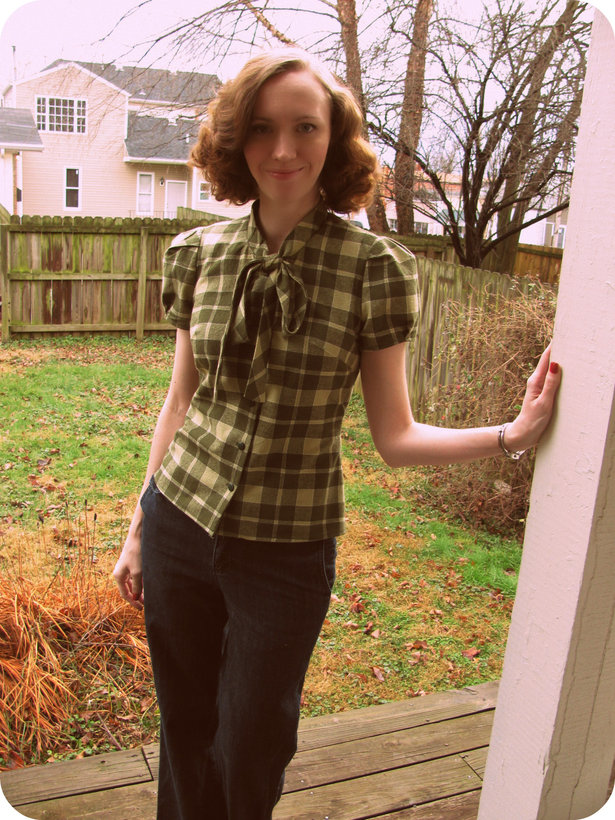 ShareThis
1. Where are you from and/or where do you live?
I've lived my whole life in Louisville, Kentucky. I'm a professional musician, and the arts community here is wonderful – it's very different from they way I think people imagine Kentucky would be! I would never want to live anywhere else. I have a great love for old houses, and we are lucky that there are so many here! My husband and I own an old Victorian, and my second passion (after crafting) is restoring the house to its former glory.
2. What was the 1st thing you made? How did you start sewing? What's your favorite project in your BurdaStyle studio?
I was partially raised by my paternal Grandmother. She passed away a few years ago, and I inherited all of her things – including a great deal of sewing ephemera. I hit upon the idea of learning to sew as a tribute to my Grandma. I use many of her things, but my favorite is her thimble – it fits me perfectly, and belonged to her mother before her. The first thing I sewed was a simple quilt – I wanted something that would teach me how to sew straight lines, and I was in love with all the pretty fabrics you can get now for quilting. After that I started making clothes, and there's been no turning back! My favorite project is the one I called "The Betty dress". It was inspired by one Betty Draper wears to a picnic on Mad Men. I love the full skirted 50s silhouette, but true vintage dresses of that era never fit me correctly – with sewing my own that isn't a problem! I learned a lot making that dress – I full underlined it in silk organza, and I worked hard on the fit. I wore it to a wedding this summer, and all night my husband kept telling people "My wife made her dress" because he was so proud!
3. What role does sewing play in your life?
I absolutely love fashion – it's been a hobby of mine since high school. Sewing enables me to create the looks that I want to wear, rather than being tied to whatever is in stores this season. I want my clothes to tell a story about who I am! I also knit, and between the two I've started to create most of my wardrobe myself.
4. What is your favorite and what is your least favorite thing about sewing?
I love planning my sewing projects. I can spend hours dreaming about combinations of fabric, pattern, and trim. Sometimes I have to remind myself to stop daydreaming and start sewing! Since I don't have a local fabric store (our wonderful downtown store closed two years ago) I have to buy my fabric online, so the planning is very important – how I envy those who can go to the fabric store and browse for what they need! My least favorite part of sewing is the cutting. I use a rotary cutter and listen to music while I cut, but I still find it very tedious – and I'm constantly worried about being off grain, or making a cutting error that I can't recover from!
5. If you could make something for anyone who would it be and what would you make?
This is sentimental, but I really wish that I had been sewing when my grandma was alive. She sewed so many things for me growing up, and I wish that I could have made something for her to return the favor – perhaps a cardigan in the bright, loud purple color that she loved so much!
6. What are you looking for on our site? What do you think should be improved and what do you really like?
The best thing about BurdaStyle is the inspiration it provides. I only know one other person my age in real life who sews her own clothes, so for me it's wonderful to see all the creativity! Sometimes when I tell friends that I make my own clothes they literally cannot understand why I would do that – it's so great to have a community of sewers who feel the same drive to create that I do!
I would like to see a more organized and active forum, that's the only thing that I think is missing from the site – it would help to foster even more of a sense of community.
7. What is your motto?
Don't be afraid to fail. Try something new in every project – if it turns out well then you will have learned something, and if it doesn't then you will learn in the failure! I think many people are afraid of the new, but I like to jump in with both feet – and if I miss that mark at least I tried!
Look through stitchywitchy's top ten member creations slideshow