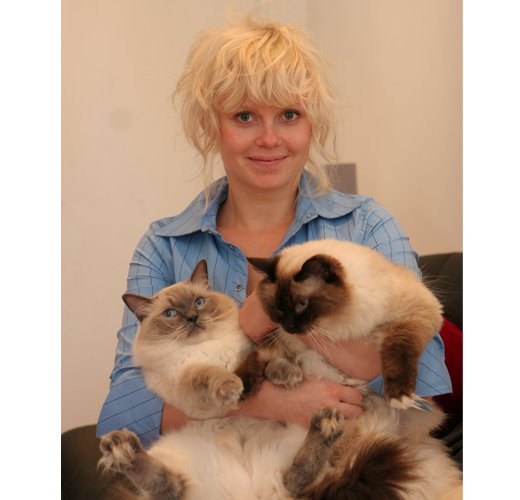 ShareThis
1. Where are you from and/or where do you live?
I am from the Czech Republic, currently living in Sydney, Australia.
2. What was the 1st thing you made? How did you start sewing?
1st thing I made was a stuffed caterpillar, sewn by hand, for my mums
birthday and I was 5 years old. First thing I sew on a sewing machine
was a stripy tshirt, when I was 6 years old. I was in trouble for
that, because I was not allowed to use my mums sewing machine, but I
just could not help it. She was in shock when she found me at home,
proudly wearing my new top which she had no idea where it came from.
After that, mum taught me how to use the sewing machine and I started
making outfits for Barbies and selling them to my friends.
3. What role does sewing play in your life?
Basically, I could not live a day without creating something. I love
my sewing machines and my scissors :)
Besides this simple way of enjoyment, I also design for clients, but I don't stitch! I get them stitched. But initially I do stitch a sample piece.
4. What is your favorite and what is your least favorite thing about sewing?
I love everything about it. Sad, but it is true.
5. If you could make something for anyone, who would it be and what
would you make?
I would create a functional wardrobe for Britney Spears (i am not her
fan, but i just can not watch what unflattering pieces she is
wearing).
6. What are you looking for on our site? What do you think should be
improved and what do you really like?
I am looking for similar creative souls on your web, I am always so
happy to see that people are enjoying sewing and I love all the
inspiration i get from your members.
I would love if the uploading pattern thingy was less complicated. I
would be more than happy to upload some patterns, but i find it too
time consuming.
I love the whole concept of the website, it is wonderful. Thank you.
See some of Stepanka's colorful and feminine creations, especially the awesome Beach Cover Up, made from the Desira pattern, by viewing her profile here!