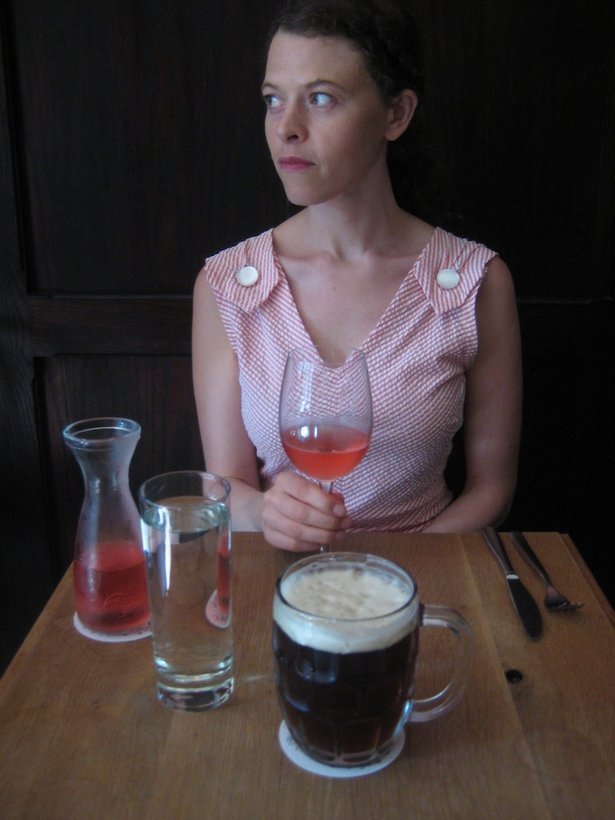 ShareThis
Where are you from and where do you live now?
I grew up in Lincoln City, Oregon (the central coast), but now live in Brooklyn, New York. I'm a writer (a journalist and also a budding screenwriter).
If we were to come to your town, where would you take us?
I'd take you to the discount "jobbers" on 39th street between 7th and 8th for great deals on cottons and silk, then to B&J on 7th Avenue to drool at the amazing selection of dream fabrics. We'd go to Purl Soho for awesome quilting fabrics. In Brooklyn, we'd go down to Red Hook to Brooklyn General Store, a sweet little knitting and fabric shop that carries all natural fiber textiles.
On the weekend, we'd stop at the Brooklyn Flea, a fantastic flea market in Fort Green and Williamsburg. If you were visiting in the summer, I'd take you to the beach in the Rockaways with the pretense of surfing, but we'd really just drink beers, eat chips, and read tabloid magazines on the sand.

"I was about five in this picture. My mom sewed the dress, and she made matching ones for herself and my sister."
How did you start sewing? What motives you to sew?
My mom taught my sister and I to sew, and I sporadically made clothing in high school. But this past year I've gotten a lot more serious about learning to become a better sewer.
I've always been inspired by vintage fashions. It was a revelation when I realized I could just buy patterns from the 30's, 40's, and 50's and make my own clothes, instead of relying on finding vintage clothes I like.
So far, my greatest sewing achievement is a silk charmeuse dress I made for a friend. I called the dress Lady Charmeus's Lover. This project was my first time sewing for someone else, and my first time sewing such delicate fabric!
Do you have a style icon who inspires your sewing projects? Where do you go to get inspired?
I'm a huge fan of both Madeleine Vionnet and Madame Grès. I lust after their draped gowns from the 30's. I find inspiration all over the place, but the costumes in old movies, vintage photographs, and the colors in nature (particularly the beach) are probably my top inspirations. On my blog, Daughter Fish, I usually include drawings of the style icons that may have inspired a certain garment.

sprucedoll's moodboard.
What's your sewing secret weapon? What trick or technique do your sewing projects always tend to include?
I don't know if it's a secret weapon, but this year I learned how to make rub off patterns from the book "Patternmaking for a Perfect Fit: Using the Rub-Off Technique to Re-create and Redesign Your Favorite Fashions," by Steffani Lincecum. So far, I've used this technique to make a jacket pattern from my husband's wedding suit, and I've been able to copy some of my favorite elements from vintage dresses to incorporate into new patterns.
What's your sewing experience like?
I'm a late afternoon sewer. After I'm finished writing for the day, I crank up the tunes and let my mind wander as I sew.
My sewing table faces a wonderful and wild photograph of a bikini contest taken in the early 1980's by Joel Sternfeld, one of my husband's photography clients (my husband is an artist and master printer). I always find myself tripping out to the crazy 80's bathing suits and clothing the women are wearing. The outfits are kind of scary, but also kind of rad.
What is your dream sewing project?
I would love to make a 30's bias-cut ball gown. This is what I wanted to make for my wedding, but didn't have the time or courage to actually do at the time.
How long have you been a member of BurdaStyle?
I joined BurdaStyle in December of 2010, and chose my user name based on a screenplay I was working on at the time. The name also reminded me of the dolls on which Madeleine Vionnet draped her dresses.
I love how BurdaStyle allows me to see all of these fantastic projects people are creating all over the world. I get so many great ideas from the wonderful community of sewers here. I stop by the site at least daily.
What is the most frustrating thing about sewing for you? What is the most rewarding?
I'm terrible at buttonholes and closures in general. I would pay someone to teach me to perfectly sew in zippers every time (anyone out there offering a master's class in NYC?).
The most rewarding part of sewing is wearing something I've made. I know I've succeeded with a garment if I actually wear it.
P.S. – I blog regularly at Daughterfish.com (The name of my blog comes from my background as the daughter of a commercial fisherman. I spent many summers during high school and college fishing on his boat in Alaska).
Check out Sprucedoll's top ten favorite member projects!