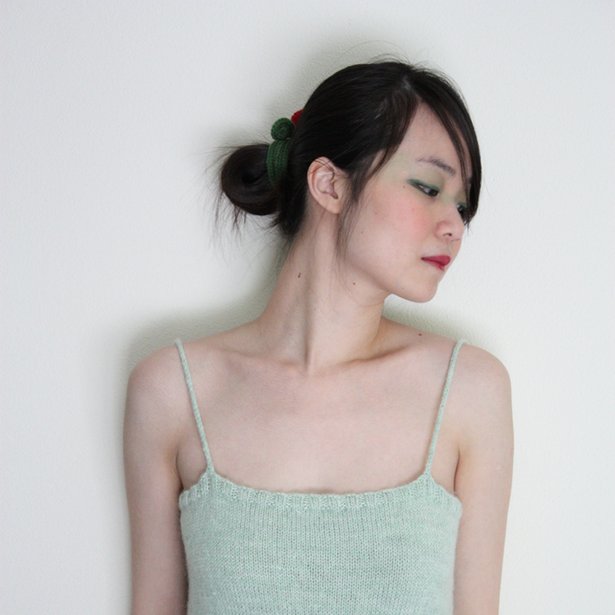 ShareThis
Where are you from and where do you live now? What do you do other than sewing?
I am originally from Malaysia. To escape the humidity and heat, I took up an offer with a US based company… Recently, my fiance and I moved from Iowa to Washington. There are a few other things that occupy my time namely watercolor painting, knitting, and polymer clay sculpting. There are just too many things to do!
If we were to come to your town, where would you take us?
Pullman is a small town. I usually shop for fabric and notions at Quilted Heart where some old stock are stashed, Joann Fabrics (in the next town) where I get to use 40% coupon, and Etsy where numerous talented people sell supplies and crafting goodies.
One particular consignment store that is worth visiting in town is Lily Bee's. They have a great selection of vintage items ranging from cute foot wear to fancy dresses, not to mention hats and cloches. You know, all the things with haunting spirits, good or evil (jokingly of course).

smallfire at 3 years old
How did you start sewing?
My mom was my inspiration. She used to work as a seamstress for my cousin who was a tailor. It was amazing watching her work. At one point in time, she even sewed dresses for toys. How cute!
I have a need to keep busy all the time. I guess you can say that is part of the motivation. But what motivates me to sew over knitting or painting instead for example? I think the answer lies in the time it takes for project completion. Knitting takes time and being a free form knitter, I design and knit at the same time. A project usually ranges from two weeks to a month. Whereas, sewing with an existing pattern, I can whip something up in a couple hours. It gives more immediate satisfaction. However, I am still searching for that one piece that I would consider great. It may be a while but stay tuned!
Do you have a style icon who inspires your sewing projects? Where do you go to get inspired?
I admire Elie Saab but I cannot say that he inspires my sewing projects directly. I need to have made at least one flowy dress to claim inspiration. Often I wonder where he gets those luscious fabrics from. Are they custom made? Now that I am talking about his work, I do feel inspired! My projects are mostly directly influenced by my existing wardrobe and window shopping on the internet.
What's your sewing secret weapon? What trick or technique do your sewing projects always tend to include?
Patience.
What's your sewing experience like?
I can sew all day long. When I was working full time as an engineer, I could only sew after dinner and on weekends. Now that I am taking a break from being a corporate slave, I can sew even at 3am on week days! I usually listen to Taiwanese talk shows, some oldies but goodies, and at times I work in silence. Oh and a cup of coffee in the morning!
What is your dream sewing project?
My dream sewing project is simple at the moment. It is a full chiffon dress. Can you please imagine an Elie Saab's dress but sewn by moi for now?
How long have you been a member of BurdaStyle?
I have been a member since January 7 2010. I wanted the username SH but it was too short so I used my nickname smallfire instead.
BurdaStyle allows users from all over the world to meet and share. I have made quite a few friends and become an admirer to many others. There are so many talented people out there! I check my account on a daily basis so drop me a message and I will definitely get back to you. I usually reply to all comments even with a simple thank you to indicate that I received and read your comment.
What is the most frustrating thing about sewing for you? What is the most rewarding?
The most frustrating thing is my dress form. It does not reflect my body. I should have bought one from a local sewing store or at least a professional grade one but I fell victim for one that is more for display. The display dress form looks better but is far less functional for designing. As a consolation, I can at least pin on it though.
The most rewarding thing has to be when the clothes I make fit! I bet everyone hates spending hours on a project that does not fit in the end. I have been lucky with fitting since I use commercial patterns and simple self drafted designs. I just upgraded my sewing machine, I supposed the dress form is next. I can hear the piggy bank squealing!
Click through smallfire's top ten favorite member projects!