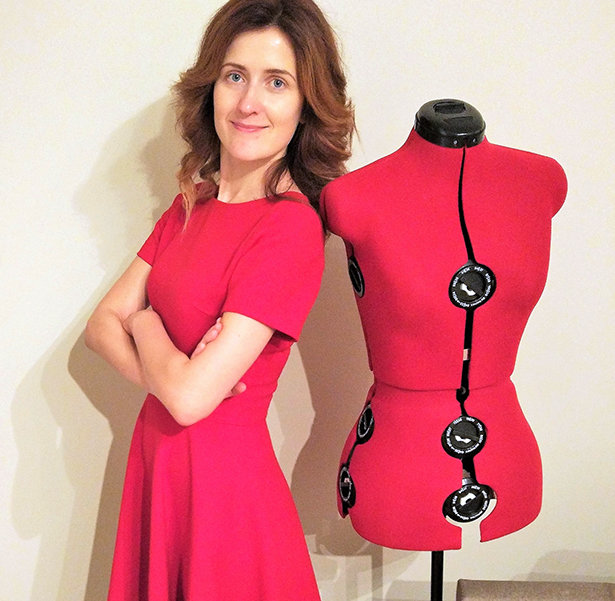 ShareThis
It has been a while since we did a featured member, and we are thrilled to bring it back because we have so many talented members here on BurdaStyle.com! Today we are featuring member SewingJulieBlog who is a self-proclaimed young business professional by day, sewing school student by night. Read on to learn more about Julie…
Tell us a little about yourself.
My name is Julija (Julie for short) and I love sewing. I have been sewing for more than 10 years and I learned most of what I know from sewing magazines, mostly Burda Style. I am currently attending an evening sewing school to deepen my skills in this field and I will be graduating as a certified dressmaker in June. To share my passion with the world, I write a sewing blog where I document what I learn at school and my progress.
Where are you from originally, and where do you currently live?
I am from small country in Northern Europe – Lithuania. We have all four seasons – hot summers, golden autumns, freezing snowy winters and cheerful springs – and for a sewist it gives an incredible opportunity to create useful wardrobe for each of them!
Do you have a day job besides sewing?
I have two big passions in life – sewing and economics – and I am fortunate to have a job that allows me to focus on the second one: I work as a product manager in a retail chain and my days consist of various analysis, negotiations with suppliers, assortment choices and etc. Each day looks different, which makes job very interesting and exciting – I am one of those people who cannot wait to return to the office on Mondays!

Pattern #117 from the 06/2007 issue!
How and when did you start sewing?
My grandmother recalls me constantly asking permission to use her old non-electric Singer sewing machine ever since I was 4 years old, so it's probably safe to say my journey to sewing started way back then. In my teenage years I tried many other handcrafts – knitting, crocheting, cross-stitching – but none of them stuck for long. That changed when I turned 18 and got my first oh-so-old sewing machine – it was loud, the stitch was far from perfect, the tread would constantly brake, but it was mine and I was finally able to express my creativity using it. I was hooked to sewing since very first garments I made (they looked disastrous and completely non-wearable, by the way) and this hobby slowly turned into big passion of mine. I am sewing regularly for nearly a decade and I still cannot wait to start new projects!
Do you prefer to work from patterns, or draft your own?
I learned basic pattern drafting at school, so if I need a simple skirt or a dress it's quicker to just draw something myself – I have a non-standard figure (classical pear: hips wider than waist by two sizes), which makes fitting with ready-patterns a bit more difficult. That being said, I often use commercial patterns as well, especially if I want to add a special design feature that I never made before. I love mixing own patterns with commercial ones, for example as I did in my recent exposed zipper dress (pictured below): the top part is the designer #130 pattern from Burda Style 12/2013 issue and the bottom is drafted by me. This combination is perfect for stylish office dress!
How would you describe your personal style?
Throughout the years I noticed I feel best, work more efficient and think clearer when surrounded with solid colors and minimalistic designs – it is reflected in my home design, my workspace and my wardrobe as well. I don't like clutter anywhere in life, so adding any additional details to designs or putting on accesories is a difficult task for me. I am a minimalist to the bones and the only thing that I collect are books – I am a keen bookworm and you might have noticed a high bookshelf in the background of some of my photos. Other than that I would say less is more for me. (photo: my style)

Self-drafted dress
What's your sewing secret weapon?
Oh, this one is a little embarrassing: coffee, Coca-Cola or both, in best case scenario! Seriously, when I start sewing and get "in the zone", I don't like taking pauses for eating or anything else, so I get needed energy refills from these drinks and keep on going for hours and hours on end – terrible habit, I know, but I get so captivated when sewing, the world around me disappears and I get lost in the process. (photo: Burda 11-2012 vest)

Pattern: Waiter's Waistcoat
Who or what inspires you?
Shop windows, magazines, vintage patterns… For the longest time my number one go-to inspiration source was – and still is – Burda Style magazines: I love flipping through technical drawing pages and analyzing them, and I probably memorized each design in every magazine that I have by now, ha! As for other inspirational sources, I love looking at what Celine Dion, Amal Clooney or Victoria Beckham wore – I admire a lot what these beautiful ladies have accomplished in their lives and careers, all while maintaining fabulous styles choices!
What has been your favorite project recently?
At the moment I am sewing a faux fur coat at school and it's one of the most fun projects I ever did! Working with faux fur is very different from regular fabrics, so I am learning a lot of new things in the process (bonus: I get to use super-cool fur sewing machine at school, which is nothing like I worked with before!). I also loved making my first coat recently – it has a very interesting hidden button closure, which I learned to make from my teacher. She literally had to guide me through each step of the process, but the result was so worth it! (photos: fur sewing machine; hidden button closure)

Fur machine!

Project featured in our Best of January 2018 Gallery
If you were to give a beginner sewist one piece of advice, what would it be?
I am a firm believer that determination comes a long way: have I not been determined to learn to sew, I would have quit after my first few miserably failed attempts of making clothes (they were terrible and went straight to rubbish bin); but I stuck to it and improved with every project I did, to the point where I am proud of having a well-made custom wardrobe. Very little are born with exceptional talents, but the rest of us can reach whatever we want through hard work, determination and staying focused, that's what I believe!
If you had all the fabric, money, and equipment at your fingertips, what would be your dream garment to sew?
Many girls dream about how their wedding dresses would look like, but I always knew I would be making mine. Coincidently, while writing these lines, I am also picking designs for my wedding and it will be definitely the most exciting project I'll be making this spring! There are so many designs to choose from, but I will probably stick to my style and pick something classical and minimalistic. Let's wait and see!
Are you participating in the Burda Challenge 2018, or have you done a Burda Challenge in the past?
Believe it or not, I have been participating in my own version of Burda Challenge for many years already: I am very reasonable with my purchases and I would not buy anything I don't get value from, so I have made myself a promise to make at least one design from every Burda magazine I buy. I accumulated quite a few magazines throughout the years and I made at least one garment from each!
What is the next BurdaStyle pattern on your to make list?
I am not a big fan of vintage, but I cannot forget this dress from 1995 Burda magazine. This dress is so dreamy – maybe I should just go for it? It would look perfect in the office! (photo: Vintage Burda pattern)
Thank you, Julie! Please be sure to follow along Julie's sewing journey at her blog Sewing Julie and her projects page on BurdaStyle.com!