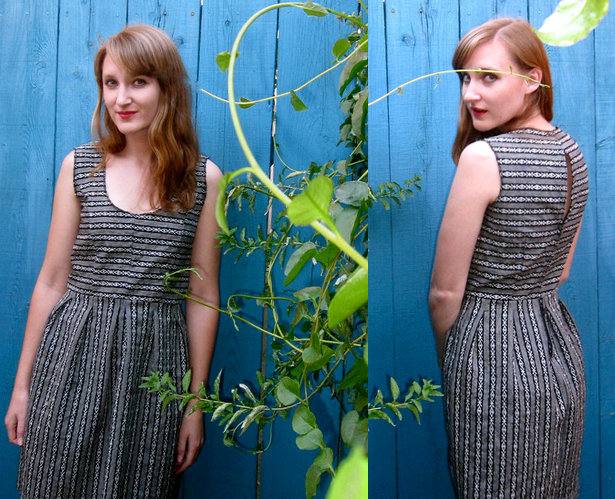 ShareThis
Where are you from?
I am a California girl born and raised. I grew up in a small surfing town on the central coast, and attended UC Berkeley for college. I now run a non-profit mentoring program at a middle school. Yet as much grant writing and volunteer recruiting as I do, I like to say that at the end of the day you can't wear a thesis! At work I try to make a palpable difference in the lives of our students, and at home I like to create for myself—knitting, sewing and working with my hands.

"The picture is of me in the Christmas dress that my mother made me to look exactly like the one on the pattern envelop."
How did you start sewing?
My mom sewed all my baby clothes and taught me to work a sewing a machine. Her serger I learned by myself with much frustration. It wasn't until I graduated college and we took a sewing class together that I was really able to take pleasure in dreaming, designing, and making my own clothes. I like to use patterns but never follow directions, and enjoy the intricate details and individuality you can get from clothes you make yourself.
I sometimes have a love-hate relationship with the things I make (I hate it when it's done but pick it up a few months later and usually love it). But the project I was most excited about was my Halloween monster costume because it is made from a Vogue dress pattern but done with wacky faux fur, satin and felt.

"Here is my mom displaying one of the baby pieces she made me. My clothes had piping, ruffles, and beautiful prints!"
Describe your personal style in 5 words or less!
My style is feminine, casual, earthy and detailed. And usually a little close-fitting. ;)
Do you have a style icon who inspires your sewing projects? Where do you go to get inspired?
My problem isn't finding inspiration, but rather finding enough time to make all of my projects! I am inspired by fellow sewers, bloggers and pinterest.com. I am inspired by trips to the fabric store. I am inspired by things I see in stores and things people are wearing. I have even been known to lean in to a friend's sweater just to explore how it was made. I saved a section of my blog for keeping track of all my inspiration, from cell phone pics of stuff I see out shopping to online collections of clothes and the things other sewers create! And while I'm a sewer and knitter, at heart I'm just a kid with my Legos itching to create.
Other than that, I can't really describe my motivation other than the need to create!
What time of year do you find yourself most creative?
I used to claim that I sew in the summer and knit in the winter. Now I would say that I make clothes all year, but that I sew for the summer and knit for the winter: I love making sun dresses and I have more in my closet than there are sunny days in San Francisco. And I generally think that knitwear is best left to sweaters and vests—summer knitwear is usually either too tacky or too complicated, and who wants to knit when it's warm out anyway?
What's your sewing experience like?
I am a little bit obsessive. When I get in to a project I might not eat or sleep until I get it done. But that also means that I rush through things. When someone finally taught me how to properly finish my seams (much to my mother's delight), I made the resolution to slow down my work and focus on making quality pieces that I could really be proud of (mostly). I'm also taking Sarai's advice over at Colette Patterns who recommended taking breaks when she talked about the ten ways that we ruin our sewing.

"My apartment is tiny, but this picture shows how I have squeezed in my little sewing space."
What is your dream sewing project?
I have been doing a pretty good job of working through my inspiration list, but I would really like to make a very feminine winter coat. So far I haven't found a pattern or inspiration that really catches my eye, and the wool is just so darn expensive!
How long have you been a member of BurdaStyle?
I just joined BurdaStyle in November when I realized you have to be a member to download a pattern. Since then I have loved uploading projects, reading comments, and checking out everyone's newest creations. I won't even tell you how often I visit (apologies to my boss).
What is the most frustrating thing about sewing for you? What is the most rewarding?
I hate working with difficult fabrics—hard to cut, hard to sew, hard to rip seams. But I love looking at all the neatly done stitches when I am finished! The best part, however, is probably being able to make pieces that I love and can actually wear. When people find out that I like to sew they usually ask me if I'm wearing anything I've made, and I would love to say yes every time!
Check out her Top Ten Favorite Member Projects Slideshow!