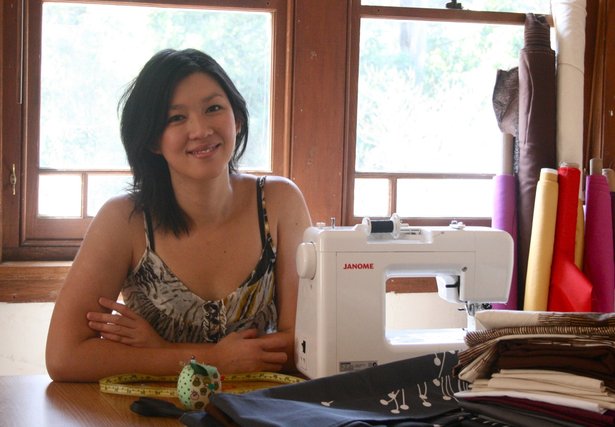 ShareThis
1. Where are you from and/or where do you live?
I live in Sydney, Australia. I actually grew up in Darwin in the far north of Australia in the tropics. I've also lived in California and London!
2. What was the 1st thing you made? How did you start sewing?
The first thing I made was probably something like a tote or zipper case in home economics at school. Do they even teach sewing at school these days? I remember watching my mum sew but I think my first experience was in that class at school. My favorite piece in my BurdaStyle studio is currently my Anda dress. It's so quick to make and easy to wear. I think if you can get a lot of wears out of a handmade item, it's a hit. I used to spend my time making complicated dresses that would barely get worn. An example of something I spent way too much time on making was when I decided to try my hand at tailoring using couture techniques on a blazer. It was literally sewn by hand and so laborious that I actually had to put it away for a few years before I could look at it again and finish it.
3. What role does sewing play in your life?
Sewing is like a form of meditation for me. The process allows me to become completely absorbed in the moment and I love that. I'm thoroughly enjoying dressing myself and my two girls in things I've made. It's also the core element allowing me to realize my dream of working creatively in my own handmade business.
4. What is your favorite and what is your least favorite thing about sewing?
I love the entire process of pulling together ideas and seeing it take form. I'm not a fan of spending hours cutting lots of pattern pieces. I really dislike unpicking.
5. If you could make something for anyone who would it be and what would you make?
I'd love to dress my husband! There is so much sewing for women and children that sewing for a man is pretty exciting. I'd like to maybe test my tailoring skills again on a blazer or suit jacket.
6. What are you looking for on our site? What do you think should be improved and what do you really like?
Inspiration, always. The members are so creative, not just in conceiving the design and choosing their materials, but also in the photography and the way their looks are presented. My favorite element is BurdaStyle's variations on its own patterns and the gorgeous photography. I love that the site is a fresh take on what some see as a quaint little craft. One of the best things about the site is the opportunity for the community to be involved at so many levels.
I think it would be great to have a way of organizing future projects or works in progress in "My Studio" that isn't for public viewing.
7. What is your motto?
Live in this moment.