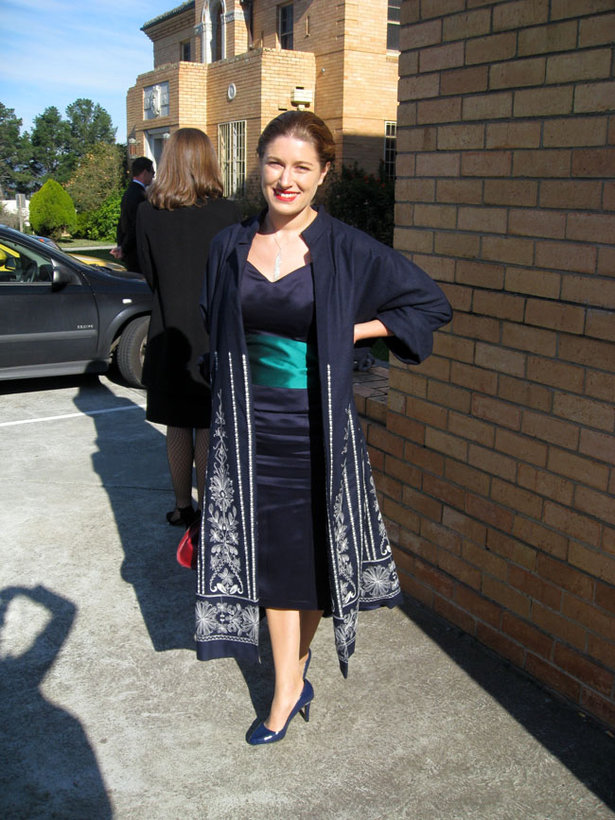 ShareThis
1. Where are you from and/or where do you live?
I am from Melbourne, Australia.
2. What was the 1st thing you made? How did you start sewing?
I had quite a few 'false starts' with sewing. When I was very young I used to make clothes for my dolls, they were pretty crude, but I loved them. One summer, when I was about 12 I tried to make a skirt. I think I had almost finished it by the time I was 14 or 15, but to this day I think it remains unfinished. I drifted in & out of sewing throughout the rest of my teenage years & then when I was about 21 I became really interested in it. I asked my Mum to teach me & she kindly obliged. First I made four plain stretch tops & then a black wool skirt (five years on I still wear them all regularly). The first thing I made that I was really proud of though, was a black jersey dress from Vogue Patterns(V2899) at the end of 2005.
3. What role does sewing play in your life?
For me sewing is my stress relief. It's really nice to have a project at home to work on to take your mind off work or anything else that's bothering you. I also really enjoy the constant learning that sewing offers, there's always another more challenging project on the horizon. Last, (but definitely not least), I think the engineer inside me loves the challenges of seeing an amazing detail or technique somewhere, trying to work out how it was done & then trying to reproduce that technique or detail in a garment.
4. What is your favourite and what is your least favourite thing about sewing?
My favourite thing is easily the compliments! There's nothing nicer than someone telling you how lovely something you're wearing is & being able to say in return "Thank-you, I made it myself". My least favourite thing is unpicking. I just have a mental aversion to it. So much so, that if it's required, it will often mean I'll put a project aside for a week or two until I really want to finish it.
5. If you could make something for anyone who would it be and what would you make?
A year ago I would have said it would be to make my own wedding dress, (how very selfish of me). I got married this year, in a dress I made myself & was so happy with how it all worked out. I think the only thing that could top that feeling would be to watch a daughter walk down the aisle in a dress I'd helped her make. I don't have any children, but if I did have a daughter I would definitely want to make fancy dresses for her.
6. What are you looking for on our site? What do you think should be improved and what do you really like?
I really love seeing what different people do with the same pattern, (in fact this is one of the reasons I'm really looking forward to the BurdaStyle book). There have been a few times I have seen a pattern, written it off as 'not quite right' only to look on BurdaStyle & see someone do something amazing with it. It's always refreshing. Also as someone who only has a few friends that sew, I love that we can all share our creations with a huge community of people who genuinely recognise the amount of time & effort that has gone into them & who can provide really helpful feedback.
I think the discussions section of BurdaStyle has a lot of potential that hasn't really been fulfilled. BurdaStyle has a huge community of very talented people out there & it's wonderful when you can use that to help you when you're stuck. The discussions section is OK, but, sometimes if you having a problem with a garment, it's really hard to explain it in words alone & pictures are a much better way of showing your problem. In my mind it would be a big help to enable picture uploads in discussion threads.
7. What is your motto?
I don't really have one…
Roarah has some amazing projects and has added a great technique about keeping your patterns organized. Check out her top ten favorites slideshow, and keep up with her on her blog