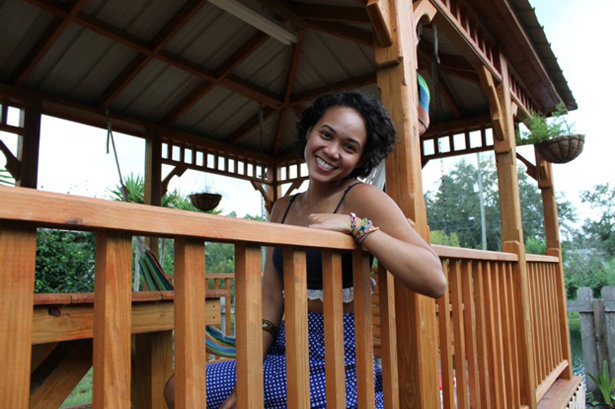 ShareThis
Where are you from and where do you live? What do you do other than sewing?
I was born in Oakland, California. The Navy moved my family to Jacksonville, Florida where I was raised since I was 4 years old.
I graduated from the University of Florida in May with a degree in Biology. Originally, as a bright-eyed freshman, I wanted to be a pharmacist or a doctor, but I've realized that's not my forte. I've always had a talent and love for creating since I was in grade school and I want to get back to what I excel at. So, my plan is to work for a couple of years and put my degree to some use before I apply to design school.
Other than sewing, I really love to travel and explore uncharted territory. I also enjoy thrifting, in hopes of finding unexpected treasures.
If we were to come to your town, where would you take us?
Jacksonville is a great city because it's so widespread and has something to offer everyone, from beaches to nightlife. If you were to come to town, I would have to take you to the historic riverside area known as Five Points. There you'll find great vintage shops and unique restaurants that create an atmosphere unlike any spot in the city. It's right next to the vast St. Johns River and is surrounded by breathtaking historic homes. There is so much to be inspired by.

A thrfited top, refashioned.
How did you start sewing?
I started sewing last December. I always talked about how I wanted to learn to sew, but never showed much initiative until I discovered a Montgomery Ward sewing machine at Goodwill for $20 last Christmas vacation. From there I started to teach myself. I have found that sewing allows me to express myself creatively, which is something I always felt that I needed to feel sane. It clears my head and really makes me feel like I'm in my element.

Thrifited pants transformed into a skirt
What is your biggest sewing achievement?
I believe my greatest achievement so far has been the work I've done for my blog, ReFashion Statement. It's about me transforming thrifted pieces into more stylish, up-to-date pieces. I really love it because refashioning offers endless possibilities. What starts off as a blouse can be transformed into anything, from the bodice of a dress to a pair of shorts. It's a great way to reduce textile waste and add one-of-a-kind pieces to your wardrobe.
My absolute favorite thing about blogging has been connecting with people who have similar interests. Shortly after I started my blog, I joined the editing team of Refashion Co-op, a collaborative refashion blog. It has truly been an honor and a treat to contribute to a community of refashionistas.
Who and what inspires you?
My style icon would have to be Audrey Hepburn. I love her timeless, classic style and her choice of well tailored pieces without all of the frill. She had a "less is more" policy to dressing, much like I do.
I'm also very inspired by the gorgeous costumes of Edith Head. I have an obsession with old movies and her costumes always looked like great works of art. Her work had a huge impact on the quality of each picture she designed for, and helped transform actresses into style icons.

Sketches by Edith Head.
What's your sewing secret weapon?
My sewing secret weapon isn't a specific sewing technique, instead it is the internet as a whole. Since I've picked up sewing, I have found that there are so many great sewing resources online, BurdaStyle among them, that facilitate the learning of sewing techniques. Through sewing sites and personal blogs, I can also relate to like-minded individuals, which is vital for the development of any craft.
Describe your sewing experience.
After I graduated from college in May I moved back home and my sewing space became my mom's guest room closet. It's not very big, but it does the job.
I usually sew at night between the hours of 10 p.m. and 2 a.m., while most people are counting sheep. I tend to have a strong cup of coffee at hand and some soothing music playing.
What is your dream sewing project?
My dream sewing project would be to sew up a whole line of refashioned pieces. I would love to go through the whole process of sketching the designs, picking out the fabrics, and finally the construction. It would give me a sense of satisfaction knowing that the final product is something I dreamed up.

remostar's sewing machine.
How long have you been a member of BurdaStyle? What keeps you coming back?
I have been a member of BurdaStyle since January 2011, but I didn't post my first project until May 2011 because I was still in school and learning the basics of sewing. From the get-go, I was inspired by the member projects and I knew I wanted to contribute ASAP.
What does your username mean?
My username doesn't really mean anything. The first part, remo, is a word my dad used as a username often, but I'm unsure of its origin. I just added star to the end of it because I thought it sounded interesting.
What is the most frustrating thing about sewing for you?
The most frustrating thing about sewing for me is failing to get the fit of a garment right. I think I can be a perfectionist and it really bugs me if a garment doesn't fit the way I imagined it fitting. Some of my projects have taken entirely too long due to this little pet peeve of mine.
Discover remostar's top ten favorite member projects!