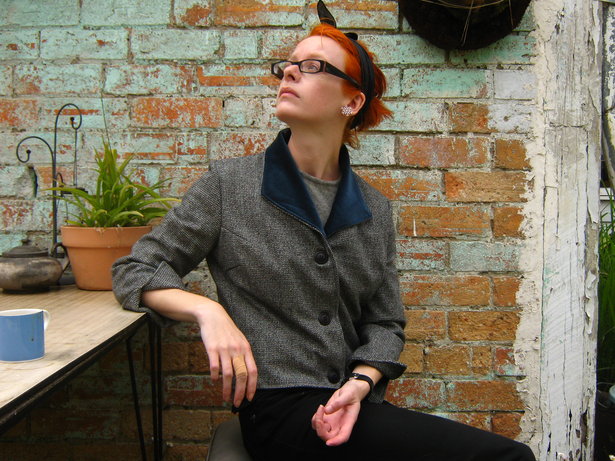 ShareThis
Where are you from and where do you live now?
I'm born and bred in the western suburbs of Melbourne, Australia. I haven't strayed far from the nest, living only 10 minutes from where I grew up, but it's an inner city suburb full of curiosities, chaos and culture so there's not too many reasons to leave.
I work as a social worker on the other side of Melbourne, so I spend my days helping people finding their way to recover from experiences of psychiatric disability. I have a big space in my heart for social justice and equity which fuels my work with people amongst the most marginalized in our society.
How did you start sewing?
I can't actually remember when I first began sewing – my memories seamlessly transition from obsessively watching my Mum to proudly prancing about in sage green wide-leg plaid pants when I was about 12. I loved those pants in all their flannel, golfy glory. My next big achievement was a shift dress in a loud hippy pattern, made sometime around 15 years old. That dress resurfaced in recent years and has established itself as a staple of a hot summer.
After years of sporadically sewing bags, bits of clothing and attempting to adjust clothing, I stepped things up with a short course in beginners pattern drafting. It would be a stretch to say I was comfortable drafting entire patterns, but tweaking is fine. My pride and joy at the moment is my 'hoodwinked' project, simply because the minor tweaks in the pattern actually worked!
Describe your personal style in 5 words or less!
Simple, comfortable, second-hand, moody, warm.
Where do you go to get inspired?
Social workers don't get paid much here, so I've always sewn on a tight budget with either old, oversized clothing or scrap fabric donated to the op-shops I frequent. So the fabric itself is often what I call on for inspiration….how much there is, what the drape is like, printed, plain, cool or warm will all begin the process of choosing its purpose.
Sometimes there's a smashing style that walks past me on the street and it spawns a version more my style, which usually means simplified and more pragmatic. There are some bits and pieces to be found on the web (etsy, lookbook, blogs etc) but I have to say, I'm a bit too lazy to trawl through all of it for the inspiration I'll find outside my front door. Music festivals are another reliable source of inspiration, summer in Melbourne has a lot to offer there. In short, seeds are sown in the street and researched via books/magazines/net before being made.
What time of year do you find yourself most creative?
Winter means my sewing room is cold and fitting clothes is even colder, so logic would suggest making jumpers, jackets or other warm things while consuming a hot cup of tea. Summer means sunshine outside and a stuffy sewing room housing trapped mosquitoes, so logic would dictate stepping into the sun, perhaps beer in hand….. hmmmm, I'm not sure I follow the logic on either really. Slow and steady suits me better.
What's your sewing experience like?
My sewing may not be seasonal but I do tend to immerse myself in sewing on weekends, more so after a stressful week. I think it's my Zen. It's a timeless exercise and I can easily spend my three day weekend hiding away in my zen-den, emerging with a new wardrobe for the coming week. I sew in a small room that shares space with my partner and my ski, hiking, camping and cycling gear. Somehow, that works.

redviv's sewing room
How long have you been a member of BurdaStyle?
I joined BurdaStyle mid 2009 after hearing about free patterns. I had a collection of awful patterns from the 80's, inherited from others or bought second-hand and often incomplete. I've never really taken to buying single patterns so hearing about BurdaStyle was refreshing.
What is the most frustrating thing about sewing for you? What is the most rewarding?
I find hemming endlessly frustrating. Same for buttonholes. Actually I think button holes are worse – I have two shirts waiting for buttonholes and one of them has been in the queue for a year or more. On the other hand, a good fit is the epitome of a good project, especially because I don't like toiles so most new projects are a bit of a gamble. I love the first stitches of a new garment and the ease that bias binding offers but the most rewarding moments are when the fitting needs little or no tailoring. Oooh that's a special moment.
Check out redviv's top ten favorite member projects