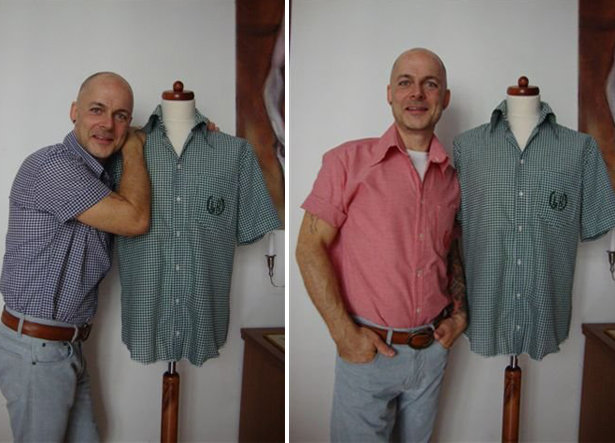 ShareThis
Where are you from and where do you live? What do you do other than sewing?
I was born in Austria, in a small town called Innsbruck. For the last 12 years, I have lived together with my beloved husband and my cat in Berlin, Germany. Due to a cronic illness (polyneuropathy), I had to stop working about 5 years ago and that brought me to sewing.

A young Ralf!
If we were to come to your town, where would you take us?
First, I would take you to my favorite fabric store: Stoffe Berger at Potsdamer Platz. For me it comes very close to paradise :) My second stop with you during your visit would be our new little summerhouse and garden near Berlin in an area that is called Spreewald. You would be astonished to see so much almost untouched nature so nearby a big city!
Last but not least, I would like you to come over to our place for a great dinner (both, my husband and I LOVE cooking!)
How did you begin you sewing journey?
When I was diagnosed with a chronic illness of my nerves, I suddenly was faced with lots of time. I developed depression due to that, and thought that this would be the end of my life. One of the doctors I was seeing during that time recommended occupational therapy, which brought me back to my childhood, when I loved creating things. One of the first things I made was a very simple pillowcase on an old sewing machine and this was like arriving to where I always wanted to go to. Sewing is now one of the most important things to me in life!

Ralf and his husband
Who or what inspires you?
I have a few names to mention: Coco Chanel, Karl Lagerfeld, Christian Dior and Yves Saint Laurent are only a few of the most important ones to me. To find inspiration for my own work, I check out very old issues of Burda (I have some of my mum's issues from the '60s and '70s!), and I visit BurdaStyle.com on a regular basis. Aside from that, old movies are such a great source of inspiration for me.
What's your sewing secret weapon?
When I got my new sewing machine I realized how much it makes a difference to have a really good one! I always tried to get the material of a good quality and my machines, scissors, needles and threads are always the best I can afford.
I love using the machine-embroidery part of my sewing machine. This [helps in creating] monograms, borders etc.

Ralf's sewing machine and serger.
Tell us about your sewing experience.
I do not have a separate sewing room (YET!!!) and so I use our big dining table instead. Before I start, I prepare the room (get my machines ready (sewing machine, serger, steam-iron), I check out that I have classic music on (countertenor Phillip Jaroussky is one of my "heroes") and than I can forget time and everything around me. I always make myself a cup of strong, hot tea before I start, and am again and again surprised that it's ice cold before I drink the first sip.

Ralf's sewing space.
What is your dream sewing project?
I wish I could work with an old fashioned mans tailor for a while and do create my own very classic 3-piece-suit in herringbone Harris-Tweed.
How long have you been a member of BurdaStyle? What keeps you coming back?
I have been a member for 2 years now. My username is my real name. I check out the site twice a day, every day (in the morning and at night). I love that BurdaStyle gives me a chance to "meet" all these amazing talents out there around the world. If I were able to change one thing, than it would be that BurdaStyle should do ONE (1!!!!!) pattern for men per month (but this seems to be an unrealistic dream!).
What is the most frustrating thing about sewing for you? What is the most rewarding?
I do not like to make buttonholes (no matter if machine or hand-sewn once). The most rewarding thing is if I see something going wrong and can correct it right then, as I seem to learn more and more about all this myself!