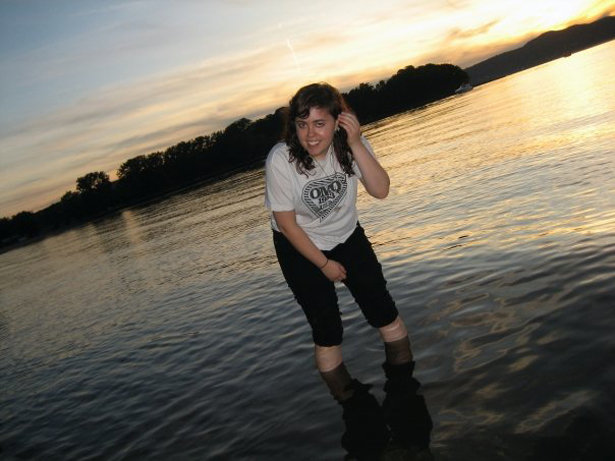 ShareThis
1. Where are you from and/or where do you live?
I spent the first 18 years of my life in Atlanta, Georgia. After graduating high school, I moved to NYC to attend college at Parsons School of Design, where I completed my BFA in fashion design. I currently live in beautiful Brooklyn and work at wonderful BurdaStyle!
2. What was the 1st thing you made? How did you start sewing?
I did all sorts of craft projects as a kid. I always had some "project" going. I was completely self-taught until my formal education. I remember making a pair of bell-bottoms when I was about 10 years old. I sliced open the legs of a regular pair of jeans and hand stitched triangles of assorted fabrics, I was making godets! When I look back now, I used a lot of traditional patterning techniques without knowing. I never saw a sewing pattern until I was in school. The first semester of school was very hard. I had to "learn" all the technique I've already been using, except now there were all these rules!
3. What role does sewing play in your life?
Sewing stems from my fascination and love of fashion and clothing. I am very grateful for my formal education in sewing and patternmaking. I find that the knowledge learned from those areas translates so easily into other areas of life. Understanding the process of transforming a two-dimensional shape into a functional, three-dimensional form is very precious knowledge!
4. What is your favorite and what is your least favorite thing about sewing?
I really love pattern making. Drafting a beautiful pattern with a perfect fit is such a satisfying feeling! I am an impatient person in general, so sewing can take me a while. My least favorite thing about sewing is the amount of patience needed!
5. If you could make something for anyone who would it be and what would you make?
I would love to make more clothing for my friends or myself. I do a lot of garment alteration, but I have yet to draft a pattern for someone I know personally.
6. What is your role at BurdaStyle?
I work at BurdaStyle as Project Manager for a soon-to-be-announced secret project. My previous work experience has been assisting fashion designers in NYC and London. I was incredibly fortunate to work for my favorite designer, the genius Isabel Toledo, for two summers.
Honestly, I was unfamiliar with BurdaStyle before arriving here. I wish I was part of the community earlier! BurdaStyle is such a refreshing resource for inspiration, learning, and community. DIY clothing has come such a long way and I think BurdaStyle is a perfect representation of the current generation of sewers. The quality and creativity on the site is so impressive!`
We are so excited to have Rachel on the team, it's so much fun and she is rocking this secret project like a pro! Check out more of her stuff on her site. Keep rockin out rachel