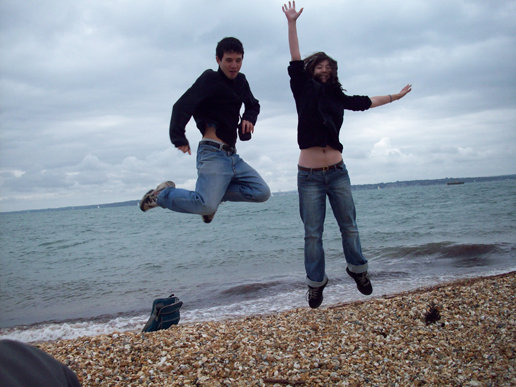 ShareThis
1. Where are you from and/or where do you live?
I currently live in Sheffield in the UK but am leaving next year to someplace else when I go to university. My life's mission is to live in Stroud, a pretty little place in Gloucestershire or somewhere like that.
2. What was the 1st thing you made? How did you start sewing?
The very first thing I made I think was a pin cushion. It had 'J' appliquéd on it. Everyone should have a pin cushion. They're amazingly useful and save lives:)


I think like so many people I began sewing in secondary school. In my textiles class I really excelled. It was so different from my other more academic subjects and the hands on approach of actually making something individual and useful appealed to me. So I took off from there and have recently been trying to improve my techniques.
3. What role does sewing play in your life?
Right now it takes up a great deal of my time. I'm either dreaming about choosing fabrics, actually in my local fabric shop buying something or sewing my latest "creation". I can't seem to stop mid-project either, this is probably a bad thing, but I'm always too impatient to stop, I need to see the end product ASAP. I'm on my gap year now and so from now up till next Spring I'll be sewing, sewing, sewing… and wasting too much money J Then I get to travel to Malaysia, yay! I am considering opening an etsy shop later on this year to get a bit of money and join the hand-making craze but I don't know if I'll be good enough…. I hope so.
4. What is your favorite and what is your least favorite thing about sewing?
My favourite, like everybody else's, would be trying whatever I've made on the first time and having it fit. Least favourite would be doing all the prep work-marking and cutting, etc. It takes soooo long and can be boring even though I know it's an essential part of sewing. Oh, no- thought of something worse-unpicking!! That is a curse.
5. If you could make something for anyone who would it be and what would you make?
That's a difficult one. I would say a dressing gown for my dad. He rarely buys clothes and since my mum chucked his old holey one away I think he deserves another, better version. He used to live in his dressing gown. And I hear you have one on the way as a future pattern…..?
6. What are you looking for on our site? What do you think should be improved and what do you really like?
I stumbled across your site by accident looking for free sewing patterns. I was ecstatic when I realized what your site offered. The whole community feel to BurdaStyle works so well and I love that you can see what everyone else makes and draw inspiration from them. I love how the creations make you think outside of yourself too, you get different perspectives of a pattern from a person's personality. Improvements: maybe a pattern a day? lol
7. What is your motto?
Don't worry, be happy!
Purplecrayon's sewing creations can be seen here. We are excited to see more of your work in the future, keep it up!