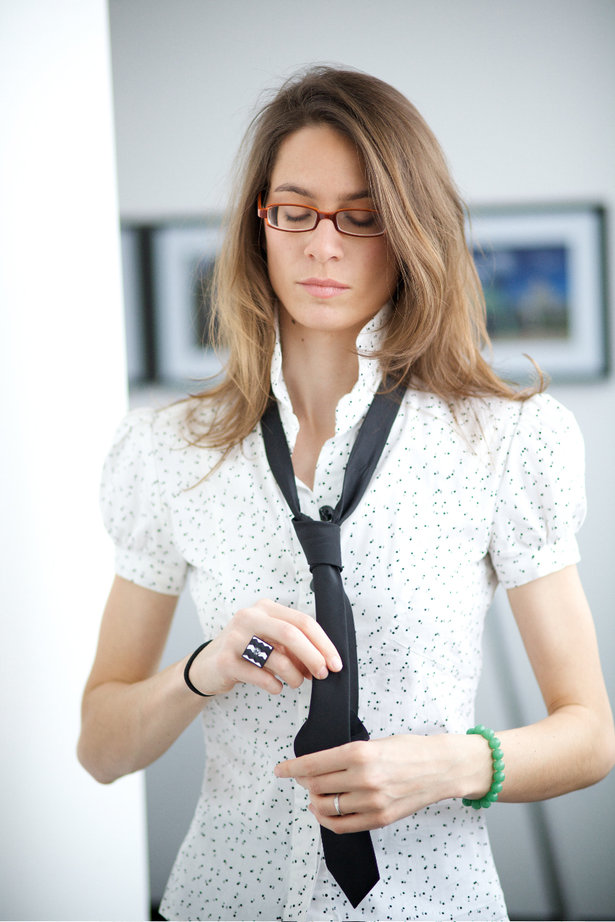 ShareThis
1. Where are you from and/or where do you live?
I am originally from the North-West of France but I moved to Vancouver in April 2009, after living in Paris for 5 years.
2. What was the 1st thing you made? How did you start sewing?
I had been around sewing machines during my childhood (my stepmom and mom both have one), but actually only started sewing 3 years ago.
The first thing I finished was a "LBD" from a BWOF magazine ( 08-2007-101A to be exact). In the summer of 2007 my friend Noemie had just received a sewing machine for her b-day and she invited me to an afternoon workshop. I had just seen online a photo of a men's shirt turned into a women's top (in a very cool way that I haven't seen since, and unfortunately I'm unable to find that website again). I kind of figured out the "refashion" by looking at the photos, so I went to a thrift store and picked up a couple shirts to try my hand at it. I didn't finish the top – it wasn't quite what I was hoping for, but I really enjoyed the experience, and I decided to try "more seriously" at making something I could wear. So I bought Burda Magasine (that my friend had also introduced me to) and picked something that I didn't already have in my wardrobe. Then I attended a few sessions of a sewing workshop with a professional seamstress who helped me through the making of my dress and taught me some basic techniques. Since then I've pretty much kept going on my own. I have to say that the internet has been an incredible resource for sewing techniques and I have improved my sewing skills a lot in the past few months by watching tutorial videos or reading blogs.
3. What role does sewing play in your life?
It's "just" a hobby but I feel really passionate about it. When I'm not sewing (which unfortunately is most of the time), it's pretty much all I think about. I always have new projects in mind, and I get inspiration from store windows, people on the bus, blogs, etc…I love being able to make something with my own two hands, at a time where everything is becoming so "virtual". It's definitely a way to express myself and to be creative. When I'm sewing, I empty my mind of any other thought, I just concentrate on the present.
4. What is your favorite and what is your least favorite thing about sewing?
My least favorite thing is that I don't have enough time to sew. I work in the film industry, which is known for its 12 hour-days (at best). So I only sew on the week-end, when I don't have anything else planned. Which is why it takes me an awful lot of time to accomplish anything. For that reason also, I'm not fond of the preparation process (tracing, cutting, etc.) I don't hate it, but it's so time consuming, and like I said my sewing time is very limited.
Everything else I love. I love having 2 flat pieces of fabric in my hand and a few hours later it's a garment (or piece of).I love the endless possibilities of sewing and the creativity it brings to my life. I even love the simple gesture of putting a needle in the fabric.
5. If you could make something for anyone who would it be and what would you make?
If I had more time I would love to make stuff for my boyfriend B. but so far I have been quite selfish and sewn only for myself. And I can't wait to make stuff for my kids (when I have them).
6. What are you looking for on our site? What do you think should be improved and what do you really like?
I love that BurdaStyle brings people with the same passion together and allows them to exchange and discuss, no matter where they are in the world. I come here to look for inspiration, or even just gaze at the beautiful creations of seamstresses out there. And of course I also come to showcase my projects and get feedback on it. It's so rewarding when something you've worked hard on gets positive comments.
I also like that there are downloadable patterns available, and patterns from recent issues of the magazine that you can purchase individually.
7. What is your motto?
I think everything happens for a reason. I've often found that whenever I feel like I've missed an opportunity or something I was hoping for didn't happen, there's something better waiting around the corner…
Look through her top ten favorite member creations here!