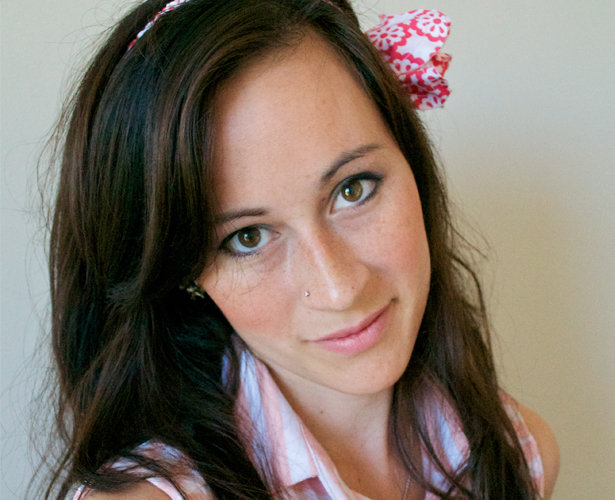 ShareThis
I grew up in California and am currently living in Boston for grad school. [In addition to sewing] I also enjoy knitting, blogging, computer games, reading, traveling, and learning languages.
How did you start sewing?
I have vague memories of hand-stitching a blue and maroon floral square shaped teddy bear out of curtain scraps when I was five. If I remember correctly, the arms and legs literally hung by threads and I stuffed it with tissues. I started learning to sew for real when I was 14 because that was the year the Fellowship of the Ring came out and I wanted to be Arwen when I grew up. My mom helped me make my first elf costume that year on a non-electric Singer.

Tell us a little bit about your experience on BurdaStyle.
I've been a member of Burdastyle for a few years now. I'll be honest, I love showing off projects that I'm proud of and sometimes people who don't sew just don't understand the excitement of making your first successful button hole.

My username is a nickname a friend came up with for me. With a name like Ping everyone tends to lean toward "Ping Pong" or "Pingaling" but Peneloping was unique so I sort of adopted it as my standard online username.




What's your sewing secret weapon?
One of my favorite things to do is to watch a period or fantasy film and then pore over reference images for ages and try to recreate the same garment. I think I was obsessed with playing dress up as a kid and this is a residual effect of that. Especially lately, my projects always seem to feature buttons. I like to overuse fray check to make sure everything stays where it should. Seriously though, that stuff is amazing.

Tell us about your sewing experience.
I'm notorious for losing track of time when I sew and it's pretty common for me to not realize that the reason the fabric is starting to get blurry is because it's 4am. I generally like to blast music or have a TV show playing while I sew but lately I've discovered audiobooks.



I'm in the process of moving, so a lot of my sewing stuff is packed up. But, here is what one side of my sewing nook looks like.

Where do you find your inspiration?
I get most of my project inspiration from fantasy/period films. Colleen Atwood, Penny Rose, and Ngila Dickson are a few of my favorites. I also love to peruse clothing sites such as Ruche, Emerging Thoughts and Modcloth for inspiration for garments I could actually wear in public.

What is your dream sewing project?
My dream sewing project would probably be my wedding dress. Except I've been designing it in my head since I was five and the design changes pretty much annually. I've decided that the only solution is to have three wedding ceremonies and have one dress for each.

My fantasy sewing project would be to make the costumes for pretty much any film, especially ones Peter Jackson directs.

What are your favorite BurdaStyle and burda style magazine patterns?
One of my favorite dress patterns is the Dress with gathered rectangle skirt and cap sleeves because it's such a cute dress but it's also so versatile. I've already made two (and am working on a third!) and each of them looks like a completely unique dress.




What is the most frustrating and rewarding things about sewing for you?
The most rewarding is that moment when you step into something you've slaved over, zip it up, and look in the mirror, and smile because it was totally worth every time you stabbed yourself with a pin.

The most frustrating thing for me is when you do everything right, you follow every step to a T, and the finished garment just doesn't look right. It's slightly heartbreaking when you devote all that time and energy to a project and it just doesn't work out. My advice to beginners is that when you reach this point, put your project down and go do something else so you don't mess it up further and get even more frustrated. It's much more productive to pick it up later with fresh eyes. Trust me, this isn't something that only happens to beginners.

Don't forget to check out all of peneloping's beautiful projects and her favorite BurdaStyle member projects.