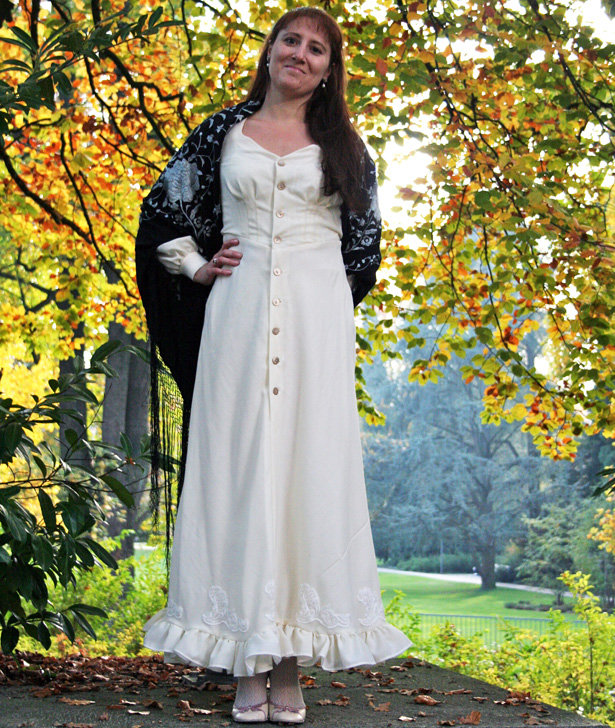 ShareThis
Where are you from and where do you live? What do you do other than sewing?
I live in Baden, a little town in the Northern part of Switzerland, close to the German border. Baden is the German word for "bath," and it really used to be the equivalent of the British Bath.
Jane Austen liked to write about it. [In the past], famous politicians, writers and painters came to Baden to be cured. Unfortunately, people don't seem to be in need of cures anymore, so the fame of Baden has slowly declined. What is left of its famous past are a couple of Belle Époque hotels. So, if you would visit me, we would go to the hot springs first and then to the nearby Belle Époque hotel Blume (German for "flower"), and have a cup of tea in the beautiful court.
In terms of shopping I do find most fabrics, zippers, patterns, buttons, ect. in a shop called kunze. There are two other fabric shops in town, but Kunze has a good range of quality fabrics. If you were looking for a wider range, I would take you to nearby Zurich (only 15 minutes away by train). If you are interested in buttons, there's just one shop to go: Keckag. If you are looking for a very special fabric, Bambola would be your place. You'll find very exclusive haute couture fabrics there, however the price tags are quite exclusive, as well. For exquisite silk, I'd recommend Fabric Frontline. You'd find nice ties, scarves, ect. there, but could spend a fortune. If you were just looking for a wide range with acceptable prices, I'd show you a shop called Stofftrucke.
And finally, there's my very special insiders' tip: two times a year Forsterrohner has a sale of high class fabric that is produced for the leading fashion labels all over the world. You can find the most delicate, amazing fabrics there for [very cheap].
How did your sewing journey begin?
Here in Switzerland, sewing classes were mandatory for little girls. You didn't only learn how to sew but also knitting, mending, crochet, cocooning, cooking — in a nutshell, everything you're not at all interested in when you're a child. The classes back then really were torture for me, and I do remember that I didn't touch any kind of needle for a couple of years after this experience.
The picture below dates back to 1989. My cousin had her 14th birthday (I was the same age, so please be gentle with your judgment) and to fit the occasion, I sewed my first dress – not the bolero, you can't blame me for that! Remember, it was 1989: the Berlin wall was about to fall soon, The Simpsons were launched, we were listening to Milli Vanilli, the Lambada song, and yes, even David Hasselhoff. So we dressed liked this (the white nylon dress – yes, it's me):
Today, I must say, I'm not inspired by Baywatch, Bananarama & Bonni Tyler anymore, but being a film junky, I love to see historical dramas. Even when the story is thin, the bigger the crinoline, the bigger my interest. At the moment I'm rather fond of the 1920s – 1960s, and I can indulge myself in current series like Downton Abbey, Mad Men or The Hour.

Some of pascaleclaudine's inspirations.
Do you have a style icon who inspires your sewing projects? Where do you go to get inspired?
After my rather dull sewing lessons as a child, I stored away my sewing basket for a couple of years. I then intensified my riding and dancing classes until I started my first Tango class. I was electrified by the drive of this dance and soon found myself dancing practically every weekend. The tango scene here in Zurich is quite a posh one. Ladies and gentlemen dress up very nicely, men quite often wear a bow tie to refer to the time when this dance was in full blossom: around the 1920s. The ladies, however, divide in two classes: the ones who interpret Tango as some kind of Salsa dance from a hot country (you definitely need to dance with as little fabric as needed wrapped around your body), and the others, who select their wardrobe with great care, dance on high heels and in full skirts. I naturally wanted to belong to the latter, however, where could I find these dresses [here]? The answer was easy: make them yourself!

pascaleclaudine's tango dancing inspiration
Horse riding was another hobby of mine, and soon I was in need of decent clothing [for this activity], too. I wrote my master thesis about ladies in the sidesaddle, so the topic was familiar to me, but I only started a year ago to ride my own horse with a sidesaddle. If it was difficult to find proper dresses for Tango dancing, it was merely impossible to find a riding habit, since the last ones where produced in the 1940s. There again, the answer [to remedy this] was DIY.

pascaleclaudine's horseback riding inspiration
The biggest project I achieved so far is, therefore, my riding habit I sewed for my wedding. I also had 5 bridesmaids and 4 flower girls to dress. The picture of this adventure you can see in "my studio:"http://www.burdastyle.com/profiles/pascaleclaudine/my_studio.
Tell us about your sewing experience.
I'm a daylight seamstress, if I can arrange it. That means that I'm far more industrious during summer time. In winter, I'm busy getting Christmas presents ready and, since this involves quite a lot of wool, I'm knitting more than sewing. I have my own little room where I have my sewing machines. Little things like buttons, zippers, labels, thread etc., I store on a magnetic board. What I miss is a big table, so I use my husband's piano to cut out the pattern pieces.

pascaleclaudine's beautiful sewing room

pascaleclaudine's hat collection
Unfortunately, I spend much more time buying fabric instead of using it, so the picture you see is one stash — of four. I often think that I could sew for the next two years without buying any new fabric, but buying new fabric is so tempting. Whenever I'm abroad, I'm always looking for a place to buy fabric. Since I used to travel quite a lot, I have silk from India, cotton from Tanzania and tartan wool from Scotland in my stash, still waiting to be transformed into clothing.

pascaleclaudine's notions and fabric
What is your dream sewing project?
I would really love to take a sabbatical and do nothing else but sewing and riding in this time. I dream of "a dress a day," creating comfortable Dirndls, elegant evening dresses, woolen riding habits, and yes, I even have very nice silk in stock suitable for a Harem trouser, though I'm not brave enough yet to face a trouser. The zipper gives me a headache, really. Any suggestions?
I also truly admire a restaurant that just recently opened in Baden. It's a restaurant where you can have breakfast until 4 o'clock. You sit on vintage furniture that is for sale and within the restaurant you find also a boutique, where local artists sale their knick-knack, designer pieces and jewelery. Just in case you drop by, there's a hotel in the top floor, too: Fraumeise. This concept really suits me and I truly wonder: could this lead to a future project?
Why did you become a BurdaStyle member, and what's the story behind your username?
I became a member 3 years ago, just three days before my birthday (I gave myself a BERNINA sewing machine as a gift).
Pascale Claudine is actually my first name, so a username was easy to be found. I visit the site daily, though there was a time before my wedding when I had too much going on [and couldn't visit as often]. I'm terribly fond of the new projects, they're so inspiring. All those girls around the world, spending hours on sewing clothes, looking for the perfect spot where the picture can be taken; there passion is really evident.
As you can see in my favorite projects, I'm in love with dresses in dashing colors.
Discover pascaleclaudine's top ten favorite member projects!