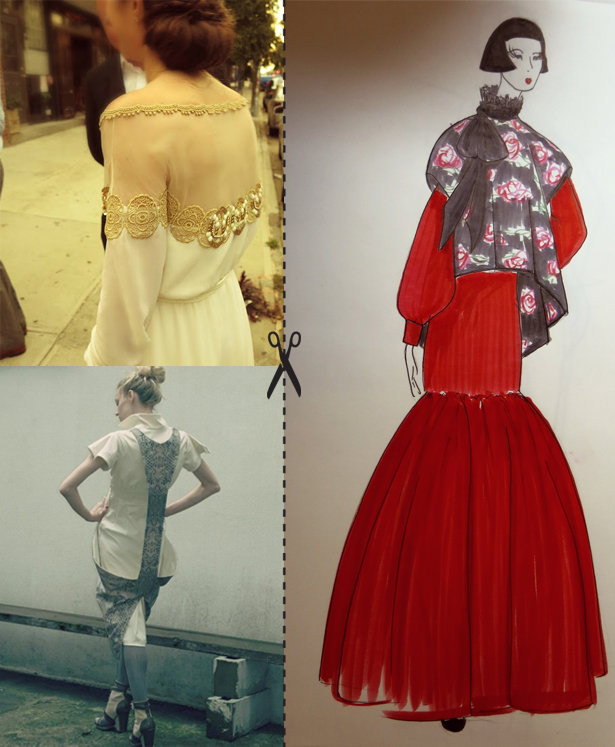 ShareThis
Meet Papermothballvintage, our latest Featured Member!
This month, we sat down with BurdaStyle member Papermothballvintage, also known as Laura Okita. Read about her vintage influences, most challenging projects, and couture techniques!
Where are you from originally, and where do you currently live?
I'm originally from Boulder, Colorado but I have been living in Brooklyn, NY for over 7 years.

Left: Our featured stitcher with her husband. Right: Playing Kendo, the Japanese fencing practice where they met.
What's your day job, besides sewing?
I keep pretty busy. I'm a model, a custom designer and a secretary.
How and when did you start sewing?
My grandmother was a professional seamstress, and I wish I would have learned more from her, but I didn't really find an interest in sewing until about a year and a half ago. I taught myself to sew using vintage patterns from the 1940s.
Do you prefer to work from patterns, or draft your own?
I prefer to draft my own patterns. I feel that when I draft my own patterns, my complicated maze of a brain can better see what I'm doing. However, I'm dying to try one of the BurdaStyle pants patterns.

A bright pattern sketch, and the avant garde Geometry Shirtwaist Dress.
How would you describe your personal style?
My personal style is modern vintage. I like to mix and match different eras and styles. I like to throw things in that are a little crazy sometimes, like brightly colored tights, crazy shoes, or a fun hat. My favorite style is 1930s evening wear. I dress up any chance I get!
What's your sewing secret weapon?
Hand work. Taking the time to use tailor's tacks, hand basting and stitching can really make a difference on the lay of the fabric and the overall outcome. This is probably something I picked up from vintage pattern instructions.

A design in progress.
Who or what inspires you? Shop windows, magazines, vintage patterns…
I love the couture shows and high fashion magazines, the more over the top and elaborate the better. I draw a lot of inspiration from Films Noir, old Broadway productions like Zeigfeld's Follies and Silent films. Old buildings and architecture inspire me. Not so much in their apparent lines and shapes, but more in the feeling they give, what type of events or things happen there, their purpose. When I design I really like to think of the woman, where is she going, how does she think and feel, how does she want people to perceive her. I create her story.
What has been your favorite project recently?
My favorite project recently has been the most ornate garment I've done so far. It was a custom request for a wedding dress. The bride wanted circular gold crystal bead work. I sourced trims for over a month and couldn't find anything. So, I decided to hand bead the trim. I drafted the bead pattern, then, transferred it to netting set in an embroidery hoop. The yoke needed to be a sheer illusion creating an off the shoulder look. I had to do a lot of re-drafting to make the seams more discrete. Most of the dress was sewn by hand.

Clockwise from top left: Cascading Bubble Dress, 1930s Dark Siren Evening Dress, Sunny 1950s Poppies and Eyelet Dress
If you were to give a beginner one piece of advice, what would it be?
The best advice my grandmother gave me, take it apart and do it over again. We all want to just keep on going after we know we've made a mistake. Don't try to hide it! Taking it out and doing it over again can really make the final outcome beautiful.
If you had all the fabric, money, and equipment at your fingertips, what would be your dream garment to sew?
A couture gown, corseted and fully hand beaded with vintage crystals. I think I would need a lot of time for it too!

Laura's assistant, Kote, and her pared down studio.
Anything else you'd like us to know?
I love sharing and connecting with everyone on BurdaStyle. Its such a great and supportive community. Seeing everyone's perspective and style is so much fun!
There you have it!
Take a look at her profile or blog to see more of Papermothballvintage's creations.