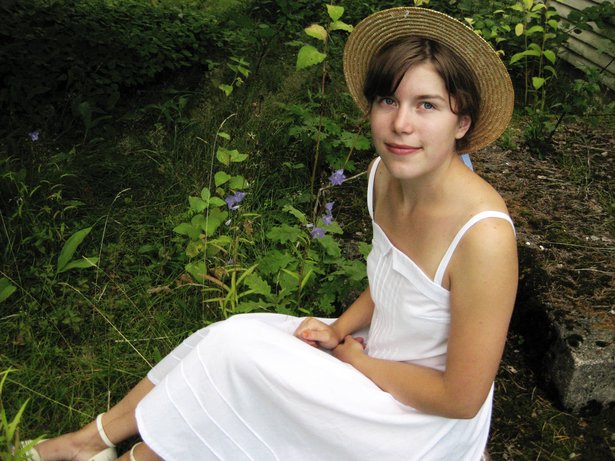 ShareThis
Where are you from and where do you live now?
I was born and live in Espoo which is the second biggest city after Finland's capital Helsinki. Although Espoo doesn't feel like a city at all; when I come back home from Helsinki, which is very close to Espoo, it feels almost like I lived in a countryside. There is so many lakes to swim in and great forests to wander around here!
I graduated from Finnish high school this spring and I also work once in a while on weekends at a thrift store (or charity store). This spring has been very busy for me, as I've had to study for my matriculation examinations and after them for my entrance examinations. I'm applying to Helsinki university to study crafts teaching and to some other institutes to study clothing design…Now it seems that crafts and sewing are hopefully going to be part of my career in some way or another.
How did you start sewing?
I've grown in a very craft-inspiring environment; my mother, grandmother, great aunt and great grandmother are/have been real craft persons and they have definitely inspired and encouraged me a lot. When I was little I often used to sew clothes for my dolls, make toys or just craft something silly and useless. Also when we visited our great grandmother we were allowed to play dress up with her enormous amount of clothes and accessories and sometimes she got in the play!
Sewing clothes came into my life a bit later. About three years ago I started to be more interested in style, clothes and that kind of stuff, and it was then when I thought that maybe I could also sew clothes for myself. First I made some very simple tricot clothes but as my skills and personal style has developed a lot from those days my clothes have also become more difficult and more "me". Even nowadays I don't like to use patterns that much so I've learned a lot trough my tries and mistakes.
It's hard to pick just one project that is my favorite, but I'd say that at this moment I like my project "Scalloped mint dress" the most. I made the dress for my graduation party and had a terrible hurry making it. The fact that I hadn't made any scallops or that kind of lace front before didn't really help the situation.. Adding the lace ribbon to the bodice that already had the shape folds was a bit more difficult that I had thought. As I don't own a sewing mannequin, I decided to build boobs on my biggest teddy bear and go with that. A little bit comical but after all it worked!
Describe your personal style in 5 words or less!
This is a really hard question! Maybe I would say that my style is girly, vintage inspired, delicate, simple and at this moment also colorful.

Pampula's style inspirations
Do you have a style icon who inspires your sewing projects? Where do you go to get inspired?
I don't have any single style icon, as I get more inspiration from things and lovely people around me. I also love to look up nice and interesting things on the internet, read blogs and search old photographs. The internet is such an endless source of inspiration, but I like to search nice things in books too! I find vintage clothes very inspiring and they have definitely affected my style, so I always get new ideas when shopping in vintage and second hand shops. At this moment my favorite decades are 20's, 60's and 70's.
In the past few years I've got very interested in old films and in addition to other great things in them I also get fashion inspiration from interesting scenes, colors, actors and of course the clothes themselves. For example Roman Polanski's Rosemary's Baby and Repulsion, Alphaville, Les Parapluies de Cherbourg, The Red Shoes, and Chaplins movies (City Lights and Sunnyside) have inspired me a lot. I love to go to the old film archive theatre in Helsinki, the place is so beautiful and it's fun watch other people and their nice styles.
What time of year do you find yourself most creative?
I have no specific time of year when i'm the most creative, but I would say that spring and summer are maybe the most inspiring. In Finland it's so cold in winter that I really cant make light flower dresses (or ofcourse I can but it's another question if I can wear them..) and in autumn all the darkness and rain aren't very inspiring either. So in springtime and summer when it gets warm and whole nature comes alive I usually wanna make so many things and I'm happy that I can wear them freely. Still my inspiration comes whenever it wants, and sometimes it's quite silly that I can get for example huge bikini-inspiration in November.
What's your sewing experience like?
Before I didn't have a permanent sewing place and I sew wherever I had an empty place but about a year ago my sister moved away and we got one empty room that I was allowed to make into my own sewing room. The place isn't that amazing, but at least it's nice that I don't need to move the sewing machine anymore. I bought a 40's cupboard from flea market and renovated it, and I also got an old vintage Singer machine and I think these two oldies give a nice touch to the room.
I don't have any routines that I follow every time I sew but the experience is different every time. Because I don't use patterns the thinking process takes usually longer time than the actual sewing. I'm very impulsive and broad-minded but on the other hand perfectionist, so often I find myself unstitching much more than sewing.
Most often I sew in the evenings or on the afternoons because of the school, but I would like to sew more on the mornings because I'm more of a morning person than an evening one. Luckily on holidays I have the whole day time to do whatever I want. I'd like to listen to music while sewing, but my old sewing machine make such a horrible noise that I can't basically hear a thing but it doesn't bother me because I quess I'm so used to it:).. Still I can listen to it when I for example cut the fabric.
What is your dream sewing project?
Of course it would be fantastic to make something big and gorgeous, for example a wedding dress or a dress covered with lace and chiffon – and a lovely girl inside. I want to make more dresses and lovely things for myself, but I've noticed that I dream about making clothes for other people too. Still most of the time I dream about projects that aren't that fancy or anything, only clothes I know I'd love to have; A winter coat, swimsuit, a playsuit, white summer dress…
How long have you been a member of BurdaStyle?
I've been a member since autumn 2010. That means I haven't been a member even a year, but I still already love the site. The encouraging and warm atmosphere between users and on the site on the whole is the thing I like the most. The positive and extremely kind feedback means very much to me and encourages me to continue making things that I love. Other great thing is the massive amount of projects that are a huge base of inspiration. I visit the site usually every couple of days, I love to browse through the projects, check featured members and projects and read interesting blog posts.
What is the most frustrating thing about sewing for you? What is the most rewarding?
The most frustrating thing about sewing is all the mistakes I make and thinking how to fix them. I've tried to learn to be more relaxed and think carefully before every step but it seems that there's at least some minor problem in every project. I've learned that cutting fabric tired in the evening can be very fatal.. On the other hand those are the things that teach me the most and It's really rewarding when you notice that you have succeeded in something that you screw up last time. The most rewarding thing in turn is the moment when the work is done and I get the final product. Because I sew clothes mostly for that I can get something that I've dreamed of and that's just my own, it's so satisfying to really get it. Besides knowing how much I've made the effort for that dress or something else makes the feeling hundred times better. Basically it's enough that I love the result but getting positive comments and admiring feels indescribably wonderful.
Check out her top ten favorite member projects!