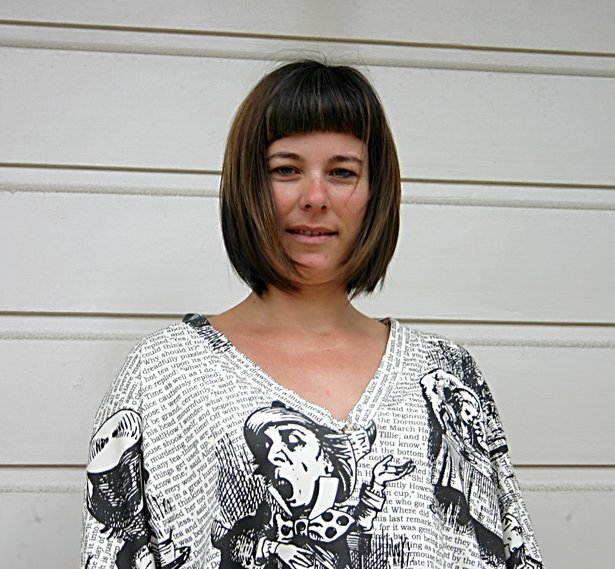 ShareThis
1. Where are you from and/or where do you live?
I am from Geneva, Switzerland. I also lived in Lausanne. About 2 1/2 years ago my husband and I decided to live abroad for some time. We first moved to Bermuda, a tiny island in the middle of the Atlantic Ocean. We lived there for about a year and a half. We then traveled in the USA, Europe, Asia and Australia for 8 months, before finally settling in New Zealand. We currently live in Wellington, New Zealand.
2. What was the 1st thing you made? How did you start sewing?
I started to knit during our 8 months journey to New Zealand. When we arrived here, about 6 months ago, I decided to start to sew. That was the perfect situation because I had time and wanted to do something with my hands. My first piece was a very basic apron because I love to cook.
3. What role does sewing play in your life?
I am an engineer and am more gifted with technical things than artistic ones. But I have always been fascinated by clothes, contemporary art and photography. Sewing helps me to express and develop my artistic side. I am very excited to learn about techniques, design, fabrics and shapes. But still, this is a hobby for me. I like knitting too and I would like to learn to make bobbin lace. Sewing is an excellent opportunity to express yourself in a piece of fabric and I like to make clothes for others. Because we are far from family and friends, creating clothes for them help me to keep them next to me.
4. What is your favorite and what is your least favorite thing about sewing?
My least favorite thing about sewing are the finishing touches for sure. I am so excited to wear or to offer the clothes that I tend to dash off my work. I need to learn to take the necessary time.
My favorite thing is that I can fit the clothes to my size perfectly. I am not a very thin person and sometimes it is difficult to have a nice fit for my shape. Additionally, I am totally obsessed with silk so I have the opportunity to create with it and wear it more often.
5. If you could make something for anyone who would it be and what would you make?
For Gandhi. He asked the Indian people to spend time each day spinning khadi in support of the independence movement of India in a non violent way. If I could spin and sew a khadi for Gandhi this would be more that just a piece of fabric.
6. What are you looking for on our site? What do you think should be improved and what do you really like?
Inspiration. Because the community is big enough, I can find a lot of inspiration on the website. People are so creative and that is amazing. I was particularly impressed about the ideas that people came with for the Project Runway Remake Challenge.
I would like to see more patterns for men on your website. This is always a nightmare to find originality in men clothes.
The ergonomics of the website is not perfect but it is covering my expectations for a sewing community
7. What is your motto?
"Live and Learn"