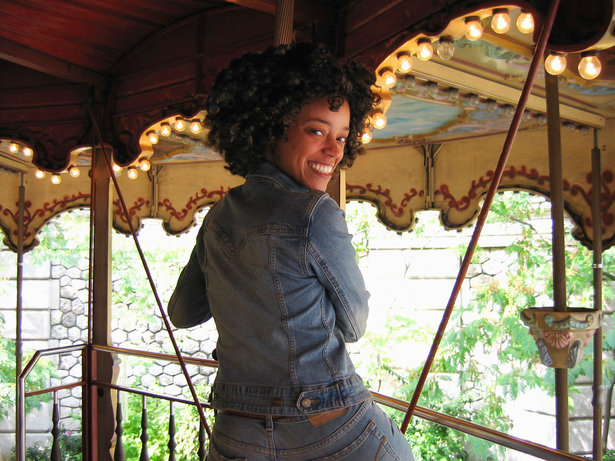 ShareThis
1. Where are you from and/or where do you live?
I am from New Jersey, USA, originally, then lived 12 years in New York, which is kind of the same thing— unless you're a born and raised New Yorker, then New Jersey is another hemisphere. Now I'm in Los Angeles, which is another UNIVERSE.
2. What was the 1st thing you made? How did you start sewing?
My first sewing project was a big old pig made in my home economics class, I think it was the 5th or 6th grade. I chose pink taffeta, naturally… you would think with that choice, my pig would have been frilly, but he was actually quite huge and sleek with sharp seams and WAY overstuffed, there was no cuddling with this pig. I mean, you could have used this pig as a chair for a small child. Home ec was only offered one year, and I pretty much stopped sewing except for the odd (and badly executed) hem here and there. Oh, and the prerequisite pair of slashed up-the-legs jeans in high school. Am I dating myself? BurdaStyle has really got me sewing again, with the help of some fancy sewing items landing in my lap… a featherweight 221 from my parents, and a dress form from my mom in law.
3. What role does sewing play in your life?
It keeps me sane and makes me happy! A friend told me that if I was going to live in LA, I had better have something to do that had zero to do with "the business". I thought that was sort of dramatic… I have loads of hobbies anyway… well, she was right, people eat sleep and drink the biz here and that diet is really not for me. I've found that sewing has stuck more so than my other hobbies, it has the perfect combination of order and creativity. BurdaStyle definitely has a lot to do with my continuing obsession, as there's always something new & cool to work on.
4. What is your favorite and what is your least favorite thing about sewing?
Those first few seams where you can see your creation taking shape and you know you're doing it right is awesome. also pressing seams puts the universe in order. my least favorite thing is FITTING. I just want to finish it and put it on for the first time and have it fit like a glove. I would save myself loads of time if I would just
try the damn creation on once or twice before triple stitching those side seams, but it takes away from that little dance of joy at the end if you've already had it on before it's completely done! but, if it doesn't fit… no dance of joy. Rock and a hard place, eh?
5. If you could make something for anyone who would it be and what would you make?
I was warned: once people know you can sew, there's no end to the "minor" requests made… I've been asked to make a jumper for a chihuahua, a man's blazer out of a baby blanket, a pair of jeans… I think people really don't know how much time goes into it. (and they are a bit delusional about my skill level). So if I could make
something for anyone, I guess I'd make them understand what they're asking! If I could make something for someone… I would make the perfect suit, and the someone would be my husband. Skill-wise that's a pipe dream, but if we're talking fantasy here, there it is!
6. What are you looking for on our site? What do you think should be improved and what do you really like?
I visit pretty much daily, looking for new creations and using all of the great information and generally stalling on doing the things I am supposed to be doing. I really like everything about the site, and I know you all are improving things constantly. I love the community here— no one ever gets touchy or offended, everyone is so incredibly supportive of each other, and as far as online communities go in my experience, that's an anomaly. I mean, I got in trouble because I introduced myself to 2 yahoo sewing groups at the same time… good lord, I think their world would end if they saw the double posts in our forum. Oh, I guess that is one area I'd love to see improved, heh heh, now that I mention it… but seriously, this site rocks.
7. What is your motto?
Hmm. I'm not sure I have a specific motto, though I could very well see myself walking around with theme music playing constantly. THAT would ROCK. through living in Los Angeles, I've become very aware of how important it is to be true to who you are as much as humanly possible, and to have fun doing so. This town is sort of more
fiction than fact, and it's easy to get swept up in that. So I guess my motto is be true, to thine own self, and whoever comes your way, or whomever. You know what I mean…
To see Oonaablloona's awesome creations click here! For more on Oonaballoona and to see more of her work check out her blog.