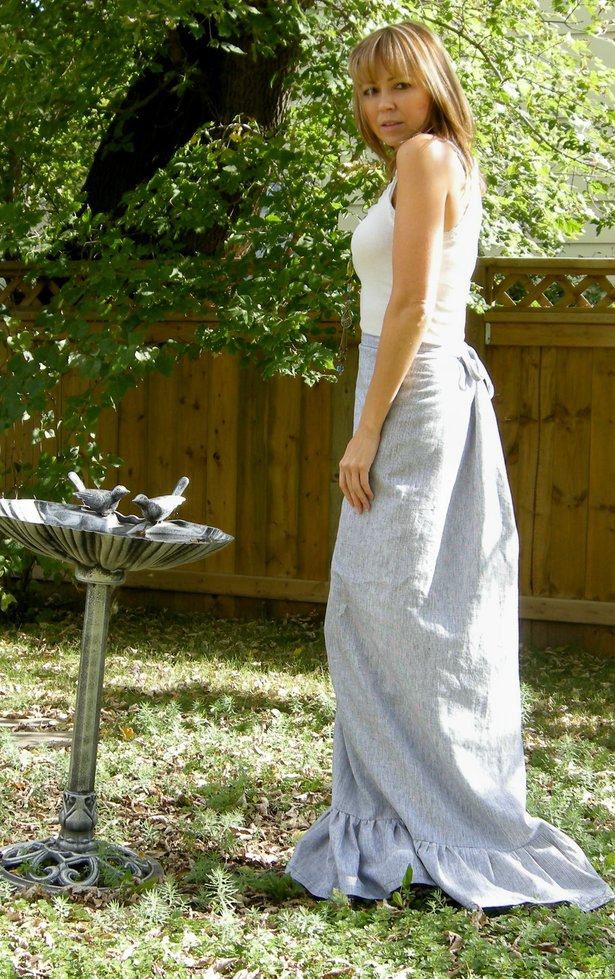 ShareThis
Where are you from and/or where do you live?
I've lived and traveled all over the world but I always come home to Prince Albert, Saskatchewan, Canada. It's a very small city almost right smack dab in the middle of Canada. During the day I work in a government office where I assist organizations in my community that work with homeless people. We develop projects that will move people towards independence, anything from mentorship programs up to building an emergency shelters or other housing. It's very challenging but also very rewarding.
How did you start sewing?
The very first thing I remember sewing was a pot holder when I was 4 years old. It was basically a square of fabric that I just stitched all over. After that my mom guided me through projects that got more and more advanced until, by grade 7, I was sewing notched collar blouses with set in sleeves. My BurdaStyle studio is mostly filled with items that I sell in my Etsy shop that are very simple with a bit of a 'hippie flair'. My fav right now is the long pink striped skirt. It makes anyone who wears it look like they're about 6 feet tall!
Describe your personal style in 5 words or less!
This is hard because it changes all the time, depending on the season and the time of day, but let's just go with casual dressy boho.
Do you have a style icon who inspires your sewing projects?
I have a theory that people always long for the era of their childhood. For me, that was the 70's. I was still a kid so I was too young to wear the glitzy disco stuff from the end of the decade and was too young at the beginning to fully grasp the freedom of the styles in the earlier part of the 70's. So, now I'm naturally drawn to it. Right now I love the boho chic vibe and use lots of Rachel Zoe and Nicole Ritchie images. They're both quite commercial but the look is easy to infuse your own style with. Plus it's a style that suits almost anyone.
What time of year do you find yourself most creative?
It's very, very cold in Saskatchewan in the wintertime so I sort of go into hibernation then. My blog has helped me to stay creative while avoiding the out-of-doors but I really feel most alive in the summer. It doesn't make sense to stay inside sewing when it's nice and warm outside but that's when I seem to get the most work done in my studio.

Nyphertiti's sewing supply shelf
What's your sewing experience like?
Because I work all day I usually end up sewing in the evening. I love listening to books on cd and can completely lose track of time if I have a good one on the stereo (I'm old school, I still don't have an ipod). I'm very lucky to have a large space to sew in and keep myself organized. It helps because different projects and crafts catch my attention very easily and my space allows me to work on almost anything in there.
What is your dream sewing project?
If I were ever invited to a Red Carpet event (hint hint BurdaStyle) I would make my own beautiful evening gown. Right now I don't have much call for one.
How long have you been a member of BurdaStyle?
I've been a member of BurdaStyle since 2007 but have only really gotten involved in the community in the last year. I try to check it out once a day. It's such a supportive place and so full of great projects and ideas that inspire me.

Hot Pink Dress with Ruffle and Mushroom Tunic Dress
What is the most frustrating thing about sewing for you? What is the most rewarding?
I don't think sewing frustrates me. It actually calms me. Even if I'm not using my sewing machine everyday, if I'm away from it for too long it feels like a limb is missing from my body and I can't relax and feel normal again until I'm able to sew. The best is when I can make something that fits me and looks good and others ask me where I bought it. I used to just say that 'I made it!' but now I can also direct them to my shop on Etsy and my page on BurdaStyle!
Check out her top ten favorite member projects here!