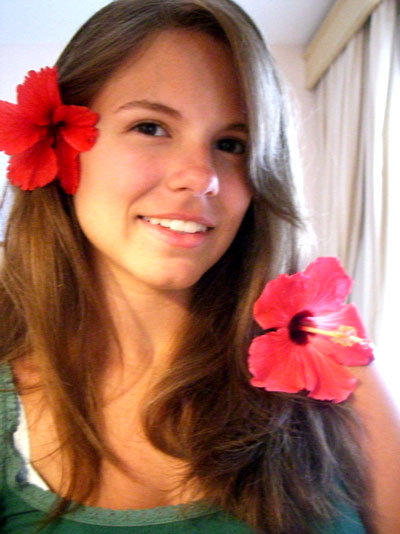 ShareThis
1. Where are you from and/or where do you live?
I have lived in a small Maryland town my entire life.
2. What was the 1st thing you made? How did you start sewing?
I started sewing when I was around six and my grandmother bought me a Barbie sewing machine which, of course, broke after a week or so. Through the years I took up cross-stitch and knitting and eventually lost interest in them both before to long. I guess my real interest in sewing began when I was in the fourth grade and began to draw clothing. This is a habit I've kept up and now I have two binders full of designs. I never really sewed anything until I took a clothing class in my high school last year. In there I learned to sew and made my first thing, a pillow with the picture of my cat that recently died which I gave to my mom.
3. What role does sewing play in your life?
Before taking my clothing class sewing did not play a real pivotal role in my life, however, since I took that class I've bought my own sewing machine and begun sewing for fun at home. I've also found it interesting that once you know how to sew you develop understanding of what goes into making the clothing that's sold in retail stores.
4. What is your favorite and what is your least favorite thing about sewing?
My least favorite thing? That's easy; I have no patience at all for pinning, measuring, or cutting. When I get a new project I like to jump in and I always want to start sewing and putting it together immediately so having to pin and cut and all that is just annoying. I would have to say my favorite thing is putting the fabric together, especially if I'm not using a pattern, and having to think in 3D terms to figure out how the pieces need to be sewed together.
5. If you could make something for anyone who would it be and what would you make?
If I could make something for anyone I think I would have to say that I would make a quilt for my great-grandmother who is the reason why both my grandmother and mother began to sew.
6. What are you looking for on our site? What do you think should be improved and what do you really like?
I found this site when looking for some free patterns and what you offer here surpassed my expectation. The patterns are both modern and wearable and the other features of this site are wonderful resources and inspirations for projects. My only suggestion for improving the site would be to expand the forum into more specified areas.
If you want to find out more about Nicole, check out her member profile