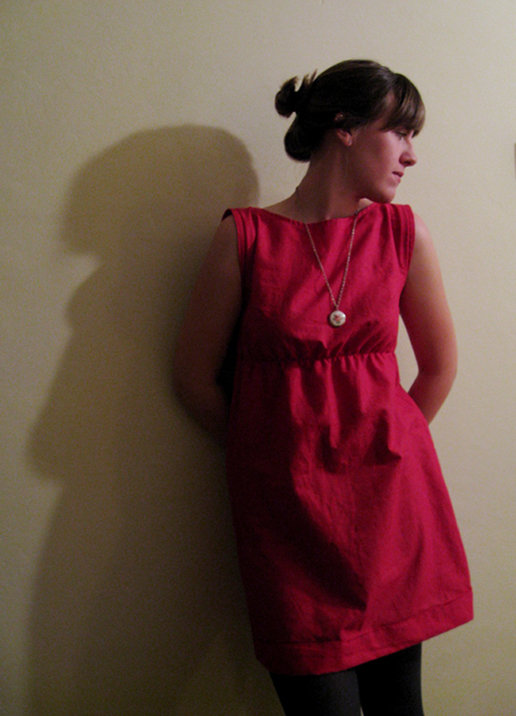 ShareThis
1. Where are you from and/or where do you live?
I was born and raised in Berkeley and Oakland, California. I spent the last four years in Santa Cruz where I received my bachelors in mathematics from UCSC, but I couldn't stand being away from the Bay Area and moved back as soon as I was done. Now I'm working part time as a lifeguard and living with/ taking care of my 90 year old grandma.
2. What was the 1st thing you made? How did you start sewing?
My mom is the person who got me started in the world of sewing. My mom is an artist and I owe my creative, crafty, and artsy side to her. When we were little, my mom would work on all sorts of craft projects with my sister and I including sewing projects. I remember making shirts for my teddy bears, sachets of lavender, and simple bags. A few years ago I started to make my own handbags. I mostly used canvas which I would first paint and then sew into a bag. I didn't think I could make clothing until a few months ago when I decided to finally try a pattern. Now I'm using patterns and making up my own and I'm completely addicted.
3. What role does sewing play in your life?
For me sewing plays the role of a creative outlet in my life. I can turn on some music and get lost in a project for hours. It is a wonderful way to relax and let my mind wander.
4. What is your favorite and what is your least favorite thing about sewing?
My favorite thing about sewing is coming up with the project idea. I love looking for fabric and buttons and I love writing down ideas in my sketchbook and thinking about how I can make the ideas a reality. I have an interesting mix of approaches when it comes to sewing because on one hand I have a mathematical mind that wants to plan out measurements and make sure things are in order, but on the other hand I enjoy diving right in to my creativity and seeing where it takes me. My least favorite thing about sewing is cutting out patterns and following directions. For example, I didn't start using buttons until recently because I absolutely didn't want to read how to make the button holes in my sewing machine manual (I finally broke down and read it though and found out they are rather easy. I guess that's a lesson to myself, instructions help!).
5. If you could make something for anyone who would it be and what would you make?
I'd really like to start making things for the people I love most. I think that hand made gifts come from the heart and can show how much you care. My best friend has been pestering me to make her a romper so maybe I should start there (I just have to figure out how to size things for someone other than myself).
6. What are you looking for on our site? What do you think should be improved and what do you really like?
I absolutely love BurdaStyle because I can share my creativity and explore the creativity of others. It's a great website for sewing knowledge and inspiration. Plus it's another way to stay in touch with my sister. She lives in another state, but Burda allows us to share our latest projects and ideas with each other. I also really like the patterns that you can print at home (although maybe not the piecing together and cutting out part).
7. What is your motto?
I recently found a fortune cookie fortune floating around my room that read: "the lovely things of life are as necessary as the air by which you live." I don't normally pay much attention to fortune cookies, but this message got me thinking about the lovely things in my life and sewing is definitely one of them.
NattyJane has 17 wonderful creations that always catch my eye. Check out where she gets her inspiration from on her favorite top ten