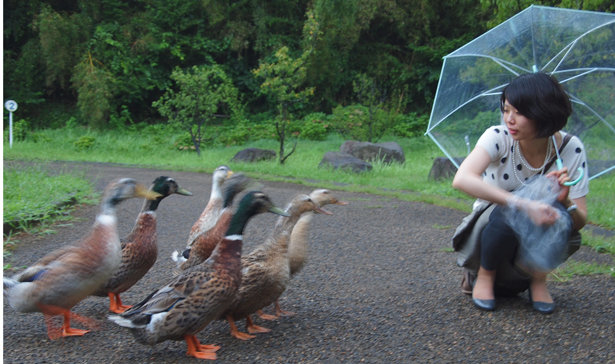 ShareThis
Where are you from and where do you live?
I'm from the western part of Japan and I spent my childhood there, and then I lived in Yokohama and Tokyo since my teenage years until recently, now I live in a small city near Mt. Fuji, one of the world's highest and most beautiful mountains.

"Me in kimono with my mother on the festival for 3 years old girls."
What do you do other than sewing?
In Tokyo I worked as a web designer/developer for years and then I left the job and moved into my husband's place. Now, I'm looking for a new job in a new place.
If we were to come to your town, where would you take us?
Definitely the best thing here is enjoying beautiful nature: mountains, lakes, canyons, hot springs and local organic foods made with clean water and fresh air. Also here is a major production area of silk kimono fabric.

"My favorite lunch with local organic products."
But when it comes to shopping I always go to Tokyo. It's not so far away from here. For fabrics and notions, or rather for everything about sewing, I would take you to Nippori, the fabric wholesale district, and for accessories like buttons, laces, buckles or something like that we could go to another wholesale district in Asakusabashi. And if you'd also like to take a look at Japanese designer fabrics or cutting edge fabrics, I would recommend, for example, Nuno Works or Cocca, even though my budget has never allowed me to get them yet.

"The view of Mt.Fuji from the lake."
Tell us about your sewing journey?
I sew because I love it. Sewing or crafting always excites me, relaxes me and sometimes heals me; it's just something essential for my life. I found my love for sewing first at about 4 years old, when I made a small felt pouch in a kindergarten class. It was so fun and exciting for me to make something with my hands, even now I still remember how I felt that day.
My mom has been a quilter for as long as I can remember and she taught me basic techniques how to sew and how to use a sewing machine but she didn't allow me to use her machine so often, maybe because she correctly knew that it would soon be a serious addiction for a little girl and she wanted show me a larger world full of different possibilities.

My mom's quilt.
So thanks to my clever mother I learned lots of things other than sewing: playing the piano, saxophone, oboe and some languages, art history and then web design and development… also in my college days I've lived in Prague for a year and I found my another love for traveling to discover something new and inspiring me. At the same time I went through almost every kind of crafts: knitting, embroidery, crochet, hand weaving and so on.

"Cross stitch work, knitting and crochet work, hand woven placemat with paper yarn and a hand woven crepe scarf."
It was my husband who made me come back to sewing and dressmaking. He's so cool that he gave me a sewing machine, instead of a diamond ring, when he proposed to me, and then, in late summer 2010 my great journey has just started.
Where do you find inspiration?
It's been a long time since I stopped buying magazines, because I have a problem that I can't throw them away without feeling a huge sense of loss, and also because I realized that I love them and am inspired by them so much that I end up getting tired. The only solution is to make scrapbooks. For the same reason, I don't go anywhere to get inspired at least for now. Inspirations are rather everywhere in my daily life.

"One page from my scrapbook: 'White Things'"
I'm so interested in fashion but my bigger and endless interest is in textile design from all over the world and from traditional or vintage to modern [styles]. It inspires me and my projects maybe the most.

"A part of my fabric collection.
What's your sewing secret weapon?
If I ever had anything, it would be my sewing machines, of course they are not quite as expensive as a diamond but they are also good for professional use.
It's neither technique nor trick but I always try/want to make my projects with some special fabrics, with pockets inside or outside, and eco-friendly.
What is your sewing experience like?
In Tokyo I lived in a really small apartment with only one tiny table for everything: writing, eating and sewing, and I had my desktop PC on it, too. But now I have wonderful space for sewing. I have my machines and fabric storage in a comfortable tatami room (traditional Japanese style room) next to the dining room where the TV, DVD/CD player and computers and I like to have any one of them on while sewing.

My sewing space.
What is your dream sewing project?
I always have a lot of dreams in my head but the biggest one at this moment may be dresses with my original fabrics.
How long have you been a member of BurdaStyle, and what keeps you coming back?
I've been a member of Burdastyle since July 2010, for a year and half now. I happened to find it during lunch break at my work, and I couldn't wait till after work, so without considering about my user name, I became a member right then. It's my real first name. It was a huge and lovely surprise that I found so many people who love sewing the same way as I do, and I'm so happy to be connected with lots of creative people from around the world here. I visit the site daily if I have time, and every time I get inspired from other people's projects and stories, and encouraged with kind comments for my projects.
What is the most frustrating thing about sewing for you? What is the most rewarding?
The most frustrating thing is to find a mistake too late to fix it, or simply when something doesn't work or go the way I imagined it. The most rewarding thing is that I can get something I dreamed or something I couldn't find at the stores. Plus, it costs less than store-bought.