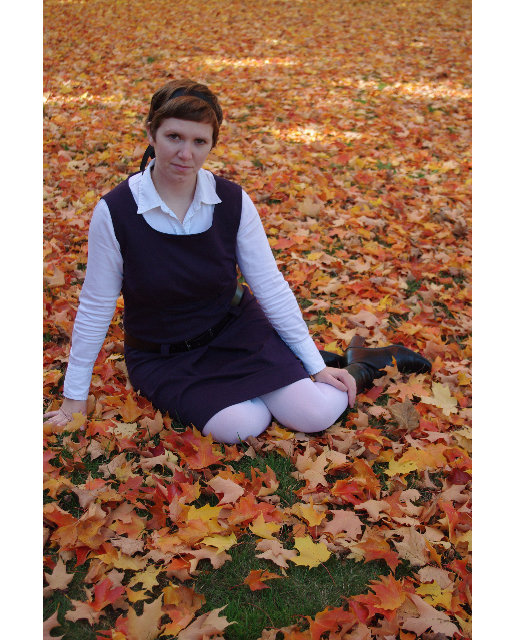 ShareThis
1. Where are you from and/or where do you live?
I grew up in Napa, California; spent a few years in Salem, Oregon and Chicago, Illinois; and currently reside in Portland, Maine, where it is the peak of autumn right now and absolutely gorgeous.
2. What was the 1st thing you made? How did you start sewing?
My mother is an excellent sewer, as is my fraternal grandmother, so I've always been around it – I used to to tape together their fabric scraps into outfits for my stuffed animals and dolls. I didn't really start sewing myself until later. I was fortunate to have a home economics course in 7th grade, so my first official sewing project was a nine-patch pillow cover for class – I got an A. I took up sewing again in high school, took a break for several years, and started going full-bore at it again about a year and a half ago, when I bought my own machine, and I don't look to be stopping again any time soon!
3. What role does sewing play in your life?
It keeps me lookin' sharp, often, though not always, for less moolah.




It's also creative outlet – both in making items and in blogging about them. I keep a blog called Ms. Cleaver Chronicles and I love that blogging about my domestic endeavors, including sewing, knitting, baking and cooking, have helped me to not only connect better with family and friends, but has allowed me entrance into the wonderful world of craft bloggers. It keeps me feeling connected.
4. What is your favorite and what is your least favorite thing about sewing?
My favorite things about sewing are having control of my wardrobe – when I make it myself and I do it well, everything fits right and the shape, style, and fabrics are all exactly what I want. I also love vintage clothes, particularly from the 50s and early 60s, but it's often difficult to find them in my size, so I love that being able to sew gives me the opportunity to fake it. I'd love it if I could get to where my wardrobe is entirely handmade or vintage.




My least favorite thing is cutting out fabric. I don't have access to a table large enough, so I usually have to cut out my patterns on the floor, which can get mighty uncomfortable. I also dislike seam-ripping, but it's a necessary evil.
5. If you could make something for anyone who would it be and what would you make?
Right now I'm a pretty selfish seamstress, but I would love to reach the skill level where I could design and sell my own clothes or patterns for the everyday Jills and Janes out there. I'd probably start out with some Dior New-Look inspired frock, with a big circle skirt and a scalloped neckline. Though I'm also loving all of pleating and texture in fashion right now, so maybe I'd do something in that vein instead.
6. What are you looking for on our site? What do you think should be improved and what do you really like?
I really like that all the projects are linked to the patterns – I find it enjoyable and helpful to see what other people have done before I jump into a project myself. I also enjoy the sew-a-longs and mini-challenges, because they push me to do things I might not otherwise have considered. And it's wonderful having quality free patterns.




I think that the comments section could be improved so it's easier to find suggestions pertaining to making the garments/pattern review – ie separate, the "you'll probably need to add darts" from the "can't wait to make this!" Both are important feedback, but serve different purposes, I think. I'd also love it if non-Burda patterns could be listed or linked in the project pages – sometimes I see a project I love, but it's non-Burda and I'd like to be able to know if it's self-designed or a commercially available pattern.
7. What is your motto?
"To know is nothing at all; to imagine is everything." -Anatole France


I found this quote on a ring I bought myself as a graduation present. I was about three weeks away from finishing college and had no idea what was going to happen next in my life. it felt very fitting, and it's still appropriate three years later.
Keep up with Ms. Cleaver on her blog, Ms. Cleaver Chronicles. She doesn't only sew you know, she also knits very well. Her projects and designs can be found on Ravelry as well.