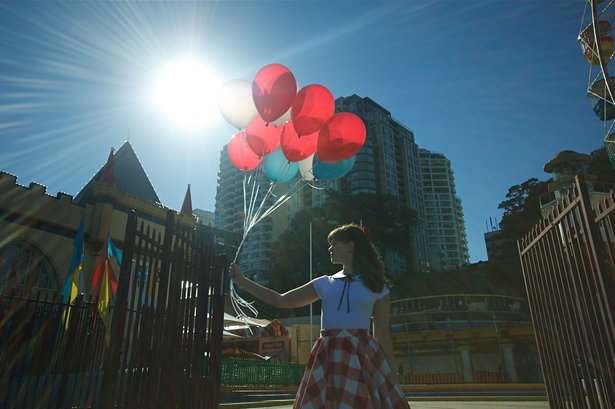 ShareThis
Where are you from and/or where do you live now? What do you do other than sewing?
I was born in Long Beach, California, but grew up on Sydney's Northern beaches. I am the younger of only two siblings and grew up a part of a close, creative and colourful family in an old return serviceman's house that was built in the late 1940's. My childhood was always spent following one creative pursuit or another, be it sewing little clothes and beds for "the garden fairies" or writing quirky, albeit somewhat morbid tales. I now live in Sydney's inner west in an old Victorian Terrace called "Horaceville" and work full time as a receptionist for a fashion house.
As in my childhood, I'm still following my creative dreams and intend on studying costume design next year, along with running my online etsy shop.

A young mollykatherine!
If we were to come to your town, where would you take us?
Sydney is a very creative city; there is always something fun and interactive going on. In summer the city simply comes alive, from the blossoming Botanic Gardens, overshadowed by the impressive Opera House to the packed sunny beaches and sea side cafes. It's a wonderful place to be inspired. It's one down side is that its thrift stores are thoroughly picked through before you can get there and fabric stores are few and far between in the city, not to mention overpriced. Strangely enough, what we do have is button stores, amazing, delicious button stores, where the walls are lined like a candy store. My all time favourite is All Buttons Great and Small in Newtown, I've bought many more buttons from this store then I could ever possibly need.
How did you start sewing? What motivates you to sew?
I have been sewing most of my life, in my childhood it was only hand sewing, and never evolved into much. In high school I studied Textiles and Design and learnt how to work a sewing machine. It wasn't until my late teens, when I returned home after a year or so of travelling that I took out my machine again and began to sew proper garments. I initially went back to sewing simply because I couldn't find the style of dress I preferred in stores, nor could I afford or fit into the original vintage garments that I adored so much. I started hunting down vintage patterns and fabrics and then it was on, and I never looked back. I now sew regularly, at least 2 times a week, and keep a sewing blog to help keep me motivated and on track.
I like the think that everything I've sewn has been an achievement, whether it turned out well or not, because I've learnt something new every time. The best way to learn a new technique is to try, fail and try again. But, if I had to choose my greatest sewing achievement so far, it would have to be my "P is for Peplum" Dress, I am rather fond of it.
Do you have a style icon who inspires your sewing projects? Where do you go to get inspired?
I draw inspiration from so many places; it's very hard to pinpoint exactly where it comes from. I love all things old world, the 30's/40's/50's in particular. I love to watch old movies, listen to old music and fill my house with old trinkets. I also am an Etsy addict. I can spend hours trawling through pages and pages of beautiful dresses, making notes on details that I would like to incorporate into planned projects. I have always been fascinated by the notion of a dresses personal history, where it's come from, who it belonged to, where it's been; much like finding an amazing old book with an inscription or name in it. I also love looking at and collecting vintage patterns, the illustrations on them are so darling, but somehow the finished garment never looks quite the same!

Moodboard by mollykatherine
What's your sewing secret weapon? What trick or technique do your sewing projects always tend to include?
My favourite and most relied upon tool in my sewing room is without a doubt my iron! I never used to press my fabric or seams. I still, to this day, wonder how I got on as well as I did. I press everything now. The pattern paper before I trace it, the fabric, my seams. EVERYTHING! I'm rather pedantic about it. My favourite thing on a finished garment is a well pressed french seam that meets the hemline perfectly. I also try the garment on a gazillion times and make many alterations as I go. I know I should probably use a toile for this, but I'm never patient enough for that.
What's your sewing experience like?
I usually sew of an evening, during the week as that's what my work schedule allows. I also like to sew Saturday mornings when my mind is most fresh and enthusiastic. If I'm lucky, and diligent I may just end up with something to wear out Saturday night. Before I start sewing I like to make a big pot of tea and put on some music or a marathon of BBC Bonnet dramas, particularly Jane Austen. I tend to gravitate towards the later if I know I will be doing a lot of cutting/pinning/hand sewing, so I have something to watch whilst doing that.

mollykatherine's sewing room
What is your dream sewing project?
A 1940's evening dress, with lots of silk, drape, and intricate detail. But, until I find some sort of Vintage Ball in which to attend whilst wearing it, it may just have to remain a dream.
How long have you been a member of BurdaStyle?
I've been a BurdaStyle Member since January, 2010, pretty much the day I started sewing again. I was looking for a free pattern online to practice with and stumbled across BurdaStyle. I was so excited by my discovery that I joined immediately and eagerly got sewing so I could be a part it and upload my first project. I am now an avid member and stop by several times a day. I find the community so supportive and informative and gain endless inspiration from all the other members creations.
What is the most frustrating thing about sewing for you? What is the most rewarding?
The most rewarding part about sewing is creating something entirely unique and tailored to you in both fit and taste; that you started with a mere piece of fabric and turned it into a wonderful, self expressive garment. I love that when I receive a compliment about one of my creations, I can proudly say that I made it myself.
The most frustrating? When it doesn't work, at all! No matter how hard you try, and how many times you unpick. Sometimes you need to just accept defeat and move on to another project. It's taken me a while to start to begin to see my seam ripper as my friend, and not my enemy!
Check out mollykatherine's top ten favorite member projects!