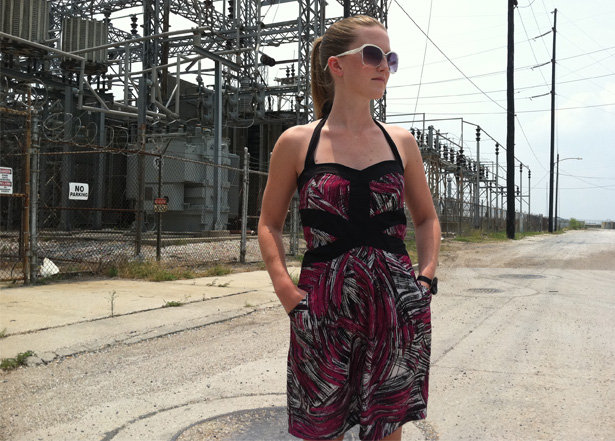 ShareThis
Where are you from and where do you live now?
I am from Oregon, but have lived in New Orleans for the last 9 years. I teach middle school social studies/history. I am moving to Chicago this summer!
How did you start sewing?
My mom always sewed for us, so she taught me as a child. I starting sewing more after college, around 2007. My favorite project is my Cape of Awesomeness. It was made from a 1940s pattern. It took me a long time to make it and it forced me to learn new techniques and improve my skills.

Cute lil' Molly!

Molly's Cape of Awesomeness
Try describing your personal style in 5 words or less!
My style is vintage, classic and feminine.
Do you have a style icon who inspires your sewing projects? Where do you go to get inspired?
I get inspired by vintage patterns, like my favorite below, other bloggers and images in magazines. I really enjoy reading other sewing blogs and seeing completed projects!

Vintage sewing patterns and magazine advertisement
What time of year do you find yourself most creative?
I sew the most during the spring and summer. I like the dresses and styles more, and I have more free time due to school breaks. It is hot for so much of the year in New Orleans, so I get the most use out of these types of clothes. I may have to embrace making jackets, since I am moving to Chicago in July!
What's your sewing experience like?
My sewing room is actually the dining room, which I have taken over completely. The big table gives me the space I need, but it forces me to clean up after myself, since that's the first room you see when you enter the house! I sew mostly in the evenings and weekends because I have more time and on school breaks

Molly's beautiful vintage Singer sewing machine

Molly's sewing space
What is your dream sewing project?
Making my vintage coat pattern, Vogue 877. I am partly finished and it will be my masterpiece when I done! It is cut out and basted to the underlining. Maybe I'll finish it before next winter…
How long have you been a member of BurdaStyle?
I joined BurdaStyle last summer. I love looking at other people's projects and the best of each month. I like the sense of community, as I do not know many sewing fans in "real" life.
What is the most frustrating thing about sewing for you? What is the most rewarding?
I always frustrate myself by rushing, making mistakes and then having to go back and fix them. I need to take more time. I love having finished garments that are made for me, in a style I like, and that fit me! I am very short, which make shopping a pain. Sewing is a million times better and more rewarding than shopping!
Check out Molly's top ten member projects slideshow!