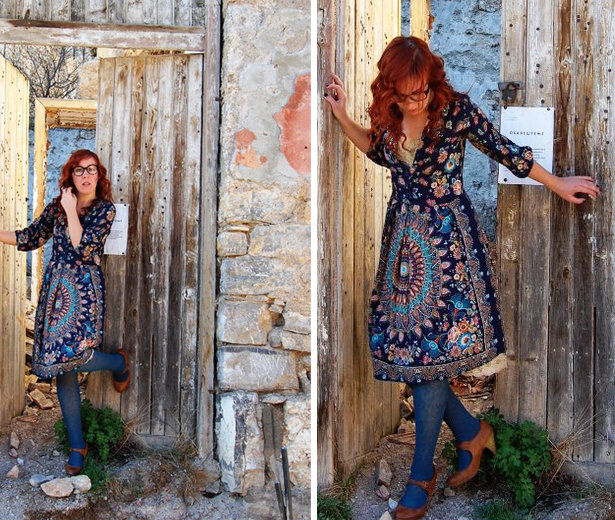 ShareThis
Where are you from and where do you live now?
I'm from Serbia, from a small mountain town, though I live in Belgrade (which is a capital of Serbia ) for 10 years now. I graduated in art history and would know a few things about medieval manuscripts but never was too serious about getting anywhere with that. Instead, I do few other jobs, half of the year I work as an archeologist spending days in a dirt and sweat digging prehistory loving every second of it!
The other half of the year I spend working as personal assistant in my dad's company (which is nice, since I work from home and have lots of free time that I can use to sew and try to start my own mini fashion line (wish me luck with that).

Baby Mokosha
How did you start sewing?
I started sewing three and a half years ago. One day I decided I needed a sewing machine, so I saved money for a while and then got one. It took me 45 minutes to thread it and when I figured that out, my sewing adventures began! My first project was a circle skirt with some details in tulle and satin. It turned out quite messy, but I wore it anyways.
My first serious project was prom dress for my little friend some 4 months after I got the machine. I tried to copy a big fluffy D&G dress in painted tulle, and what I came up with was good enough to make my friend prom queen! It made me feel kind of like a superhero.
Describe your personal style in 5 words or less
Psilocybe Chic
Do you have a style icon who inspires your sewing projects? Where do you go to get inspired?
I get inspired by lots of things; movies, photography, nature, paintings, tv, music, blogs. Most of the time when I look at the fabric in store, I can see a finished garment.
Inspiration collages
What time of year do you find yourself most creative?
Anytime. Though I haven't been as productive in the Summer time, but not because Summer doesn't inspire me, but simply because I'm always away from June until October/November.
What's your sewing experience like?
I turn some music on or a tv, but I don't really listen to it. I just want something to make noise. Every part of the day works just fine for sewing time. My sewing room happens to be my sleeping room, living room, dining room and kitchen all at the same time.
When sewing i get completely oblivious, I forget to eat, drink, or even pee and I manage to make complete chaos all around me.

A detail shot of Mokosha's sewing table
What is your dream sewing project?
Though it's not sewing-related only, my dream would be to be able to design and make my own shoes.
How long have you been a member of BurdaStyle?
I'm a member for just over two years, but active member for past few months. I've been inspired by so many BurdaStyle members and met so many lovely and creative people trough BurdaStyle site, thank you burda :)
What is the most frustrating thing about sewing for you? What is the most rewarding?
I get mad about ironing. I will never understand those who claim that ironing is relaxing, it's so frustrating to me! But I do iron, hating every bit of it.
What's rewarding is the fact that in a matter of hours one can transform a plain piece of fabric into one-of-a-kind fashion goodie-it's like a magic to me.
Since I started my sewing adventure I can finally wear what I like to wear instead of wearing what I can afford. I can have unique clothes that fits me just the way they're supposed to. I can make garments I once could only dream of.