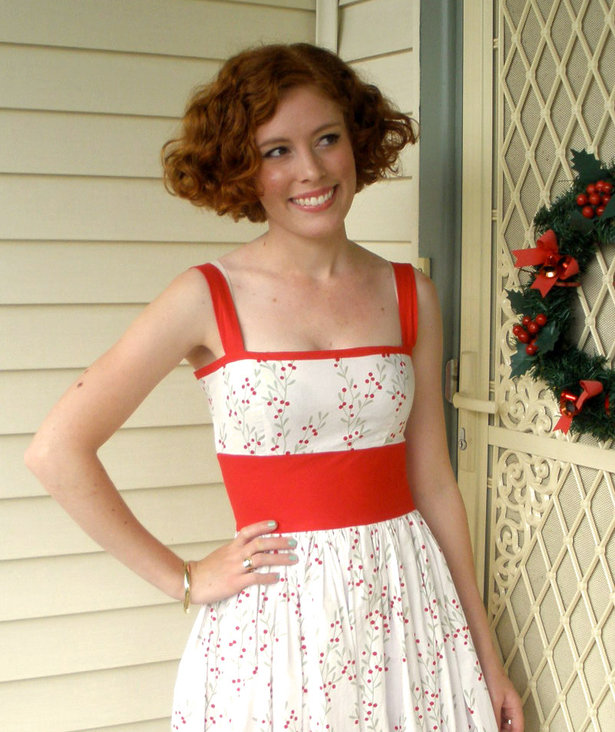 ShareThis
1. Where are you from and/or where do you live?
I live in the suburbs of Sydney, Australia. I am in my final year of studying Industrial Design and work at a fabric store part-time.
2. How did you start sewing? What's your favorite project in your BurdaStyle studio?
I was taught to sew by my grandmother. She wanted me to learn to sew by hand before trusting me with her sewing machine and so I hand sewed a Goldilocks doll and dress with her help at the age of seven. I then spent a great deal of my childhood making clothes and soft furnishings for my dolls. Since starting university, discovering the wonders of three month summer holidays and getting my childhood 'dream job' working at Spotlight (a fabric chain here), I practically sew everything I wear. At the moment my Hey Now and Christmas Dresses are my favourite projects, mainly because it is the season for pretty party dresses!
3. What's your personal style in 5 words or less!
Colourful, vintage-inspired, sickly sweet
4. Do you have a style icon who inspires your sewing projects? Where do you go to get inspired?
I keep a little diary where paste anything I come across that I think is beautiful. I treasure the opportunity to collect absolutely anything that catches my eye; clippings from newspapers, fashion magazines and printouts from websites… even interiors from old houses where the wallpaper and couch clash perfectly. I am also an avid collector of vintage sewing patterns. I started collecting them properly just over three years ago and I have an enormous collection now! I can terribly picky about what I collect but I will often collect things purely for the picture on the envelope. My love of old sewing patterns is the main source of my inspiration and the number one reason for the fun-making aimed at me by my family and friends for being born in the wrong decade.
I cannot name a single style-icon, however, my sister is obsessed with old movies and so I am often found watching them with her and making pieces inspired by them. For some reason I also love to watch Clueless while sewing… it makes me feel ok to be working with bright colours and tiny hemlines.


Missymellie's sketchbook





Inspirations





Vintage sewing patterns
5. What time of year do you find yourself most creative?
I am most creative during my semester breaks and at the end of year because that is when I have time! I'm obsessed with Christmas, and although I'm often overwhelmed by my self-created list of things to do, that is definitely the season when I'm most creative.
6. What's your sewing experience like?
Music is vital, I can't stand silence and without the right playlist I cannot possibly sew (or do anything, for that matter). My Hey Now dress was made during a Ray Charles obsession, thus the name. You will find the majority of my projects are named after songs I listened to while making them.
My sewing space is my bedroom. To anyone else it seems insanely cluttered but I have organised it thanks to an assortment of boxes in which I store my patterns, fabrics and yarn. I am a pretty organised person and find it difficult to sew in different places when I don't know where everything is and don't have access to my collection of miscellaneous haberdashery.
I am a 'whenever-I-have-the-time' sewer. When I'm on break I can just spend the whole day sewing. During semester I try to work on sewing projects at night to give myself a break from assessments but it doesn't always work out that way, especially if I'm sleep deprived. If I have a massive dilemma with my sewing, I work so much better in resolving it in the morning after a coffee and a good night's sleep.
7. What is your dream sewing project?
My dream sewing project would probably be a wedding dress for one of my sisters, friends or for myself. It would be an honour to sew something that would be so important to someone.


Pants made for her "Audrey Hepburn obsessed sister"
8. How long have you been a member of BurdaStyle?
I have been a member since 2008, which was when I really picked up sewing again. My favourite thing about the site is getting inspiration from the other member's projects. I usually visit the site a few times a week and most often during semester break when I have more time to sew.
9. What is the most frustrating thing about sewing for you? What is the most rewarding?
I find sewing incredibly rewarding, there's no way I would do it otherwise. I like that it is a hobby which produces something useful and individual. I also love that sewing is designing something completely different to what I design at uni. When a uni assignment is bugging me I take a break and sew something and it feels so good for something to turn out right for once! The most frustrating thing about sewing is most definitely my lack of patience. My nanna always taught me to "start how you want to finish," so I am a complete perfectionist, but this works against me when all I want to do is finish and move on to the next project!
Check out missymellie's top ten favorite BurdaStyle member projects!